In the interest of full disclosure, OMAAT earns a referral bonus for anyone that's approved through some of the below links. The information and associated card details on this page for the Hilton Honors American Express Surpass
®
Card, and Amex EveryDay® Credit Card have been collected independently by OMAAT and has not been reviewed or provided by the card issuer. These are the best publicly available offers (terms apply) that we have found for each product or service. Opinions expressed here are the author's alone, not those of the bank, credit card issuer, airline, hotel chain, or product manufacturer/service provider, and have not been reviewed, approved or otherwise endorsed by any of these entities. Please check out
our advertiser policy
for further details about our partners, and thanks for your support! The offer for the Barclaycard Arrival® Plus World Elite Mastercard® has expired.
Learn more about the current offers here
.
To start, I should note up front that this is not an attempt at finding the cheapest trip to Disney World, or how to maximize every potential dollar spent. Those resources are out there, and those folks are hardcore. They make the most passionate mileage collectors look like passive hobbyists, and I'm not nearly smart enough to take that on. So if you want to know every possible trick and loophole, you should head over there.
For the average person though, and certainly for miles and points hobbyists, there are some ways to maximize the perks and programs you're already used to, so I thought it might be helpful to go through some of those options if you're planning a trip to Disney World.
In general I find Orlando to be outrageously overpriced, so any opportunity to learn how to save money at Disney World makes a difference.
Hotels / Accommodations
Orlando has hotels-galore, and there are dozens of options for redeeming points, pretty much regardless of which programs you participate in. If you're going to visit other parts of Orlando then any of those are great, but if you're focused on the Disney parks there are a few "points-friendly" places to stay near Disney World.
Walt Disney World Swan/Dolphin
These properties are managed by Westin and Sheraton, respectively, and if you are a SPG Platinum member these are a no-brainer. Between the two properties they have over 2,000 rooms, so standard room availability is generally quite good.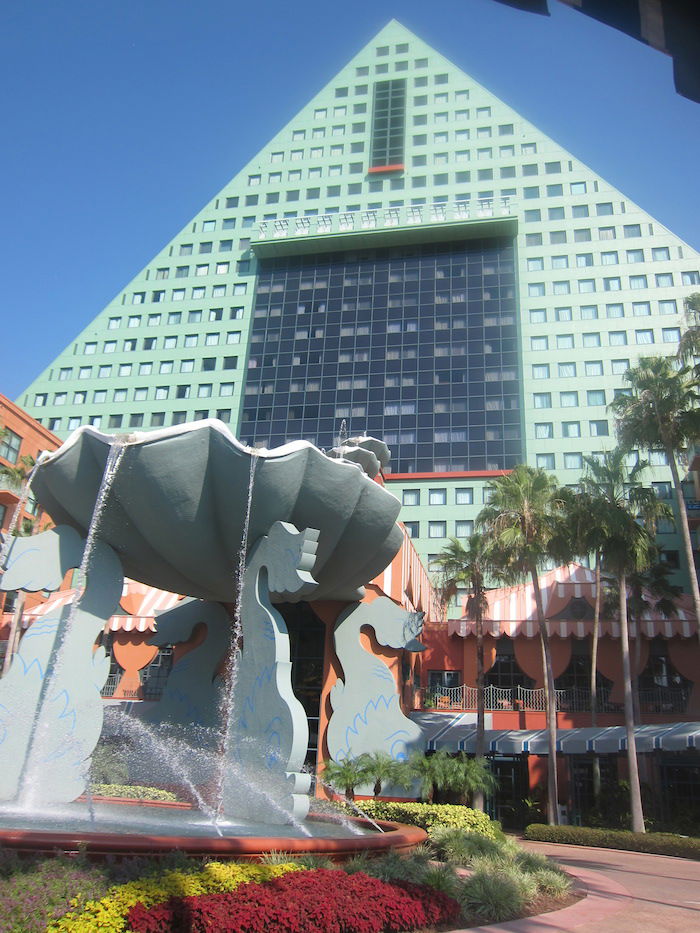 I wouldn't count on any upgrades, but both are Category 4 properties, so go for 10,000 points per night, and I frequently have found cash and points availability as well.
Keep in mind you can redeem 40,000 points for five nights of accommodations, which is definitely the best value.

The Platinum breakfast benefit is basically the "cold" options from the buffet, or you can upgrade to the full breakfast for an additional fee. It's not an amazing breakfast, but is on par with what I'd expect at a domestic Sheraton or Westin, and is certainly reasonable for Orlando. You can use the breakfast benefit at either hotel, and it's worth noting the Swan actually has a Disney Character breakfast on weekends.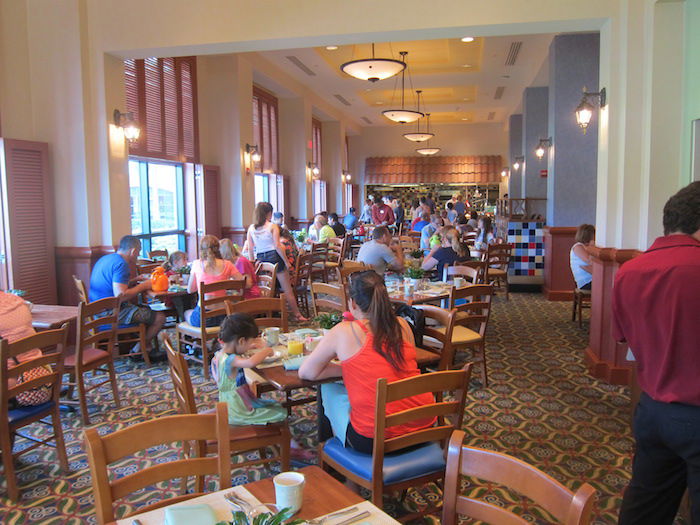 These hotels are actually on Disney property – Epcot and Hollywood Studios are within walking distance (or you can take a boat), and you can take advantage of Extra Magic Hours and resort transportation. You can't use Disney's Magical Express, and there is a resort fee, but the latter is usually waived/reduced for Platinum guests, from what I can tell.
Hilton Orlando Lake Buena Vista
This would probably be my second pick, or first if I didn't have Starwood Platinum status (I just assume everyone reading this has Hilton Gold status through the Hilton Honors American Express Surpass® Card, at least).
The information and associated card details on this page for the Hilton Honors American Express Surpass Card has been collected independently by OMAAT and has not been reviewed or provided by the card issuer.
This Hilton is "Disney-adjacent," so while it's not quite as convenient as the Swan and Dolphin, it's not too bad. The Hilton Orlando Lake Buena Vista is right across the street from Downtown Disney, but otherwise uses their own bus system to get to the Disney parks. This is shared with some of the other "good neighbor" hotels, and it can be really hit or miss. I've seen a lot of unhappy parents on this bus, so would recommend reading up on the schedule and options to avoid frustration.
The Hilton Orlando Lake Buena Vista is a Category 6 property, so standard rooms are 40,000 points per night. This is a great place to take advantage of the "fifth night free" benefit for elites.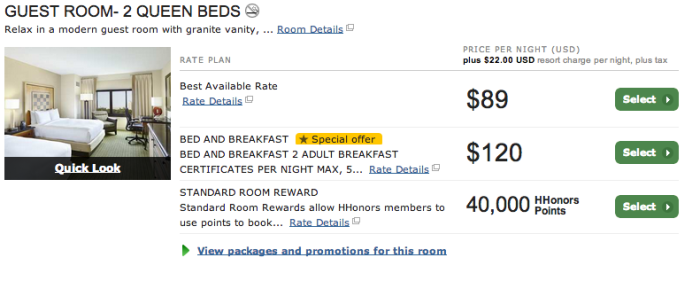 Hilton Gold and Diamond members receive continental breakfast in the executive lounge, though you can upgrade to the restaurant breakfast buffet as well. The restaurant has a Disney Character breakfast on Sundays.
The Hilton Orlando Lake Buena Vista is also the only off-property hotel that offers access to the Disney World Extra Magic Hours, as far as I know. My favorite time to visit the parks is early in the morning or late at night, so this is a great perk.
Theme Park Tickets
This is the killer for most visitors, as these are just expensive, and the options for using points are somewhat crappy. So for me, Disney World tickets are more of an opportunity to maximize the points you earn rather than trying to use points for park tickets.
Using Points
If you happen to have more Hilton points than you know what to do with, it is technically possible to redeem hundreds of thousands of Honors points for Disney World tickets: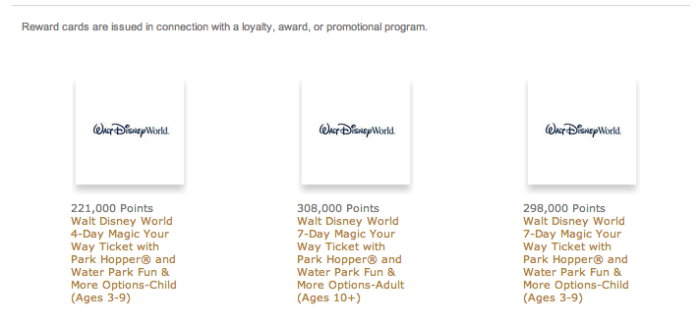 These tickets retail for $436.65, but that's without the "No Expiration" option, if that matters to you. This is a pretty terrible redemption value, even for Hilton, so unless you have millions of points and are short on cash, I'd probably skip it.
The other alternative would be to purchase your tickets as part of a vacation package, or charge them to your hotel room (which I'll cover below), then put the entire purchase on your Barclaycard Arrival® Plus World Elite Mastercard®, and reimburse yourself on your statement.
Gift Cards
Personally, I'd recommend purchasing Disney Gift Cards ahead of time. These can be found at Target, drugstores, grocery stores, Lowes, and Office Max, and probably some others.
This is not the blog for quadruple-dipping on gift card purchases, but if you think through it there are some great opportunities. At a minimum, you can easily earn multiple points per dollar (plus some fuel points) by purchasing at a grocery store with a card that offers bonus points on groceries, like The Amex EveryDay® Credit Card from American Express.
The information and associated card details on this page for the Amex EveryDay Credit Card has been collected independently by OMAAT and has not been reviewed or provided by the card issuer.
I am busy/lazy, so I purchased $500 worth of gift cards at Office Max to finish minimum spend on my Ink Business Cash® Credit Card. 5x points works perfectly for me, and this is an easy option if you have the Ink Business Preferred® Credit Card as well.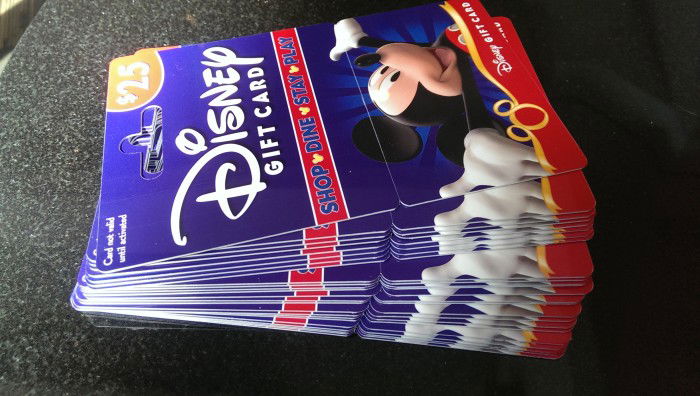 One of the more ridiculous miles/points related things I've done lately, to be sure.
You can consolidate your gift cards in a Disney Vacation Account, which is particularly useful if you're looking at staying at a Disney Resort, or combining your park visit with a cruise.
If you're just purchasing park tickets, the easiest method is to just call the Disney ticketing department at 407-566-4985 (option 5) between 8:30AM and 8:30PM Eastern. I told the agent upfront that I had 20 gift cards to use, and while she laughed, it was a very straightforward transaction. The entire call took less than ten minutes!
Other Ways Of Earning Points On Disney World Ticket Purchases
Limited Time Bonus Categories
This probably goes without saying for this crowd, but check the bonus categories on your credit card. Both Bank of America and Citi will commonly run targeted promotions for multiple points per dollar, and I've definitely seen "Entertainment" and "Amusement Parks" featured in the past.
Hotels
Many of the hotels in the area have a "Disney Desk" where you can purchase your theme park tickets. Some of these accept Disney gift cards, and others will allow you to put the charge on your room. In most cases you won't earn hotel points on these (MommyPoints was able to earn the 5% OPEN rebate, but not Hyatt points), but this still makes sense if you're going to settle your folio with a credit card that earns bonus points on hotel stays.
Other Tips
One thing we've noticed is that if you're staying on Disney property, you can charge everything to your room. This is much easier than carrying a bunch of cards around the park, and you can settle your final folio with gift cards, or at the very least a card that earns bonus points on hotels, like the Chase Sapphire Preferred® Card.
Since I'm not an expert on Disney World, does anyone have any tips I've haven't covered for maximizing the value of points while here?