I'm a big fan of fifth freedom routes (where an airline from one country has the right to fly between two different countries), as they're a great way to add some spice to an otherwise boring trip.
My single favorite fifth freedom route within North America is Cathay Pacific's New York to Vancouver route, which provides proper longhaul international first class service when traveling coast-to-coast.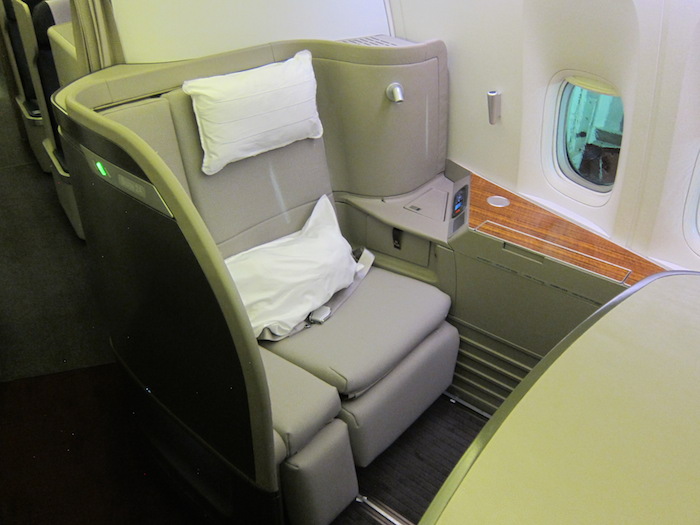 Cathay Pacific first class 777-300ER
Philippine Airlines also recently started flying between the two cities, though I can't say I'm quite as keen to fly them on the route. 😉
Another airline with a tag flight between the US and Canada is Brazilian airline TAM, which flies between New York's JFK Airport and Toronto.
The route is operated 4x weekly on a Boeing 767-300, with the following schedule:
JJ8102 New York to Toronto departing 11:15AM arriving 1:00PM
JJ8103 Toronto to New York departing 4:35PM arriving 6:30PM
As luck would have it, TAM also publishes the cheapest business class fares in the market, by a long shot. Would you rather pay $84 to fly TAM's longhaul business class product, or more than 10x as much for Air Canada's regional jet business class?
Looking at the fares, the premium for business class over economy class is only $20. And take a look at all the miles you'd earn for this ticket as well — 7,500 miles one-way, which more than justifies the ticket cost!
Bottom line
Of course TAM can't win on schedule, since they only have four flights in each direction every week, as opposed to the dozens of frequencies offered by other carriers. But if the schedule works for you, this is a value that's really tough to beat.
A trip to Toronto is in order, I think!
(Tip of the hat to Samuel)