One of the cornerstones of the Delta SkyMiles program seems to be a lack of transparency, which to some (small) degree I can't blame the airline for.
For example, earlier in the year Delta SkyMiles eliminated award charts together. It's clear they want to go the direction of dynamic pricing and a fully revenue based program, though in the meantime I find it kind of ridiculous to base awards on a fixed award chart, except no longer make those prices publicly available.
Changes to mixed cabin award pricing?
Via Delta Points, it looks like SkyMiles has made one potentially major change to their terms somewhat recently. Per the "Award Ticket FAQs" at delta.com:
CAN I COMBINE CABIN TYPES AND/OR AWARD LEVELS IN A SINGLE AWARD TICKET?

No. SkyMiles members do not have the ability to combine Main Cabin, First, Business and Delta One™ Class into one round-trip Award Ticket.

This is fairly new verbiage, because using the Wayback Machine, the page used to say this:
Yes. SkyMiles members have the ability to combine Economy, First, Business and BusinessElite® Class into one round-trip Award Ticket.

So this suggests that Delta will no longer let you mix cabins on SkyMiles awards.
Mixed cabin pricing doesn't seem to be enforced in practice
The good news is that the rule against mixed cabin pricing doesn't seem to be enforced in practice. For example, here's a business class SkyMiles award with one segment in economy and one in business, which is still pricing at what I assume to be the lowest one-way business class award cost (you can never know for sure, given that SkyMiles doesn't publish pricing):

So fortunately in practice this isn't being enforced… yet.
If meant literally, this could be terrible
Presumably the verbiage on the Award Ticket FAQs page was intentionally changed, and some thought was put into the wording. If this is to be taken literally:
Some markets only have regional jet service without first class, so you couldn't combine such a flight with a business class award
Technically they're suggesting you couldn't even combine a domestic First Class segment with an international Delta One/BusinessElite segment — after all, they're considered different products, based on how the FAQs are written
For what it's worth, Avianca's LifeMiles program has a similar policy whereby you can't mix cabins on an award, and it's a real pain to deal with at times.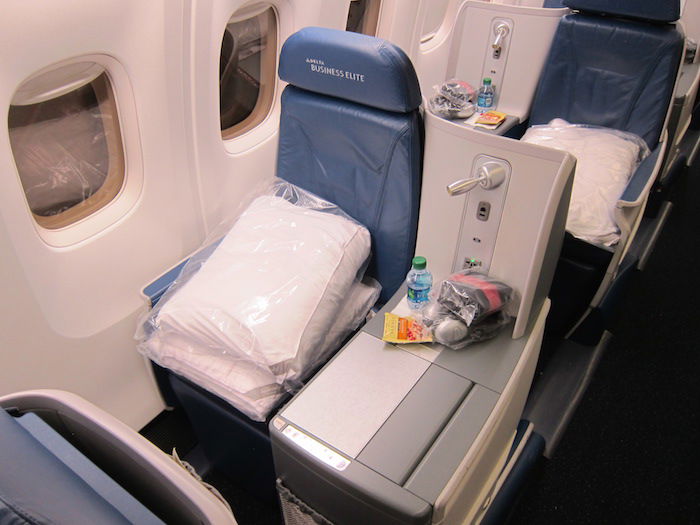 This highlights the problem with Delta's lack of transparency
Perhaps I'm beating a dead horse here, but for me this really underscores the problem with Delta's lack of award charts and non-existent transparency. In the event that something is priced incorrectly, we would never know, since the airline doesn't publish an award chart.
As it stands there are several cases where SkyMiles awards price incorrectly. Even though Delta is working on "fixing it," there's nowhere you can point to in the meantime to get those awards priced correctly.
Here's to hoping this ban on mixed cabin awards isn't ever enforced.
What do you make of Delta's change in terms when it comes to mixed cabin awards?