Reader Curt asked the following question on the "Ask Lucky" page of the blog:
I've only ever traveled domestic (US) coach, so I'm completely unfamiliar with the ways of international First Class. One of the most surprising things to me, reading your accounts, is not only that airlines distribute pajamas in first class, but how important they seem to be to your enjoyment of it. I'm curious how this love affair began. Did you know about the PJ's before you ever flew first class, and were they one of the features you looked forward to? Or did you only learn of this the first time you were offered PJ's in first class, and did you take to them immediately, or did you need some time to warm up to the idea? Were you self-conscious about wearing them at first? I know these must seem silly questions, but of all the perks of first class you've revealed, this is the one that struck me as most "exotic." Thanks for a great blog, and thanks for taking the time to consider my question!
It's funny, because I usually way over-think things, but pajamas on airplanes is something I've never given any thought to. I've never felt self conscious about wearing pajamas (well, except that one time), and perhaps that's because I spend so much time in the air. I have no qualms putting on pajamas when flying business class on an airline that doesn't distribute them, and even occasionally change into them on domestic redeyes if they're long enough. Heck, I also wear my airplane pajamas at home all day, so if I'm just making a quick trip to Starbucks you can guess what I wear.
I always change as soon as I board, but not always into the pajamas of the airline I'm flying. If it's an airline that typically keeps their cabin hot I just put on basketball shorts and a t-shirt, while if it's an airline with scratchy pajamas (like Singapore) I'll bring my own pajamas (here are my five favorites), usually American or British Airways ones. You wouldn't think American's would be high quality, but they're actually incredibly light and soft, not to mention they wash extremely well (the same can't be said for British Airways').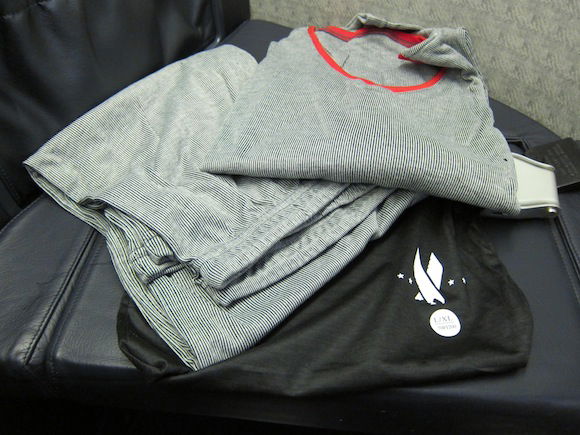 American Airlines pajamas
But to get to the core of Curt's question, I had read a bunch of first class trip reports before ever flying first class, so I knew exactly what to expect. And I guess there's some level of social pressure (or perhaps more social "acceptance"), since I find especially on foreign carriers almost everyone changes into pajamas.
Some people will claim that it's laughable that adults are changing into pajamas on airplanes, but when you think about it, first class on airlines over the past 15 years has evolved from recliner seats that are hardly comfortable for a nap, to suites with amazing bedding and doors. It's now possible to get actual, "real" sleep on a plane, and not just "airplane" sleep. And just as you wouldn't wear your business clothes to sleep at home, I don't think it should be any different on a plane.
So where do you all stand on wearing pajamas on airplanes? Never wear them, only wear them when they're offered, bring your own even when they're not offered, or change into something completely different?