Okay, so it wasn't a hotel employee, but it was still pretty amusing. 😉
Yesterday afternoon I had to check out of the Park Hyatt Seoul at 4PM, though my flight wasn't until midnight (well, at least in theory… until it wasn't). I still had some work to get done, so decided to sit in The Lounge, which is the name of the lobby lounge on the 24th floor, so that I could have dinner while using Wi-Fi.
It's a gorgeous space and the service is exceptional…. so good that it's comical.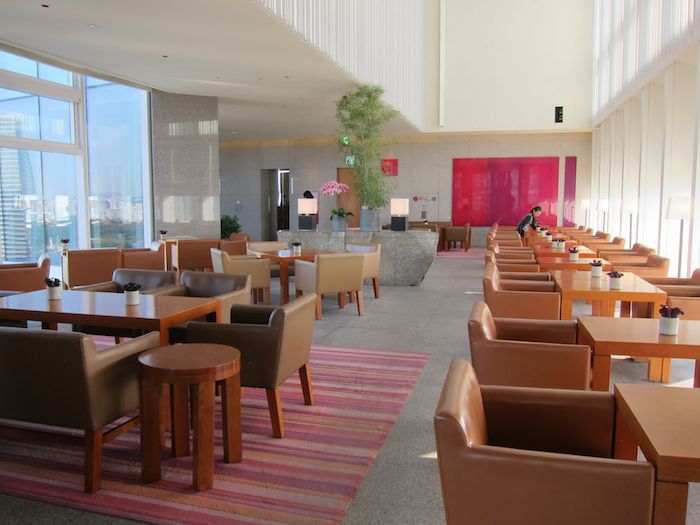 I had a lovely Korean dish, so was generally a happy camper.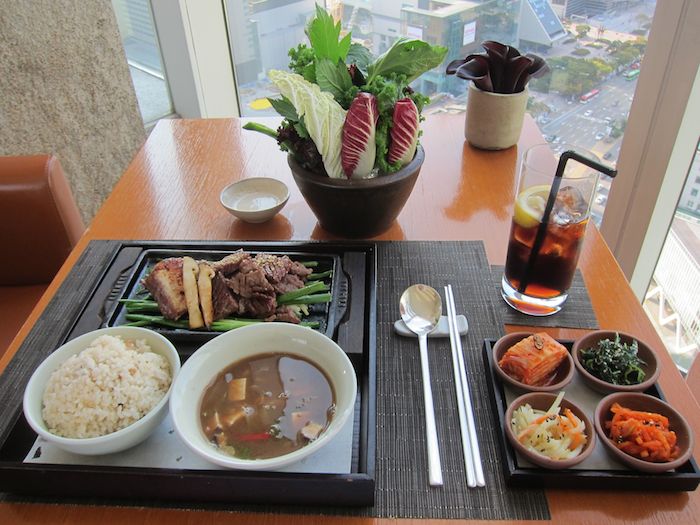 About halfway through the meal two people sit down at the table next to me. They were both maybe in their late 20s or early 30s, and I believe the guy was Chinese, while I believe the girl was Korean. They communicated in English.
I couldn't actually hear much of what he was saying, but I heard every single word she said, because she had no sense of tone.
I wasn't intending to eavesdrop, but I couldn't help but overhear how disparagingly she was communicating with the server, who was delightful. I think how someone interacts with people that work in the service industry says a lot about them and the person they are.
They ordered a still water, sparkling water, espresso, and coffee, and the server tried to ask a few clarification questions (what type of water she wanted, what she wanted in her coffee, etc.). She snapped back "just get me what I want and stop asking so many questions." Unbelievable. I do have a really big mouth, so in situations like these I have to use a lot of restraint not to call these jerks out.
Okay, at this point I started eavesdropping, as I was curious about the dynamic between the two.
The dude seemed to work for her… and their dynamic seemed kinda cold… and OMG HE WAS ACTUALLY QUITTING HIS JOB!
He explained he's not paid enough, doesn't have any time off, and doesn't feel he's valued. He explained that his wife isn't happy with his job, since he never has time for her. I assume that was partly an easy excuse so that no feelings were hurt (based on how she treated the server, I can only imagine how she treats the people she works with).
For the next two hours I sat there and listened to what was possibly the most ridiculous one-sided conversation I've heard in my life. She didn't seem to understand he had made up his mind and was quitting, and thought the way to get him to change his mind was to intimidate him. Whatever product they're working on is "launching" in 10 days (October 16), so she kept emphasizing how horrible he was for wanting to quit right before the launch:
"It sounds like you and your wife might have other issues and that work isn't really the problem. What does this say about your wife? Is she this weak and selfish of a person?"
"But do you not explain to your wife the sacrifice you're putting in for the future? If you stick with me you will be retired at 45. You can live on a private island and have your own private school for your children."
"We are helping the world with what we do. Do you not want to help the world?"
"Well I'm happy you shared with me how you feel, this is valuable. And the timing is good, because I was going to give you a reality check soon as well, to put you back in your place."
"How do you think you will get a job in the future? What do you think it says to future employers that you're a quitter and that you don't follow through with what you start?"
"Why don't you let me have a meeting with your wife so I can explain to her all the great things you're doing?"
The lady was the most patronizing bitch I've ever witnessed, and he just couldn't have been calmer about the whole situation. "Well then do me a favor. Just attend the launch and we will see what happens from there." He stayed calm and kept explaining he really didn't want to. "But as a friend, do me a favor and attend the launch. Bring your wife so she can see what you're doing, and then she will want you to keep working on this." He didn't want to ."Well what will you do for the next 10 days then? Sit at home and watch TV?"
The best part is that after each of the above "questions" she would wait for him to respond and then say "well I'm just trying to help you, that's why I'm asking so many questions."
After disparaging him for two hours and not getting that "I quit" means "I quit," she asked if he could at least recommend someone to replace him, and stay on until he finds and trains that person. That's right, he's supposed to find the replacement.
As they were finishing up their talk I finally left, and I think the guy had sensed that I overheard a lot of the conversation. I subtly shook my head and widened my eyes, and he smirked.
Fun times! And I know it will sound crazy to some, but it's what I love about foreign luxury hotels. The conversations you overhear in a lobby bar are usually worth way more than the cost of the overpriced drinks!