Last week I wrote about Alaska Airlines' big expansion out of Newark, where over the next several months they'll be adding four additional daily transcontinental flights out of Newark, to Portland, San Diego, San Jose, and Seattle.
This followed the announcement earlier this year that slot restrictions at Newark Airport would be eased starting this fall, making it easier for more airlines to launch flights to Newark Airport. Previously Newark Airport was slot restricted due to the amount of congestion, but they managed to improve their stats to the point that they could accommodate more capacity.
That means right now Newark Airport is the only NYC area airport that a West Coast airline can easily expand to.
While I find Alaska's San Diego and San Jose focus cities to be a bit scattered, the strategy behind what they're doing makes sense. Alaska is taking over Virgin America to create the "premier West Coast airline," and as part of that they're going to want to compete more aggressively on transcon flights with JetBlue, especially now that JetBlue is trying to expand out west more.
It looks like the combined Alaska and Virgin America transcontinental growth out of Newark isn't just limited to Alaska, but Virgin America is joining in now as well.
Virgin America has announced that they'll launch an additional daily flight from Newark to both Los Angeles and San Francisco as of November 18, 2016. Once added, Virgin America will have a total of ten daily flights between Los Angeles and New York, and a total of nine daily flights between San Francisco and New York (split between Newark and Kennedy).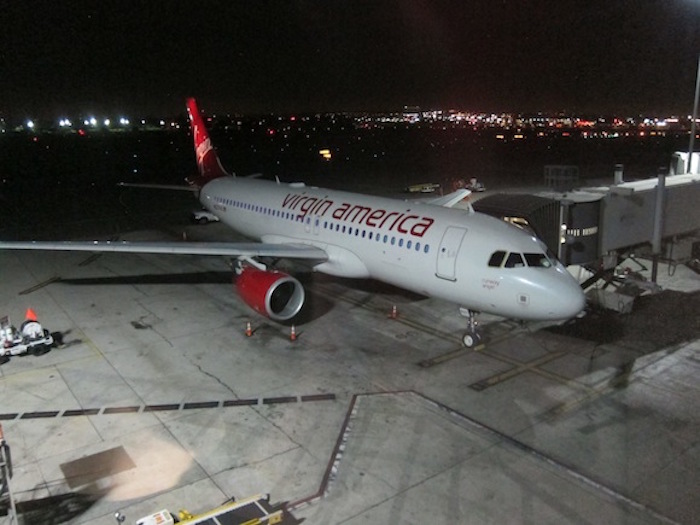 The additional frequencies, which complement the existing ones, will operate with the following schedule:
Newark to Los Angeles departing 4:05PM arriving 7:20PM
Los Angeles to Newark departing 7:00AM arriving 3:10PM
Newark to San Francisco departing 7:00PM arriving 10:25PM
San Francisco to Newark departing 9:40AM arriving 6:00PM
The "combined" Alaska Airlines will have quite a transcon route network out of Newark with these changes (and the below doesn't even reflect the number of frequencies they have to Los Angeles and San Francisco).
Bottom line
The Newark expansion from Alaska and Virgin America seems a bit scattered and non-ideal, but at the same time additional frequency opportunities out of the NYC area for airlines are limited, so they're making the best of what they can get.
It'll be very interesting to see what kind of an onboard product the combined Alaska and Virgin America adopts once they complete their merger. Alaska just has standard domestic first class seats (which isn't really competitive in some transcon markets), while Virgin America has recliner seats (which are more comfortable than domestic first class, but nowadays not competitive between NY and LA/SF anymore).