A vast majority of US airports aren't slot restricted, in the sense that the limitations to airlines launching service are the demand, available gate space, etc. Then there are a few US airports which are slot restricted, like LaGuardia, Washington Reagan, etc. These are airports where the demand greatly outweighs the supply.
Slot restrictions are intended to ensure that there aren't too many flights arriving and departing at the same time, in hopes of easing congestion as much as possible. For slot restricted airports in the US, the FAA awards the slots largely with the intention of increasing competition between carriers, in theory keeping fares as reasonable as possible.
That's why in the case of mergers we've seen airlines forced to give up slots, when their combined presence at an airport would have caused competition to be limited (we saw this with the merger between American and US Airways, where they had to give up some slots at DCA).
Interestingly it was announced yesterday that this fall the FAA is easing slot restrictions at Newark Liberty Airport for the first time since 2008:
Beginning on October 30, 2016, the FAA will designate EWR as a Level 2, schedule-facilitated airport under the International Air Transport Association (IATA) Worldwide Slot Guidelines. This will allow more efficient use of the airport terminal and runway capacity. Newark is currently designated as a Level 3, slot-controlled airport, which means that it is limited to 81 operations per hour.

"The significant improvements in on-time performance and delays at Newark allowed us to make these changes," said FAA Administrator Michael Huerta. "This change will improve access to some of the most in-demand airspace in the country and has the potential to provide more options for local consumers. We also recognize the demand for changes at JFK, and are open to considering capacity changes there when the planned runway construction is finished."

Starting this month, the FAA is inviting schedule submissions from carriers for the Winter 2016 season. Airlines will separately need to obtain terminal space, gates and other facility access from the Port Authority of New York and New Jersey, the EWR airport operator. The FAA will work closely with the Port Authority and airlines to help facilitate synchronization of airport facility access and runway times for proposed schedules.

The FAA expects to see numerous benefits as a result of this change at EWR, including the following:

More efficient use of existing airport terminal and runway capacity
Increased access to EWR and the New York City area markets
Market access and new entry for carriers and increased competition
Allows consideration of retiming of existing flights to improve service offerings or to meet airlines' operational or marketing needs
Creates potential for retiming some flights out of the late night and early morning hours, thus reducing noise during these times
More runway capacity available to carriers in cases previously denied under the current Level 3 slot controls
In theory this is bad news for United, as they currently control a vast majority of the capacity at Newark Airport. This has the potential to increase competition at Newark Airport.
On the other hand, this could also cause United to increase their presence out of Newark Airport even further, perhaps shifting more capacity from Washington Dulles to Newark.
I suspect some low cost carriers will launch service to Newark as a result of these changes, given that it's a market which they've had a hard time gaining access to in the past.
What's interesting is that one of the metrics used to ease slot restrictions at Newark are the improved flight metrics. For example, in comparing the summer of 2015 to the summer of 2007:
On-time arrivals at Newark increased by 11%
On-time departures at Newark increased by 3%
Mean arrival and departure delays are down by 33%
Delays greater than 60 minutes are down by 37-38%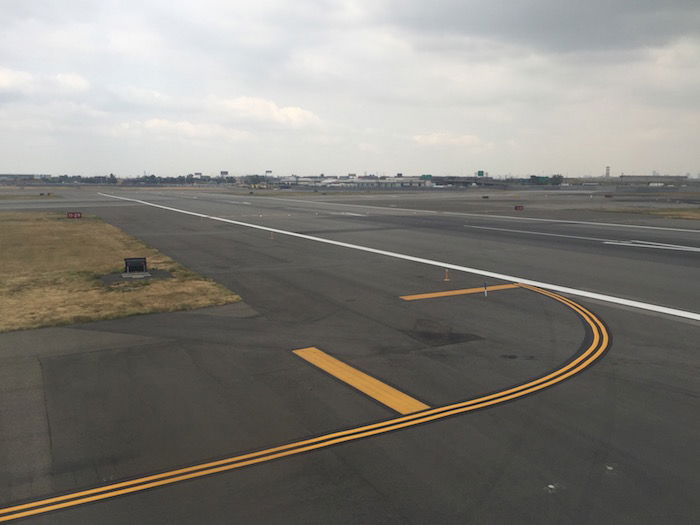 Runway at Newark Airport
Bottom line
It's nice to see the metrics of some of the biggest airports in the US improving. I'm curious to see who benefits most from this change. In theory it's bad for United since it increases their potential competition, though on the other hand it could just cause United to shift even more flights to Newark. They have a fortress hub there, so even if other airlines increase their presence at Newark, they still won't be able to compete with United.
Interestingly all of this comes after the Department of Justice tried to step in and prevent United from getting more slots at Newark…
Do you think slot restrictions being eased at Newark will help or hurt United?