There's no denying that Uber engages in some shady practices to grow, and that not all their policies are perfect, both for customers and for drivers. That being said, in just a few years they've almost singlehandedly taken on what has historically been one of the most monopolized, protected industries in the world. And that's incredible.
While there are no doubt good taxi drivers out there, prior to Uber I grew so frustrated by the lack of customer service and sometimes downright rudeness I experienced in cabs. And that's all sort of history thanks to Uber, given the instant feedback loop.
The battle for Uber is fierce, given the lobbying organizations many taxi companies have. Outside the US the fight against Uber has even gotten violent at times, as we recently saw in Paris. Absolutely disgusting.
However, it looks like London cabbies are taking a different, more lighthearted approach towards attacking Uber. Specifically, comedian Russell Brand seems to have taken on the cause, and uploaded a video a couple of days ago lashing out against Uber. The video is described as follows:
Cabbies livelihoods are under threat from Uber which avoids paying UK taxes. But it's OK because David Cameron is best mates with Uber's top brass.
Here's the video:
He goes about the video in a cute way, I suppose, and there's no denying he has some valid points. Like I said, Uber is far from perfect.
But he also makes a lot of silly points. For example, referring to Uber and other multi-national corporations, Brand says "once these people have got us monopolized I have a feeling they're in this for profits and prices might start going up."
Well, first of all, they're already in it for the profits. And second of all, are you really going to complain that Uber is monopolizing things? You mean kind of how the cabbies (who you're defending) have had it for decades? C'mon now, that doesn't really hold up. Uber is the solution to a heavily monopolized industry… not the other way around.
Then he complains about surge pricing during the tube strike in London, and about how Uber was charging ridiculous rates. Does anyone like surge pricing? Of course not. But it's a simple function of supply and demand. UberX drivers aren't going to be on the roads sitting in bumper to bumper traffic for hours if there's no surge pricing. That's just a reality of the Uber business model. Drivers are going to work when they know they can make money, and that's not during a strike with jammed roads and "regular" pricing.
Meanwhile Russell's cabbie friend (who seems like a really cool guy) mentions how he had a "human" touch during the strike, and said he told customers "I'll tell you the fare when we get there." Sorry, that's better than (transparent) surge pricing how, exactly?
Of course what this conveniently leaves out is that Uber saves people a lot of money. Just look at the flat rate fares between Heathrow Airport and London:
Those are substantially lower than the range of fares charged by taxis, which can be more than double as much: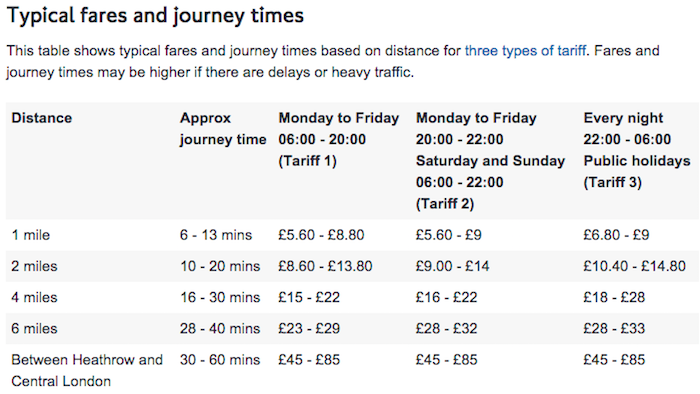 Uber saves people money, and ultimately also lets people earn extra money. Nobody is being forced to work for Uber, and clearly the model is working for drivers, or they wouldn't participate.
All that being said, if there's one city in the world where I do feel bad for cabbies in the Uber battle, it's London. They're just about the most professional and well trained taxi drivers you'll find anywhere.
But that doesn't negate the fact that Uber adds value as well.
What do you make of Russell Brand's Uber tirade?
(Tip of the hat to TravelSkills)