I recently wrote about some of the things everyone ought to know about redeeming miles. While I harped on being flexible (which is really critical for booking award tickets that you actually want to fly), one of the other key factors is that timing is everything.
And right now is a fantastic time to redeem United miles, especially if you're planning travel to Europe or Asia for next summer.
Great award space
Star Alliance has more carriers than the other main alliances, so it's generally a bit easier to find award space. Right now, however, there is an abundance of space on a few routes, even over peak travel dates!
United to/from Europe
View From The Wing noted that United has released a ton of award space on their own flights for travel next summer. The best availability is from Houston and Chicago, but there's a decent amount of space for 4+ people on many of United's transatlantic routes: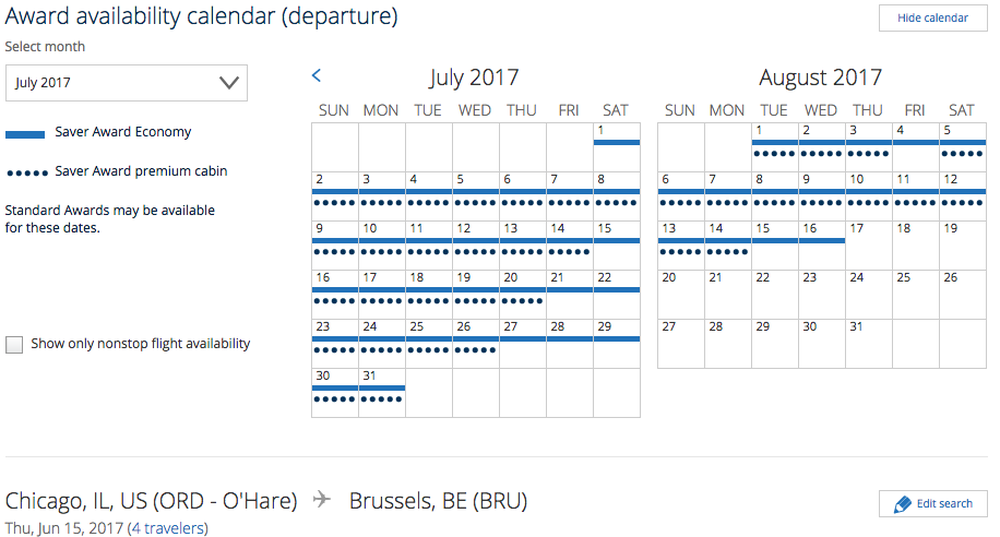 I don't think this is necessarily "stop the presses" news, as United has traditionally done a decent job of releasing transatlantic award space, but the timing and quantity of space make this quite compelling.
Austrian to/from Vienna
It has been nearly a month, and Austrian is still offering phenomenal amounts of business class award space. Certain dates and routes are more limited, but there are an abundance of flights with at least four seats through the end of the schedule: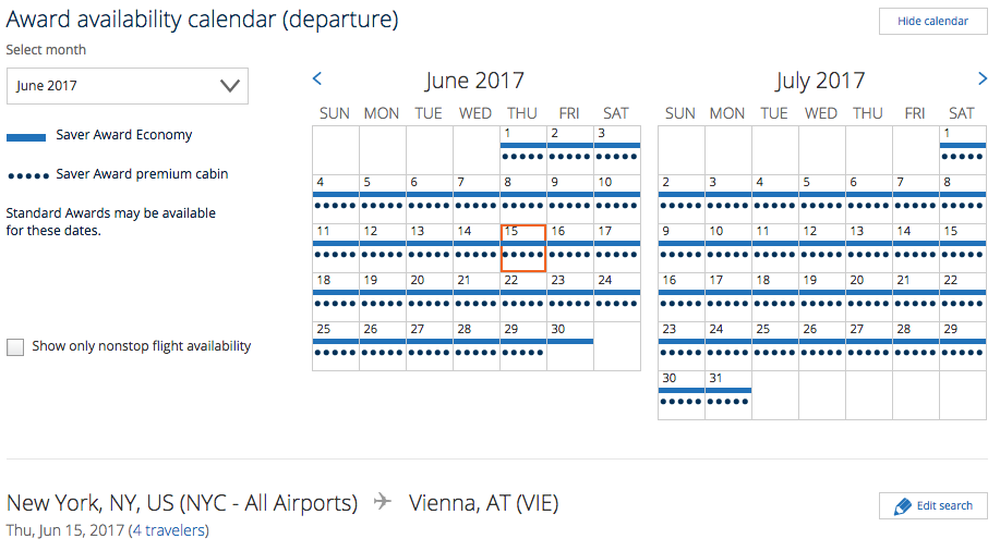 Austrian's new business class is more spacious than United's old business class, but either would be a solid option for taking a family to Europe, with lie-flat seats across the board.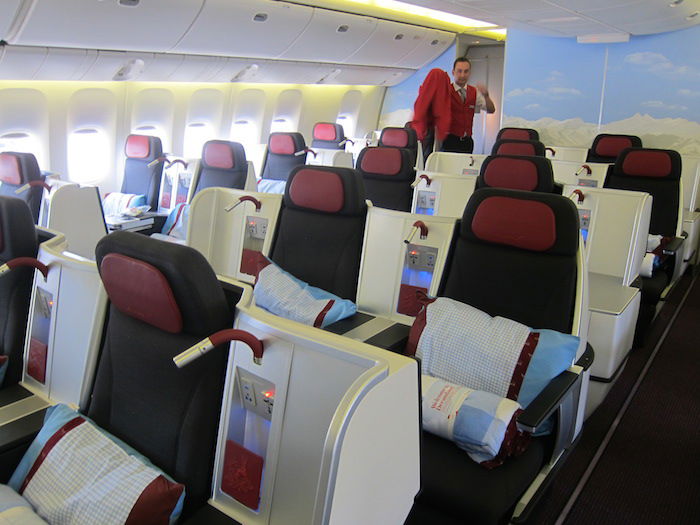 Austrian business class
EVA & Asiana to/from Asia
This one is a bit unusual! EVA used to be amazing at releasing tons of award space in business class, but that's really tapered off over the past few years. For the most part, they've been making premium cabin space available to partners within 90 days, which isn't terribly useful for most people.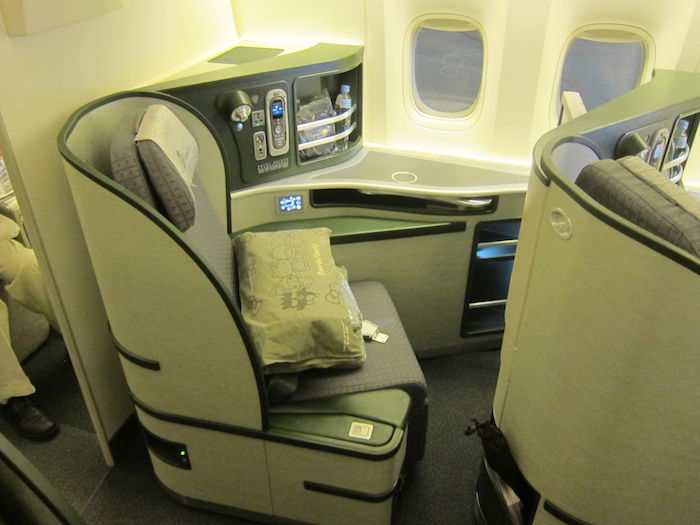 EVA business class
Right now, however, we're seeing dates through the end of the schedule with 4+ seats per flight. The best availability is to Chicago, but there is some sporadic space on other routes.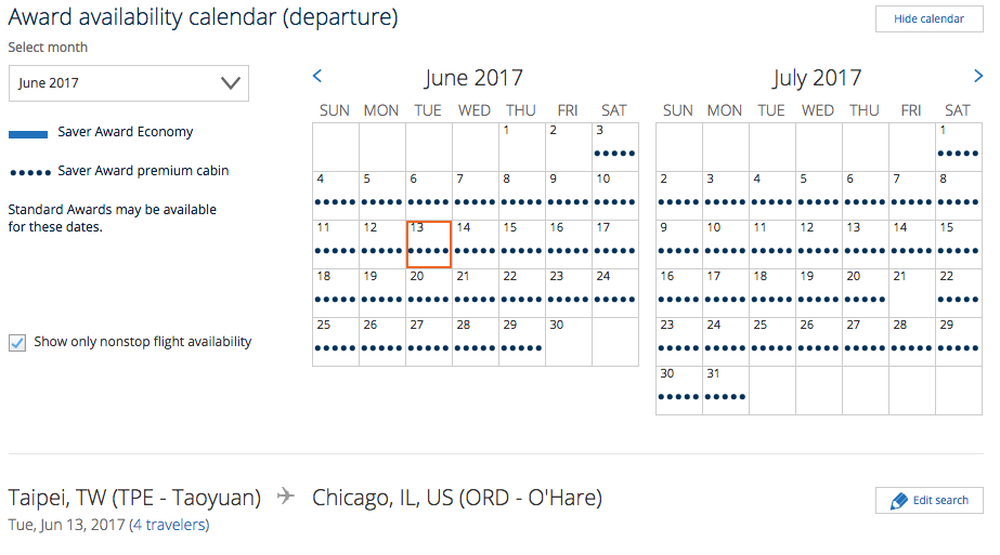 If the EVA space doesn't work for your travel plans, look for availability on Asiana. They have generous amounts of space out of their hub in Seoul, and it isn't uncommon to see 6+ seats in business class on their A380 routes.
Booking Awards With A Stopover
One of the best ways to get outsized value from United awards is by incorporating a stopover in a third region.
You could actually take advantage of both the United and EVA space by booking a trip from, say, Chicago to Brussels, spending a few days or weeks there, continuing on to Taipei, spending some time there, then returning to Chicago.

This counts as a single award to Asia, and would/should price at 160,000 miles per person in business class. Given that a partner award to Europe is 140,000, that's a pretty great deal!
In theory you should be able to price something like this online, using United's multi-city tool: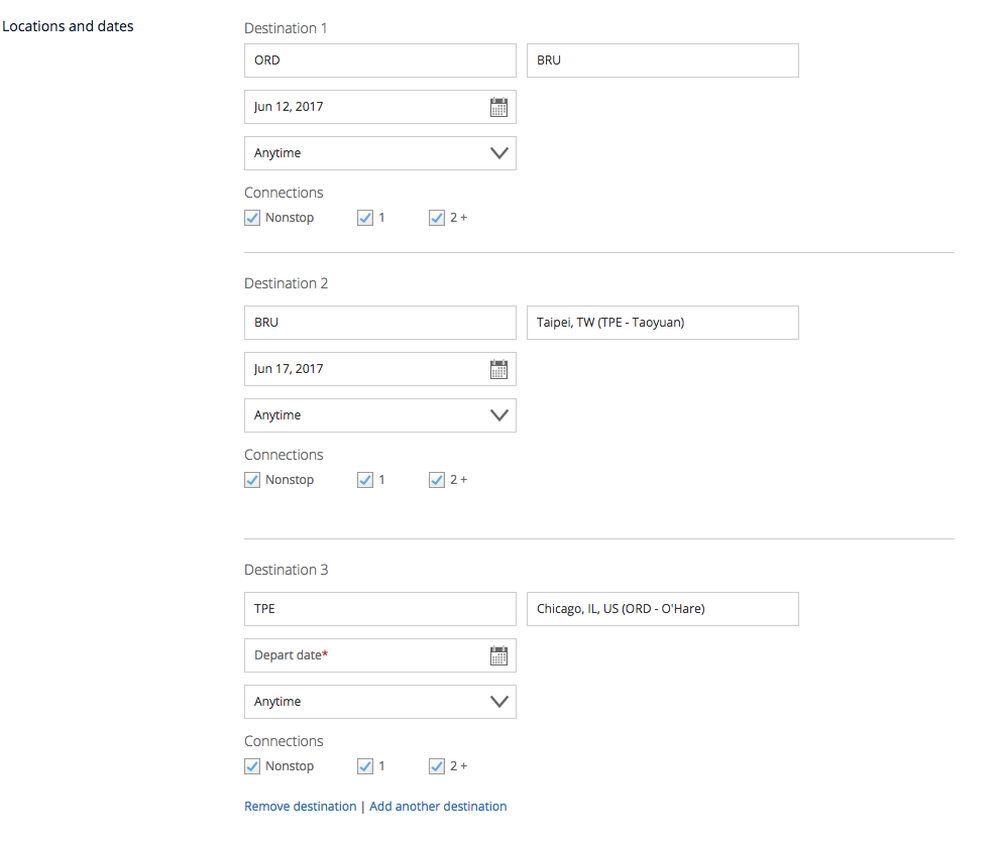 In reality, it may never work. Don't ask me why. It just won't. You'll get two-thirds of the way through and it will just error out. If that happens, it's not you, it's just the system.

What you want to do instead is book the two over-the-water segments online. Enter those routes into the multi-city tool: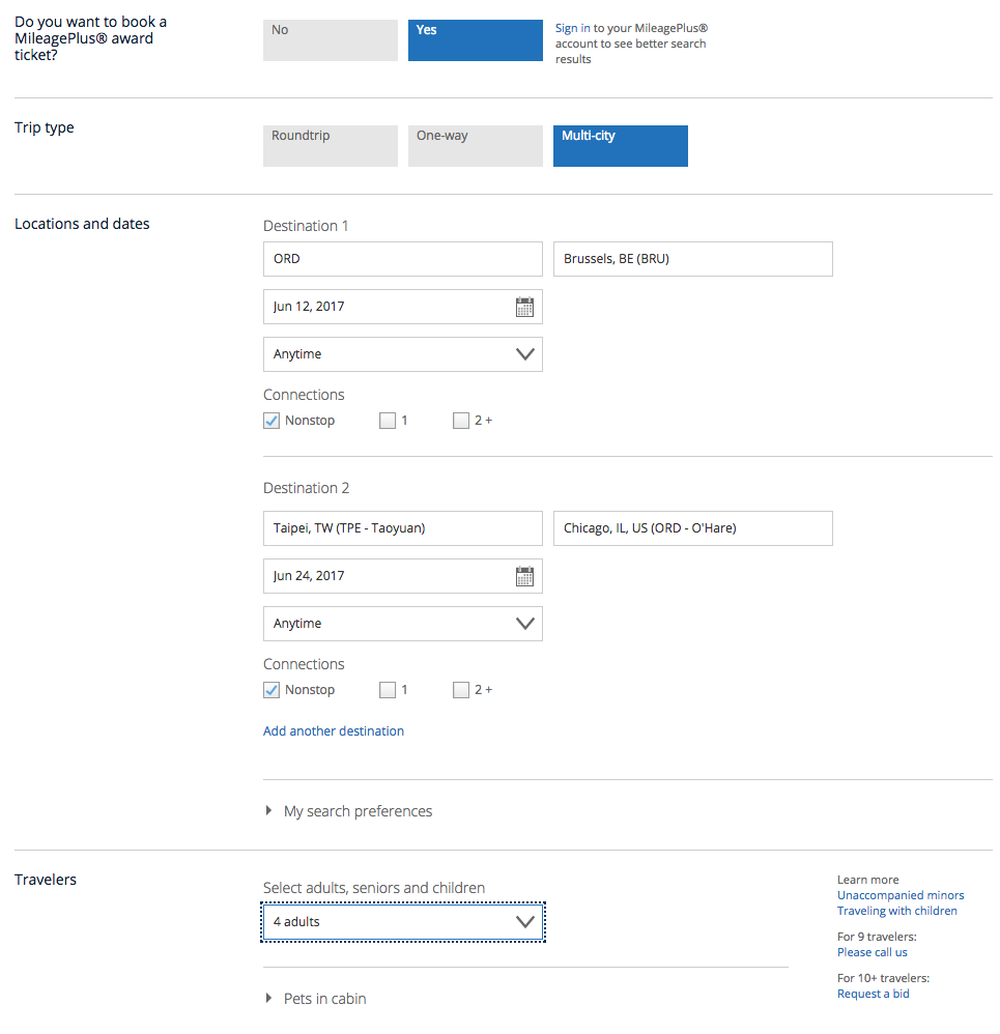 Then select the flights one at a time, ignoring whatever prices might come up and focusing on selecting the "Business Saver" options:


You'll get a summary of the flights, which you can then ticket.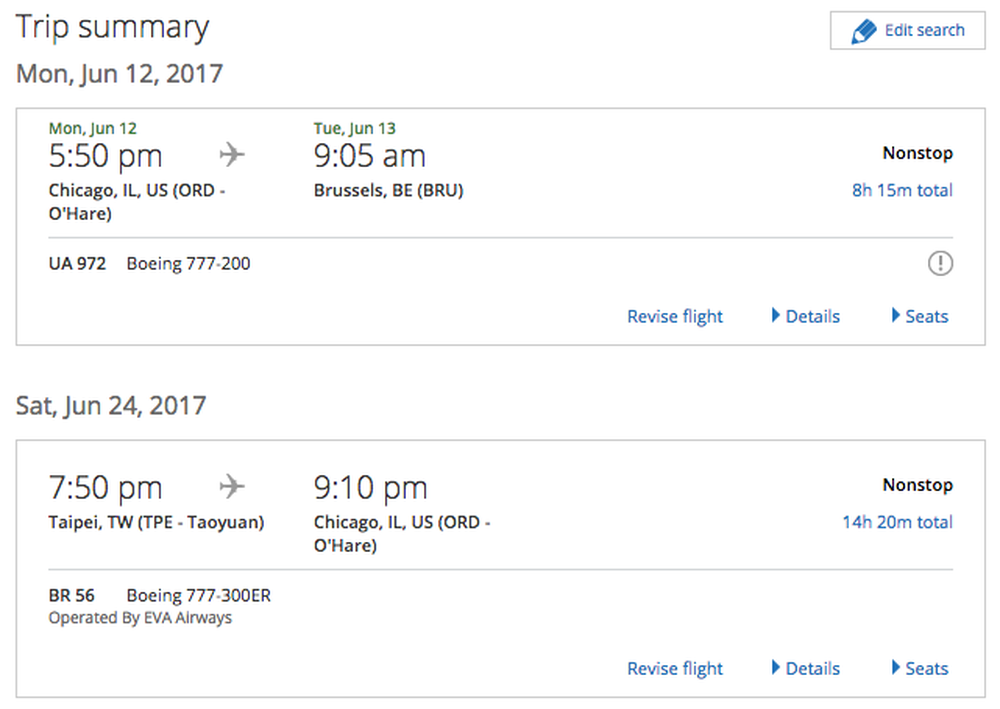 I would ticket these segments, and then call United within 24 hours to add the flights from Brussels to Taipei.
There shouldn't be a change fee within that timeframe, and this should price at 160,000 miles in business class. That might be a longer phone call, as your award will likely need to be repriced, which takes some time.
Stopover rules/fees changing soon
As a reminder, United is updating their stopover policies (and their change fees) for all awards booked as of October 6th. Stopovers aren't going away, necessarily, but are being replaced with an "Excursionist Perk" that seems far too complicated.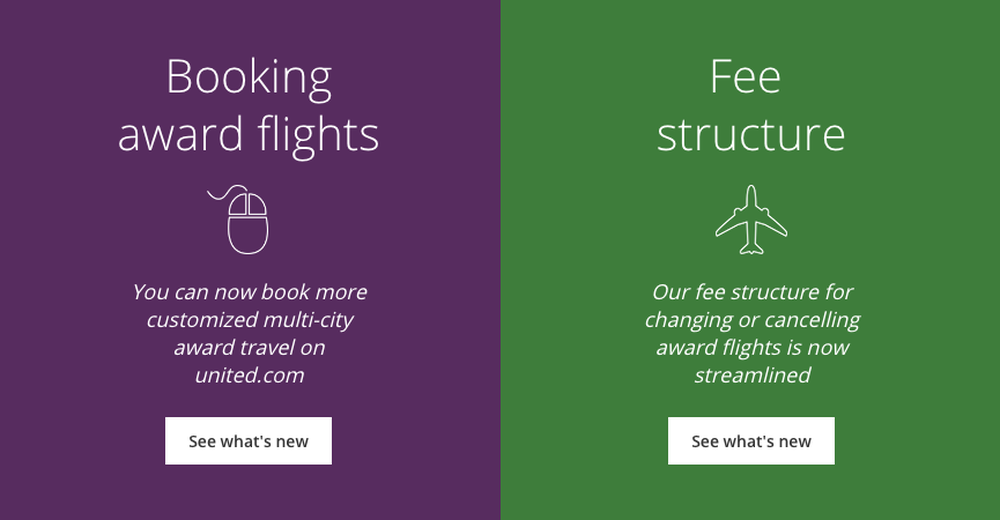 In practice, I don't believe you'll be able to book awards to Asia with a stopover in Europe once the "Excursionist Perk" rules are implemented. I'm also not sure you'll be able to cross both oceans when going to/from Asia (though hopefully it will continue to not matter).
Don't Have United Miles?
The best way to top off your United account is with a transfer from Chase Ultimate Rewards:
Transfers are instant, so you can wait to move points over until you've confirmed availability.
For what it's worth, the sample itinerary I used above is also bookable through Air Canada Aeroplan for 150,000 miles, with no fuel surcharges. If you have a ton of American Express Membership Rewards points, or even Starwood Preferred Guest points, that might be a better option.
Technically you could also book through any other Star Alliance partner, but I tend to get nervous about the transfer lags with some of the other carriers.
Bottom line
Ultimately, there are a lot of unknown variables with the new "Excursionist" policy. If you have an United award in mind, I'd highly recommend booking your trip before October 5th.
And the abundance of award space for next summer makes that process even easier!
Is anyone booking a United award for next year? Where to?