Update: American has confirmed that this was in fact an error.
As far as I'm concerned, the single biggest thing a loyalty program can do to break the trust of their members is to devalue a program without notice.
Members collect points in good faith, and I don't think it's unreasonable to expect that loyalty programs would at least give members some advance notice prior to program changes.
In April American and US Airways really broke the trust of their AAdvantage and Dividend Miles members by making program changes without any sort of advance notice, including:
American eliminated distance based oneworld Explorer awards
American eliminated stopovers at the gateway city on AAdvantage awards
American created multiple tiers of AAdvantage standard award levels
US Airways created multiple tiers of Dividend Miles standard award levels
US Airways raised the cost of Dividend Miles business class redemptions between the US and North Asia from 90,000 miles to 110,000 miles
Suzanne Rubin, who heads the AAdvantage program, was nice enough to speak with me and share her thoughts on the changes. She explained that they were making these changes as part of a larger set of changes, and she seemed genuinely surprised by the backlash to the changes that were made without notice.
I think we shared our feedback in no uncertain terms, and they heard us.
Prior to that I trusted the American AAdvantage program and always thought that it was one of the most "honestly" run loyalty programs there is. However, as I explained in my follow up post, I no longer trust the AAdvantage program.
Well, it seems like they've done it again. This time US Airways Dividend Miles has changed their award redemption rates without any sort of advance notice.
Again.
One of the "sweet spots" of the US Airways award chart was that they charged the same number of miles domestically for two cabin first class/business class as they did for three cabin first class.
That meant it was possible to fly American A321 first class between New York and Los Angeles, or Cathay Pacific first class between New York and Vancouver, for 50,000 miles roundtrip in first class.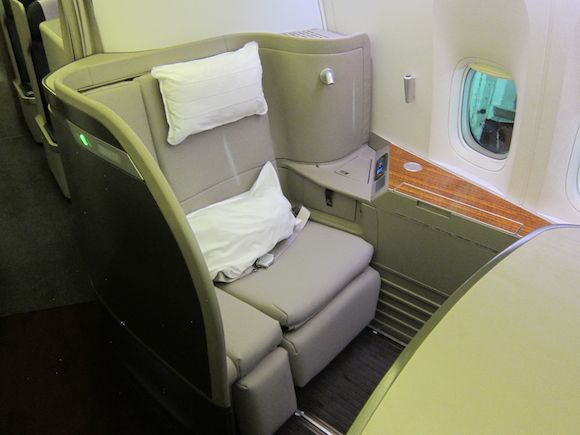 Cathay Pacific first class

However, without any advance notice they've adjusted rates for these awards, and have gone from charging 50,000 miles to charging 65,000 miles for oneworld awards in first class:

Meanwhile the partner award chart still shows the old rates.

For reference, here is the Dividend Miles award chart as of yesterday: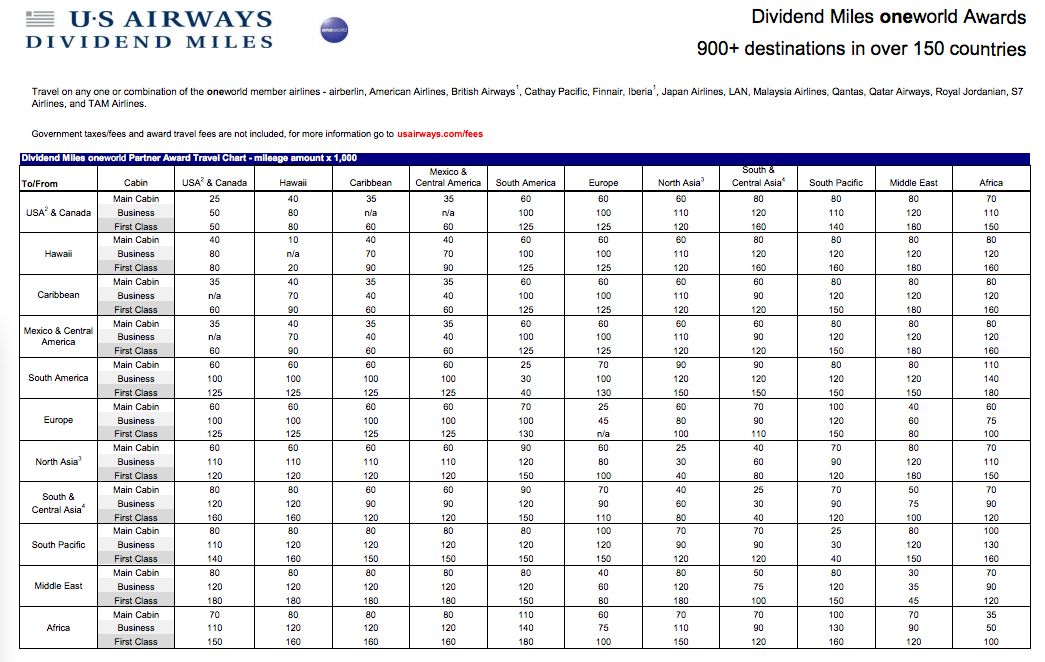 And here it is today: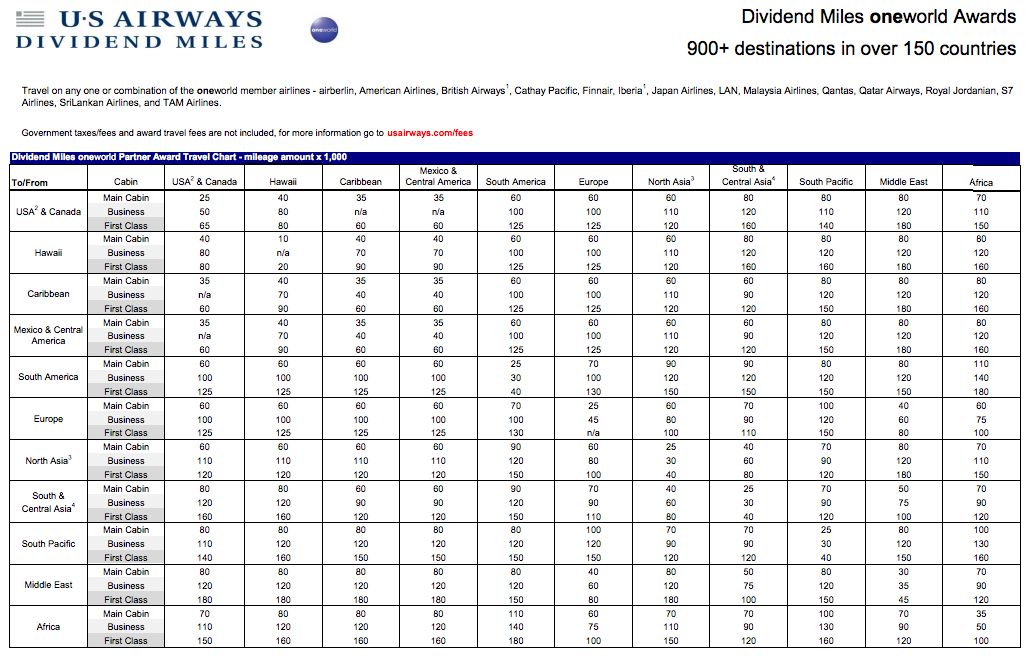 The US Airways website is a bit mind-boggling to me, but for what it's worth it appears that these new prices haven't been hard-coded in to the system yet.
A roundtrip LAX-JFK in 3-cabin first is still pricing at 50,000 miles roundtrip, for the time being: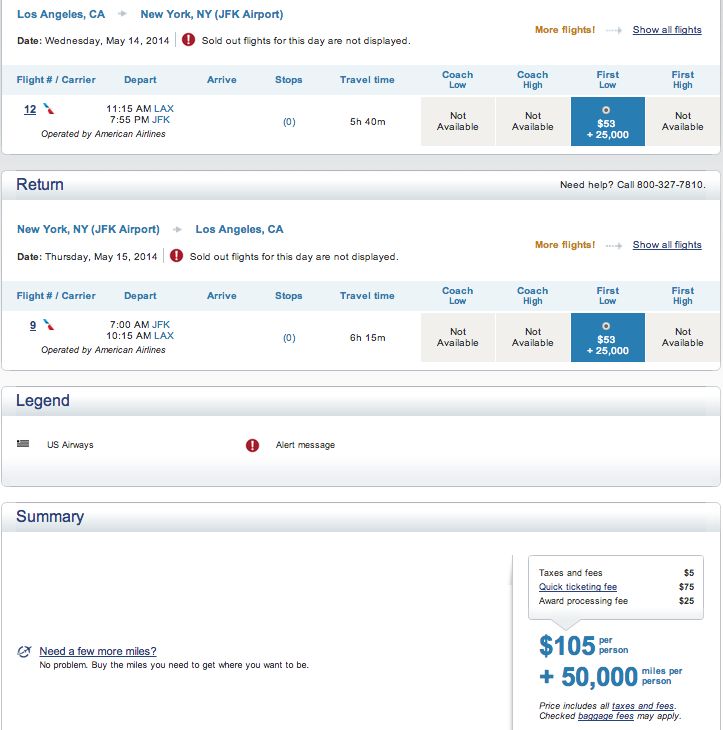 And this even books into Z class:

My post about why I don't trust AAdvantage was actually a follow up to Gary's post about why he still does trust AAdvantage, and despite disagreeing with the premise of his title, I agreed with his message:
I think and hope that the strong consumer reaction to lack of notice of these changes will be a lesson learned.

For me they get one screw-up.

How they behave next time — advance notice of changes and clear, transparent communication about those changes — will factor much more into my own opinion about the trustworthiness of the program than this one-off incident.

I've always thought that about the worst thing a program can do is pull the rug out from under customers when making changes. And when I've seriously and immediately called out programs in the past it's generally been of programs I already didn't have much trust in.

Here I think there's warranted criticism for how this was rolled out. American AAdvantage still has my trust, but I'm wary, and future decisions over the next months are going to be key.

They're at a turning point. Certainly they know it. And we'll all be watching.

But I still trust them, and whether I continue to do so will be dependent upon the next data point.
If anyone at American is still listening – this has to stop.
(Tip of the hat to echino)