La Compagnie is the all business class transatlantic airline which started flying in mid-2014. Their first route was between Paris and Newark, and I was able to review that flight within days of when they launched operations. Last summer La Compagnie launched flights between Newark and London as well.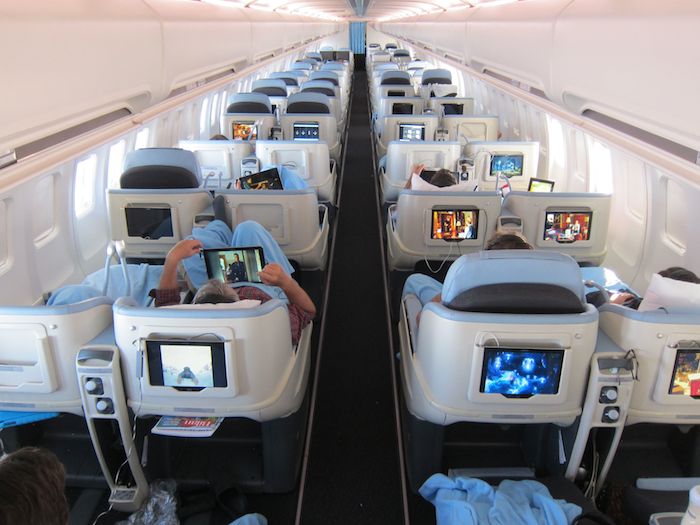 There's no denying that La Compagnie offers exceptional value, as their business class is in many cases priced only marginally more than what other airlines charge for economy. I figured that was just a promotional offer for when they launched, but they've stayed consistent, which I commend them for.
At the same time the airline's business class product is definitely sub-par. Seats are angled, while the industry standard nowadays is for business class seats to be fully flat (at least to London and Paris). But for the price, you really can't complain.
While the airline is apparently breaking even on their New York to Paris route, they're still losing money on their New York to London route.
It looks like the airline has a unique opportunity which I'm sure will generate quite a bit of buzz.
La Compagnie is selling unlimited business class flying
La Compagnie is selling a one year pass for unlimited flying on the airline's two routes, called L'Unlimited.
Here are the basic details:
The pass will go on sale on July 18, 2016
The pass is good for a year from the date of your first flight, though will expire no later than December 15, 2017
There are no capacity controls (as long as a seat is available, a pass member can catch a ride)
You can only reserve up to two roundtrips at a time
If you don't cancel within three hours of a trip and no show, you'll be charged 2,000EUR
How expensive is unlimited business class flying?
$35,000, 30,000EUR, or 25,000GBP, depending on whether you reside in the US, France, or the UK, respectively.
Furthermore, to add a sense of exclusivity, La Compagnie is selling just 10 of these passes. I suspect they'd gladly sell an unlimited number, but they realize demand will be fairly limited, so they're trying to make it sounds more exclusive in hopes of getting people interested.
Is unlimited business class flying for $35,000 a good deal?
La Compagnie is known for their cheap business class fares. For example, at the moment they have promotional fares of $1,600 roundtrip between New York and London, and $1,800 roundtrip between New York and Paris. However, in the past we've seen significantly lower fares than that.
It's worth noting that these aren't walk-up fares, though. If you're planning more last minute, the fares may be $5,500+ roundtrip (in those instances I probably wouldn't choose to fly La Compagnie, though).
To break it down, you're basically paying $670 per week for such a flight pass. If you fly transatlantic every single week (shockingly there are some people who do that), it's an incredible deal.
If you fly every other week, you're still paying only ~$1,340 for roundtrip business class, which includes if you're planning last minute.
If you fly every three weeks, we're getting closer to the breakeven point of this deal, as you'd be spending ~$2,000 for each roundtrip. That's probably a bit more than you would otherwise pay if planning well, though this pass has the advantage of allowing you to book very last minute, in which case you'd otherwise end up probably paying significantly more.
Bottom line
This is a creative offering on the part of La Compagnie, so I commend them for that. In theory I think there's value to be had here, if you're someone who will definitely be flying between New York and London/Paris every couple of weeks or so. On one hand it sucks to be stuck with just one airline (especially when we don't know about their financial future), while on the other hand the flexibility of being able to book and make changes last minute is pretty awesome. I'm curious to see if the airline finds 10 people to buy this pass.
Regardless of whether or not you're their target market, what do you make of La Compagnie's yearly pass pricing?
(Tip of the hat to Tyler Birth)