Last night I wrote about how United revealed that Oscar Munoz would be making a "historic" announcement today. This was described as a "historic package of new and expanded international routes," and suffice to say that it led to lots of speculation as to what the additions could be. Well, the wait is over, and we now know.
I'd say it's not not exciting, but it doesn't quite live up to the "historic" hype, in my opinion.
United announces big international expansion from SFO
San Francisco is already a massive hub for United, as the airline operates dozens of longhaul flights from there. This "historic" announcement is that United will be adding extra routes from San Francisco in 2019, including to:
Melbourne, Australia (3x weekly)
New Delhi, India (daily)
Toronto, Canada (twice daily)
Amsterdam, Netherlands (daily)
Seoul Incheon (for a second daily frequency)
Auckland and Tahiti (year-round, rather than seasonally)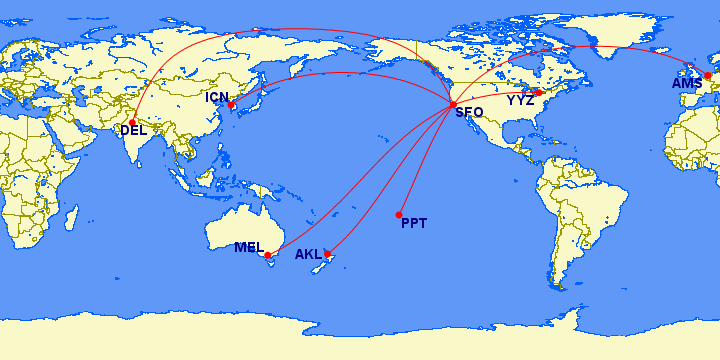 Okay, truth be told, this is actually sort of anti-climactic. The way I see it:
The San Francisco to Delhi route is the only really exciting addition here
United already flies to Melbourne, but only out of Los Angeles; it's nice to have an extra nonstop, but it's not exactly groundbreaking
United already announced flights to Amsterdam
United already flies to Auckland and Tahiti, just not year-round
United already flies to Seoul Incheon, they're just adding an additional daily frequency
United doesn't fly from San Francisco to Toronto, but the market is already pretty well served by their partner, Air Canada
So yeah, there you have it. No doubt their growth out of SFO over the past few years has been extremely impressive. However, I'd hardly call this particular announcement "historic."
Details of the new routes
Here's a chart showing when the schedules and aircraft type for the new routes: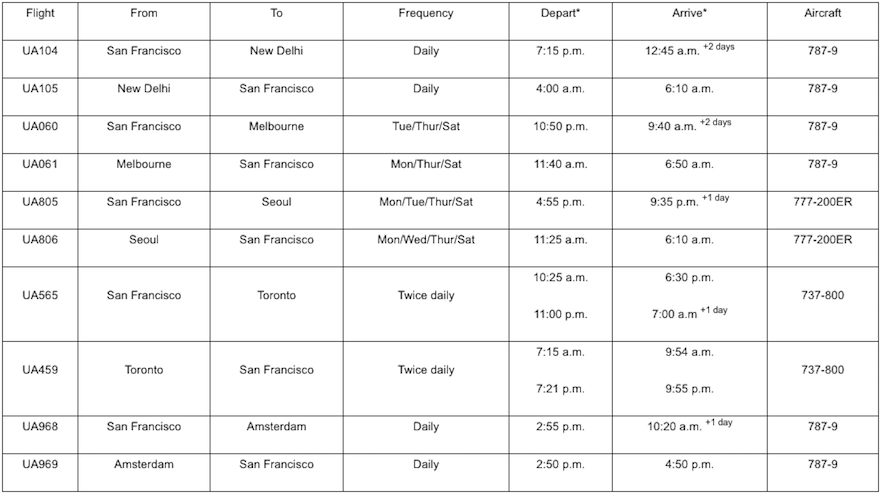 And here's a chart showing the service that's being made year-round:

Bottom line
United is adding four new routes, one of which has previously been announced, and all of which are to destinations they already fly to from other hubs. Then they announced additional frequencies on three routes.
What do you make of United's SFO expansion?
(Tip of the hat to @e_russell)