The new United Polaris soft product rolled out in December, and features improved dining and bedding options. The new United Polaris Lounge in Chicago opened at the same time, and added restaurant-style dining in mid-January. And the new all-aisle access seats have recently debuted, albeit on a very limited number of routes.
The new seats won't be installed fleet-wide for years — and it seems that might even be optimistic — the in-flight Polaris experience is all about the bedding and the meal service. My family flew United Polaris in January and found the food to be a distinct improvement over the past, both with the selection and the quality.
Well, apparently United is planning on revising the menu on a quarterly basis. I recently had a chance to sample some of the new offerings which rolled out March 1st.
United Polaris Menu for US > Europe
Here's the menu my family had on a flight from Washington Dulles to Brussels, which should be typical for Eastbound flights this season: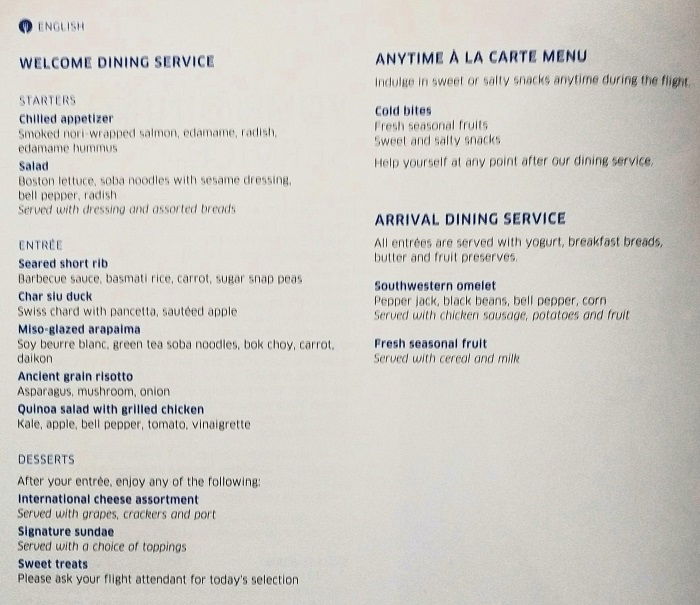 As usual, we tried to order a different dish for each family member. We've learned from experience that this enables us to swap around in case someone ends up not liking something.
I had the seared short rib, which was not as tender as the braised short rib on my first Polaris flight, but was still good. The rice dominated the plate, and the carrots were a little plain, but if you are looking for a simple meal, this is a good way to go, and I had no complaints.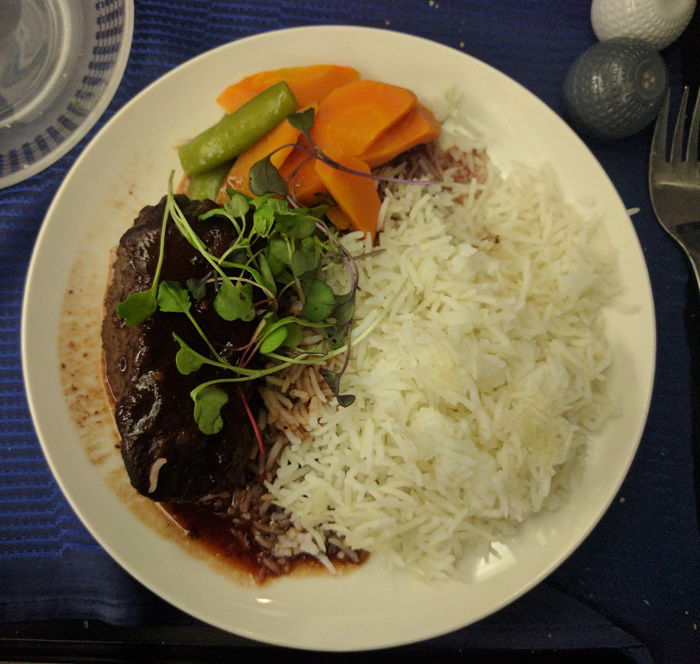 My wife had the char siu duck, which she enjoyed very much. The swiss chard with pancetta and the sweet stewed apples were really nice complements to the moist and not-too-fatty meat.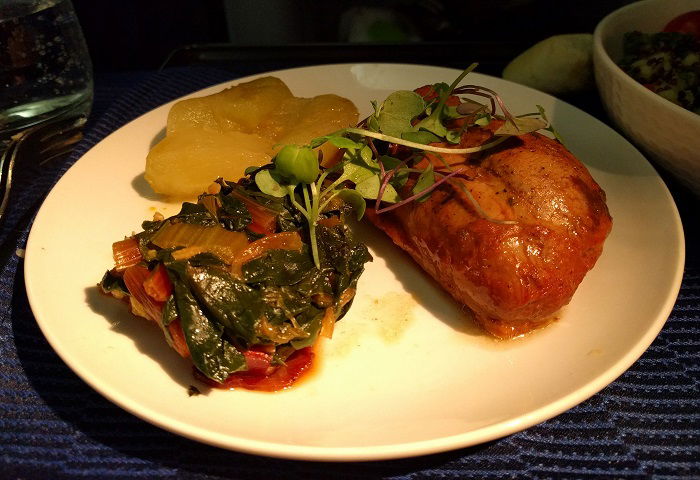 We ordered the quinoa salad for the little one, but he mostly just ate the chicken. While the salad itself was served cold, the sliced chicken breast was served warm on top. The salad was a nice mix of textures and flavors — better than your typical United pile of greens.
It came with the mini bottles of balsamic vinaigrette on the side.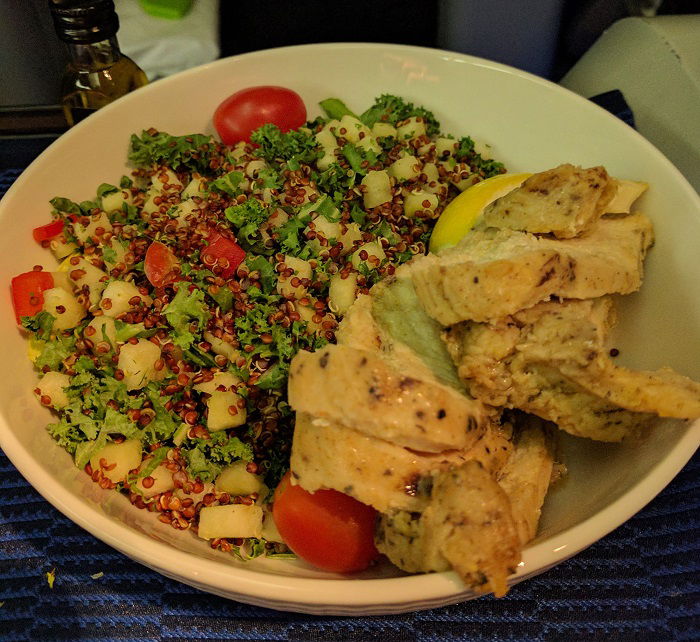 We usually order the pasta dish for our daughter, so she got the risotto.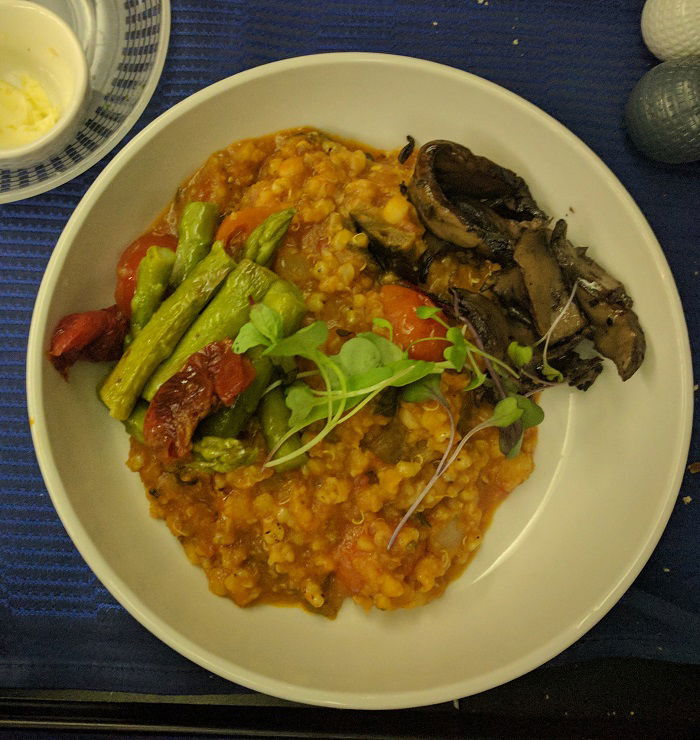 That leaves the miso arapaima, which we had no takers for. So I can't comment on it.
United Polaris menu for Europe > US
United Polaris flights from Europe to the United States also have a new menu for the spring. We didn't fly Polaris on our return, so I don't have first hand experience — or pictures — but here are the offerings courtesy of Live and Let's Fly:
Roasted rack of lamb with mint demi-glace, Anna potatoes and green beans
Poached chicken breast with chicken broth, potatoes, broccolini, kale, peas and white asparagus
Roasted halibut with ratatouille, artichoke, pattypan squash and zucchini
Butternut squash ravioli with ginger-pumpkin sauce, butternut squash and mushrooms
Butter lettuce with cucumber, Kalamata olives, radishes and tomato, served with grilled chicken
Bottom Line
I'm glad to see that United is planning to change up the menu for Polaris business and first on a regular basis. The dishes might not all be radically different, but a little variation can go along way for those that are flying these routes often. I had a chance to sample a few of the dishes this quarter and found them to be quite good.
But if I'm flying Chicago to Europe, I'd still rather eat in the lounge and sleep on the plane.
Have you flown United Polaris since the beginning of March? What are your thoughts on the new menu offerings?