For nearly three years now United has been running what I have argued is the best — and most gameable — car rental promo out there. In short, it has awarded up to 2,750 United miles for each Hertz car rental at airport locations, which was pretty awesome.
As best I can tell, this promotion been running more or less continuously since at least August 2015, though it's almost always had a short leash of about three months. But just as Congress usually manages to pass one continuing resolution after another to stave off government shutdowns, United has been extending and re-extending this promotion for years, one quarter at a time. In other words, this promotion has always been of the "limited time" variety, but no one has been surprised that it keeps getting repeatedly renewed.
And indeed, it did get renewed recently, and is now good through September 30, 2018. But this time, United changed the terms to include a minimum two day rental. Which, depending on your typical renting habits, is either a massive devaluation or a complete non-event.
That's because if you usually rent for at least two days, nothing has changed. But if you usually rent for one day, then your earning will be roughly cut in half. Or if you leveraged this promotion for personal mobility and earned 1.2 million miles in the process, you might need to look elsewhere. (On the other hand, maybe it will still pencil out, and give him an hour of his life back every other day?)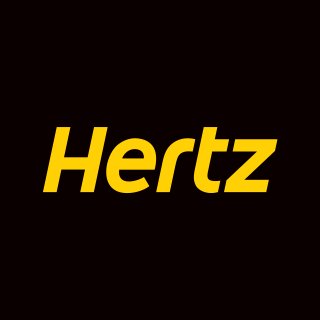 At any rate, here are the new terms for earning United miles while renting cars from Hertz.
Earn United miles for Hertz car rentals
Earn up to 1,250 MileagePlus award miles

Receive an additional 1,500 miles when you book a mid-size or larger Hertz car for two or more days on united.com through September 30, 2018

Discount Code (CDP) 62455, Promotion Code (PC) 204508 and MileagePlus number required for this offer
Just as before, you earn miles in two tranches. First, you earn miles based on your status in the United MileagePlus program. Specifically,
General members earn 500 miles
Primary card members of MileagePlus Chase card earn 750 miles
United Silver and Gold members earn 1000 miles
United Platinum, 1K, and Global Services members earn 1250 miles
Then you also earn 1,500 miles for booking a rental of at least two days.
So, depending on your status, you'll earn between 2,000 and 2,750 United miles for a 2+ day rental. Or between 500 and 1,250 miles for a one-day rental.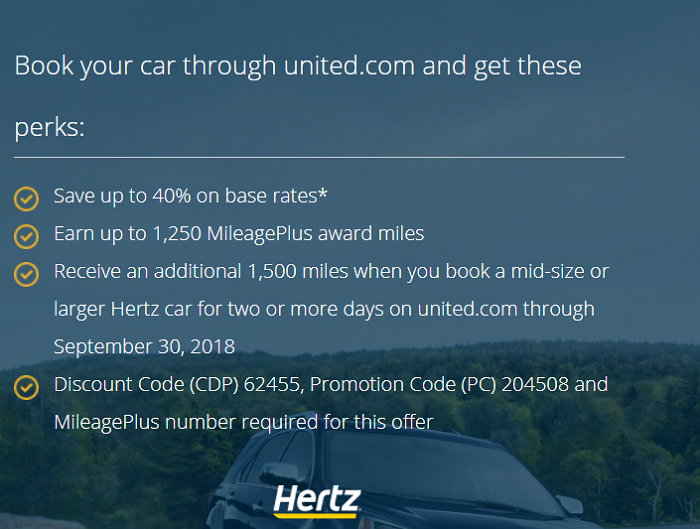 United's new promotional terms for booking rental cars with Hertz
Booking Hertz cars via the United website
United recently unveiled a new booking site for car rentals, this time powered by Rentalcars.com. I sort of wonder if this switch had anything to do with the terms of the promotion changing? Because as I've noted in the past, United doesn't get around to updating things all that often.
As before, you need to use special codes to get the bonus miles. And as a reminder, the rates with these codes may not be as good as you would get with your corporate code, so do your due diligence and decide for yourself if this is a good deal.
The CDP is the same as before, but the PC has changed. Here are the new codes, though it seems like they might auto-populate:
The new booking interface looks like this. As you can see, there's a cool new feature that tells you how many miles you should earn from this rental.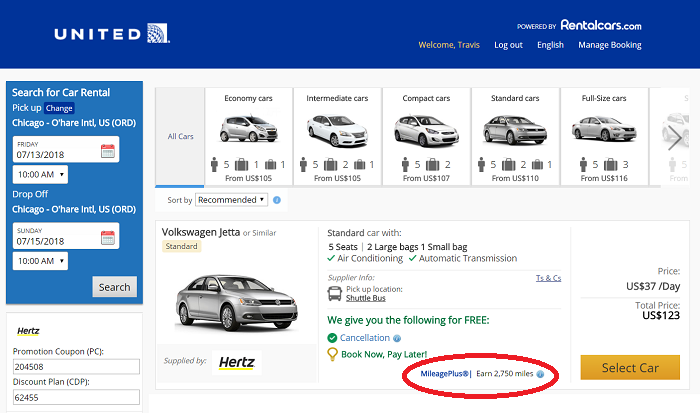 The new United car rental booking portal
One downside is that it seems the new car rental booking page might require you to login directly to it, not just to the main United.com page. I found this out when the car rental page showed I would only earn 2,000 miles for the rental, which is the regular member level rate. But it updated as soon as I logged in at the top of the screen.
It's also worth noting that you'll pay a surcharge of $0.75 per day in order to be able to obtain miles.
Bottom line
I'm pretty bummed to see the that the terms have changed for one of my favorite car rental promotions. I never did "car rental runs" per se, but there were a few times when we were staying close enough to the airport that I went back to swap cars in the middle of a trip. And on another occasion, my wife and I each rented a car, partially because we needed the flexibility, but also because of the miles. So this promotion definitely drove some incremental business.
All that being said, if you generally rent for more than two days, nothing has really changed. It's still one of the better promotions out there in my opinion, right up there with National's 1, 2, Free. And heck, if I'm being honest, earning up to 1,250 miles for a one day rental isn't bad either. Which, come to think of it, is probably why they changed it.
Are you disappointed to see that the terms have changed on United's promotion for renting cars with Hertz?