In the interest of full disclosure, OMAAT earns a referral bonus for anyone that's approved through some of the below links. These are the best publicly available offers (terms apply) that we have found for each product or service. Opinions expressed here are the author's alone, not those of the bank, credit card issuer, airline, hotel chain, or product manufacturer/service provider, and have not been reviewed, approved or otherwise endorsed by any of these entities. Please check out
our advertiser policy
for further details about our partners, and thanks for your support!
The brand new Amex Centurion Lounge Houston opened in late June, and I finally had the chance to check it out yesterday, after getting off my Singapore Airlines flight from Moscow.
Over the past several years, American Express has been opening up airport lounges in the US for their premium cardmembers. The footprint is small, but the lounges they do have blow the ones run by US airlines out of the water. They definitely rank as some of my favorite lounges in the US, and hands down one of the best perks of a premium credit card with lounge access.
American Express has started opening up more of their own airport lounges in part because quite a bit of value has been lost in terms of the lounge privileges of The Platinum Card® from American Express. The card used to get you access to American Admirals Clubs and US Airways Clubs, though that was discontinued a couple of years back. Furthermore, guesting privileges have been reduced at Delta SkyClubs as of a couple of years ago as well.
I've reviewed all the other Amex Centurion Lounges, which include the following:
There are a few ways to access the Centurion Lounge:
The Centurion Lounge Houston is open daily from 5:30AM till 9PM, which covers a vast majority of flights departing out of Houston.
The Centurion Lounge Houston is located in the D concourse, on the Mezzanine Level. That's one level above the check-in and security level, and one level below the main concourse for departing flights.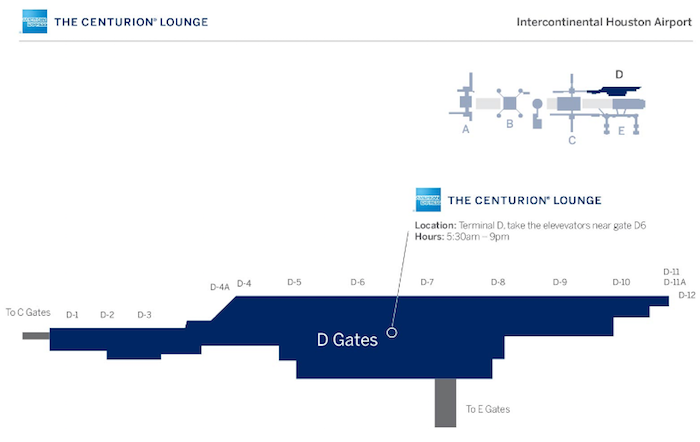 There's a security checkpoint right by the elevator that leads to the Centurion Lounge, though that checkpoint doesn't have Pre-Check, for what it's worth.
The D Concourse is used primarily by international airlines, including Air China, Air France, Air New Zealand, British Airways, Emirates, Lufthansa, Qatar, Singapore, etc.
However, keep in mind that all terminals at IAH are connected airside, so regardless of which airline you're flying, you can use the Centurion Lounge. It could just be a bit of a haul to get to your gate.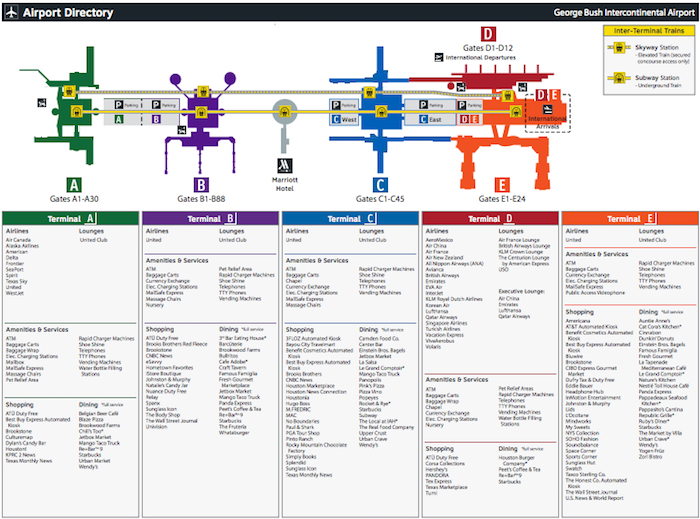 Amex Lounge Houston review
We visited the lounge around 2PM yesterday. After clearing security we took the elevator up a level to the Mezzanine Level, where the lounge is located.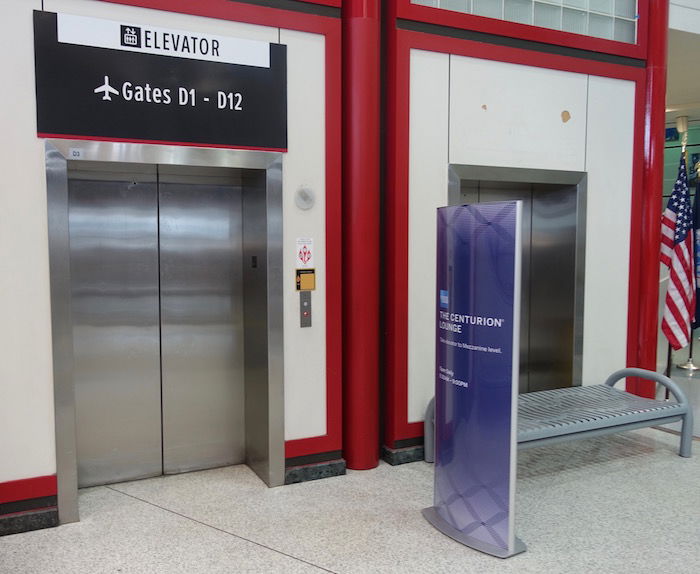 Elevator to Centurion Lounge Houston
Upon exiting the elevator we found ourselves in a long hallway, with the Centurion Lounge visible at the end of it.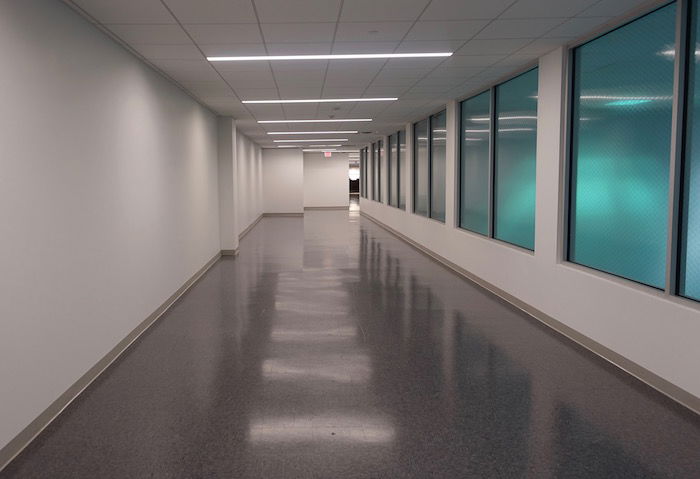 Hallway to Centurion Lounge Houston
The entryway and reception area were identical to virtually all the other Centurion Lounges I've visited, with blue doors and the Centurion logo next to it.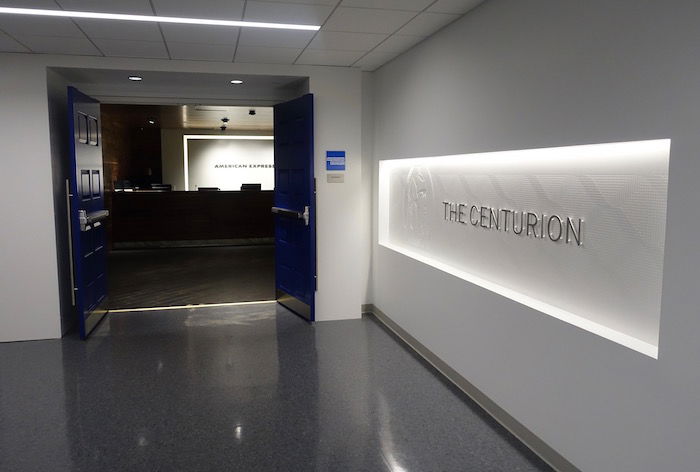 Entrance to Centurion Lounge Houston
Just inside the lounge was the plant wall, found in all US Amex Centurion Lounges.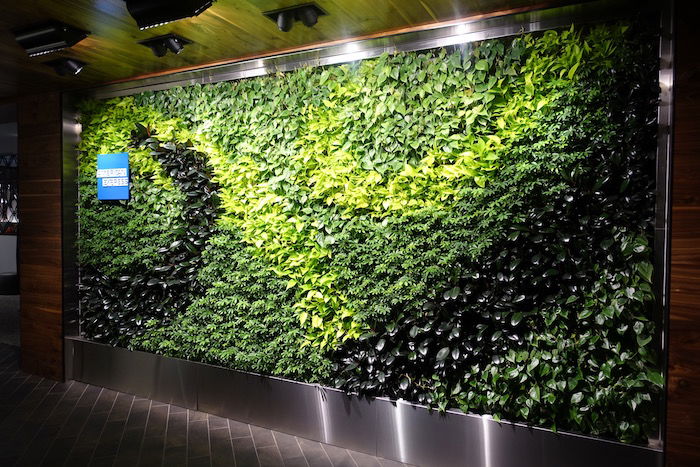 Centurion Lounge Houston plant wall
I presented my boarding pass, passport, and Amex Platinum Card, and we were promptly admitted.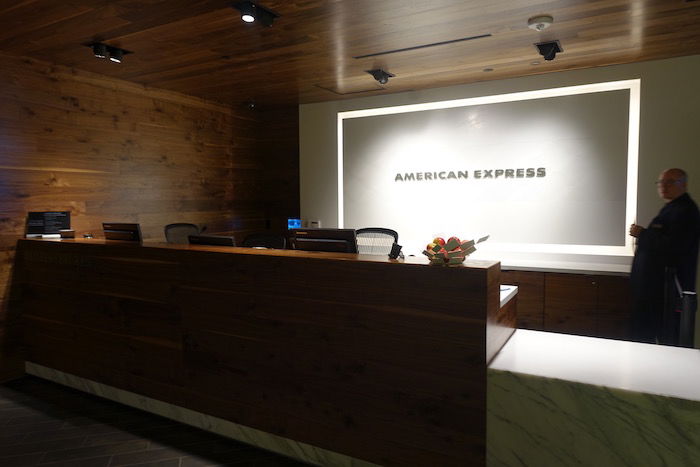 Reception desk at Centurion Lounge Houston
For what it's worth, the lounge is supposedly 8,500 square feet, making it one of the biggest Centurion Lounges (though to me it didn't feel that way). As a point of comparison, the Centurion Lounge LaGuardia is ~5,000 square feet, while the Centurion Lounge Dallas/Ft. Worth is ~9,000 square feet.
Past the entrance was the main room of the lounge, which featured more traditional airport lounge seating.
The lounge has the same furniture as other Centurion Lounges, with a combination of leather chairs, semi-private couches, as well as tables with lime green chairs.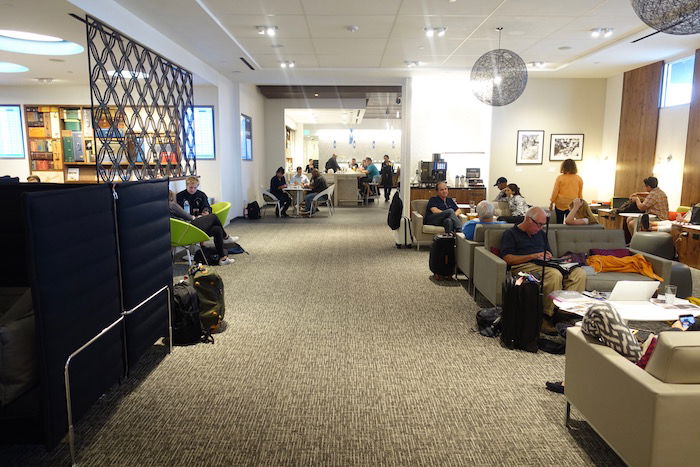 Centurion Lounge Houston seating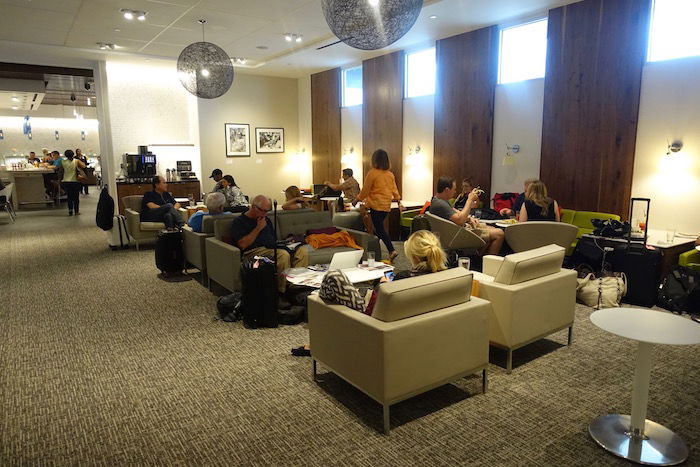 Centurion Lounge Houston seating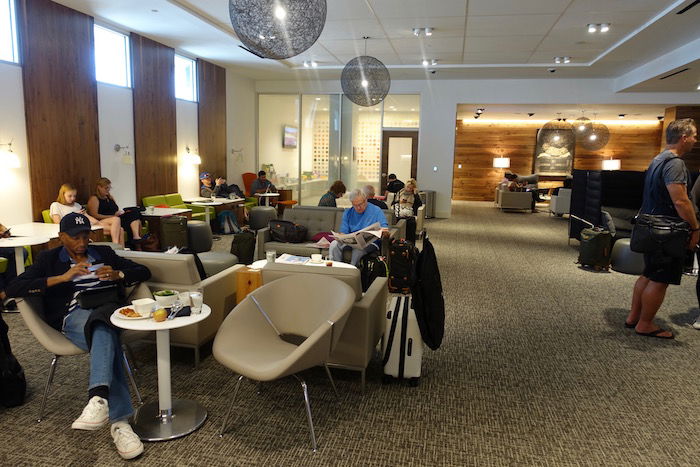 Centurion Lounge Houston seating
While the lounge is mostly one big room, thanks to the use of partitions and different seating zones, it actually feels quite private.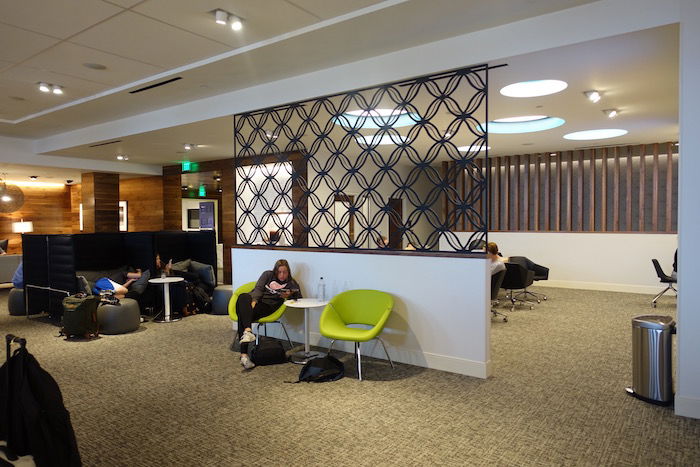 Centurion Lounge Houston seating
In the very back of the lounge is a TV area with just a handful of seats.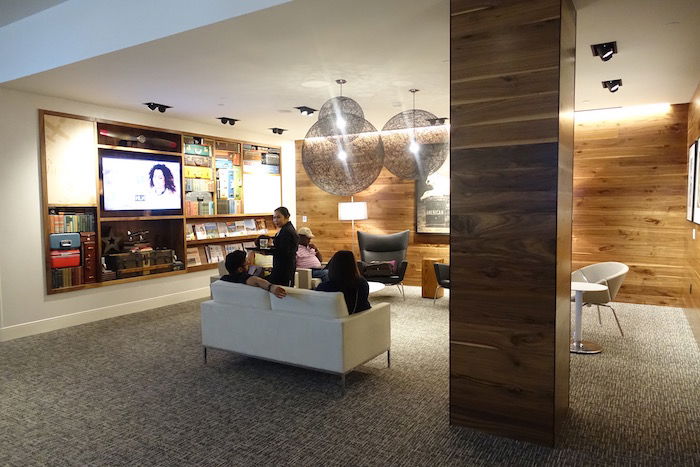 Centurion Lounge Houston seating
Near the entrance is a business center, with a communal table that has eight seats.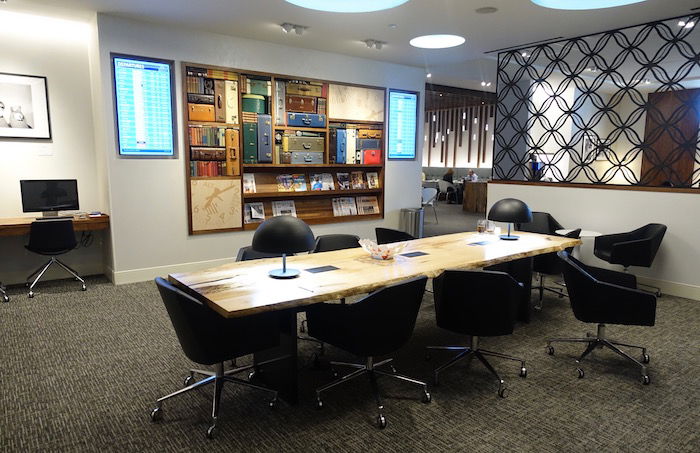 Amex Lounge Houston business center
There's also a computer and printer.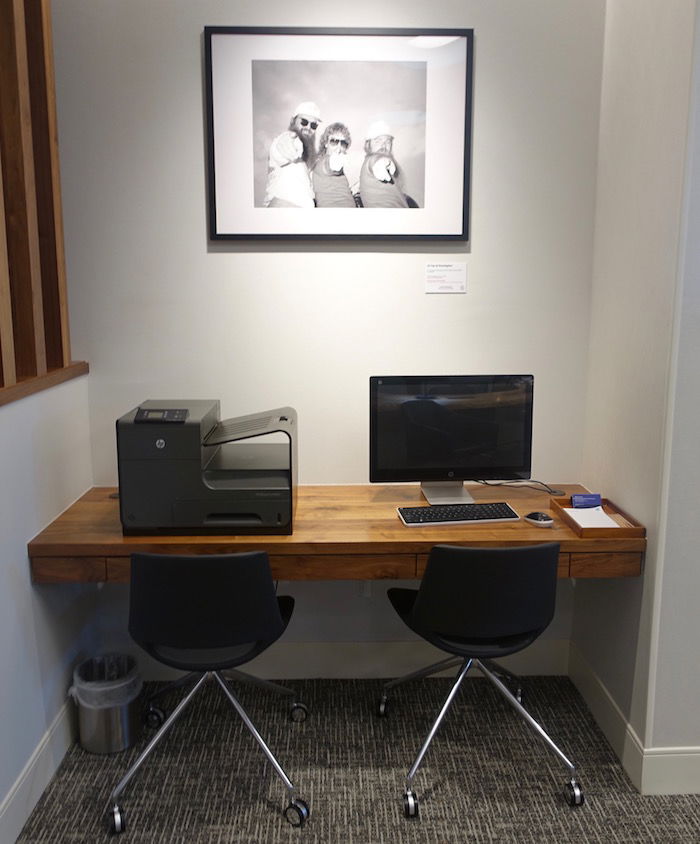 Amex Lounge Houston business center
Across from that is a telephone room, which I didn't see anyone using. It's nice to be able to make a phone call in private while in an airport lounge.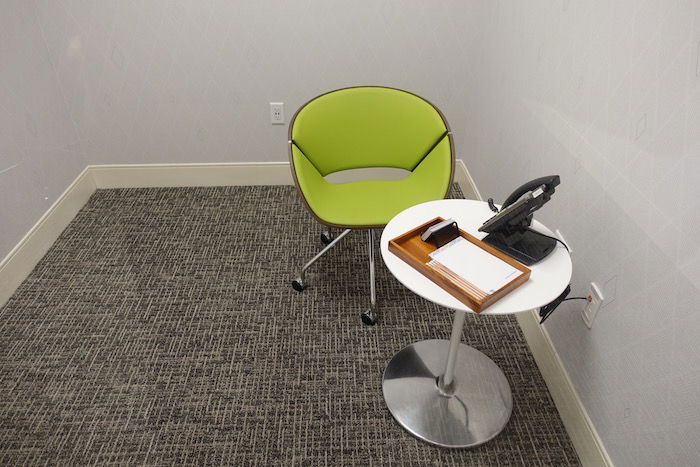 Amex Lounge IAH telephone room
Behind that is a partitioned off area with three daybeds.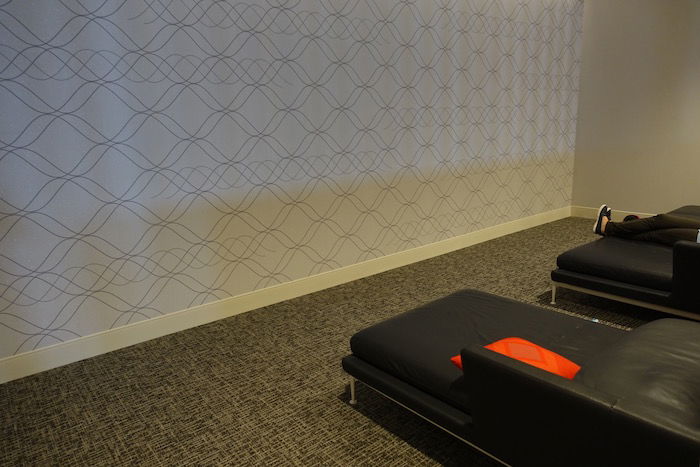 Amex Lounge Houston relaxation area
The lounge also has a room for children. While I understand and appreciate the concept, in practice I find that these are rarely utilized. Given how crowded Centurion Lounges are, I'm a bit surprised they keep dedicating so much space to them.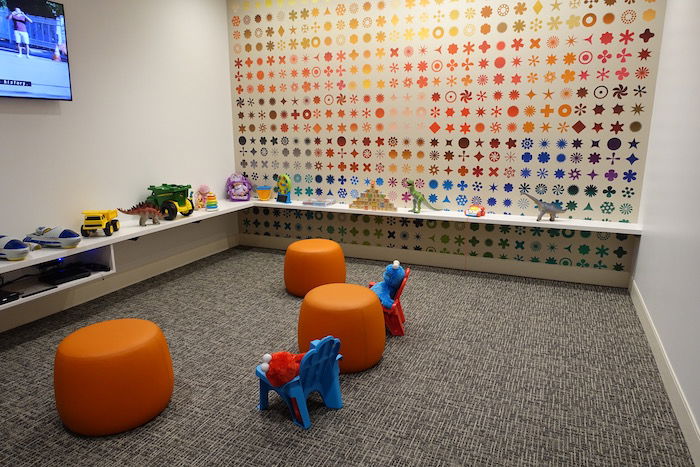 Amex Lounge IAH children's room
The other major area of the lounge is the dining and bar area.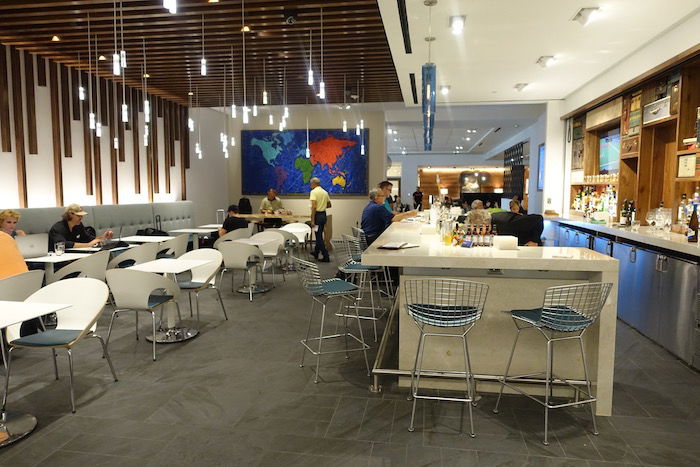 Amex Lounge Houston dining area
The bar area has a pretty snazzy design with vintage suitcases, much like the other Centurion Lounges. As is the case at all of Amex's US lounges, all drinks are complimentary, including some great cocktails.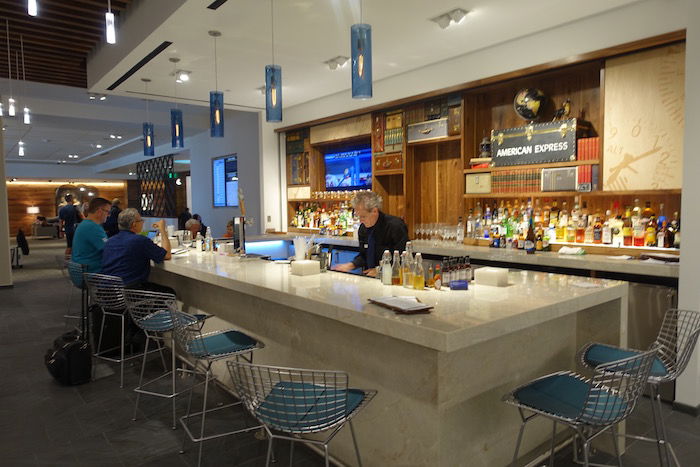 Amex Lounge Houston bar
The cocktail menu, available daily from 10:30AM until 8:30PM, read as follows: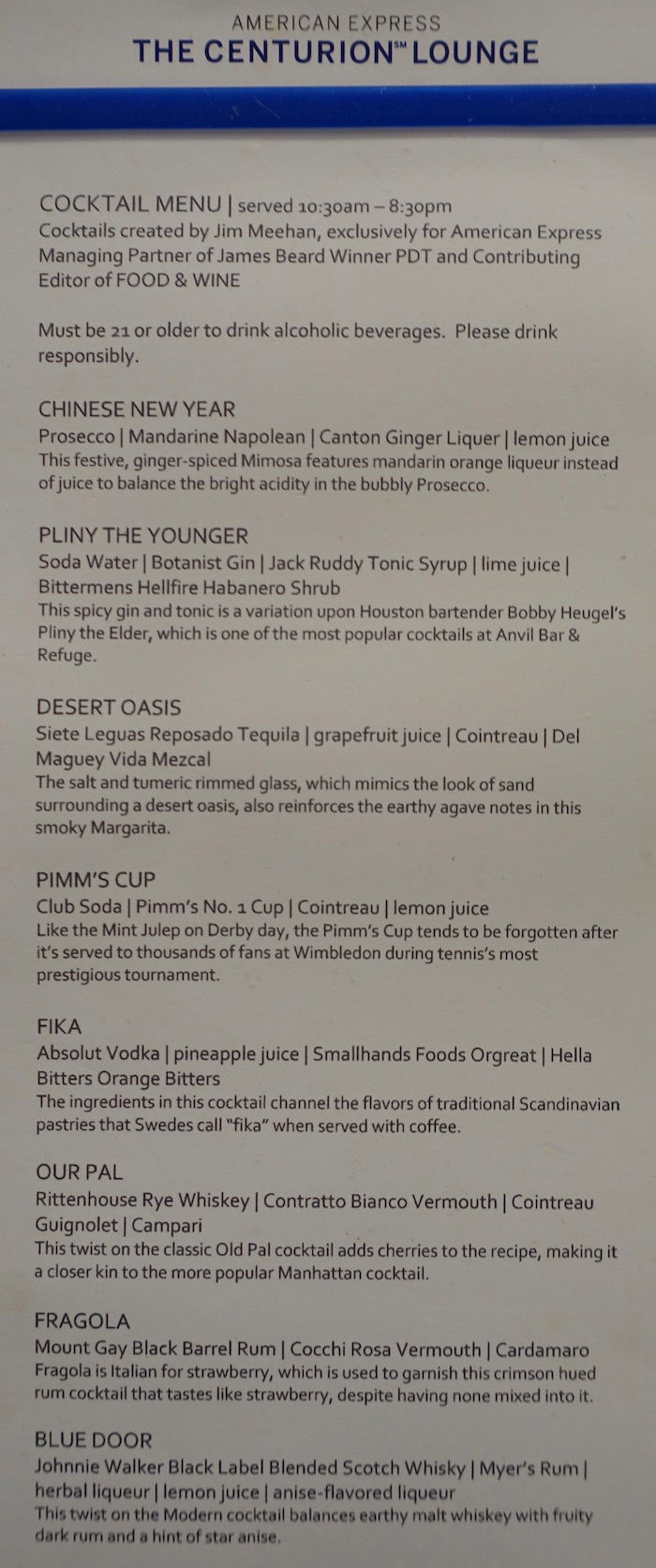 The dining area has over a dozen tables, and at no point during our stay did they fill up.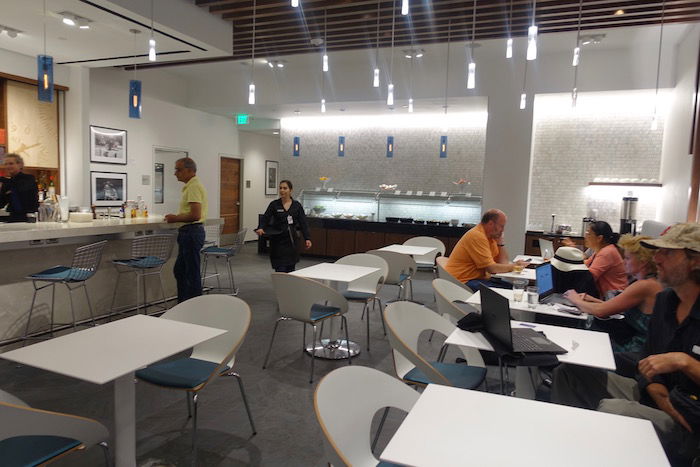 Amex Lounge Houston dining area
In the dining area there's also a communal table with high-top seating.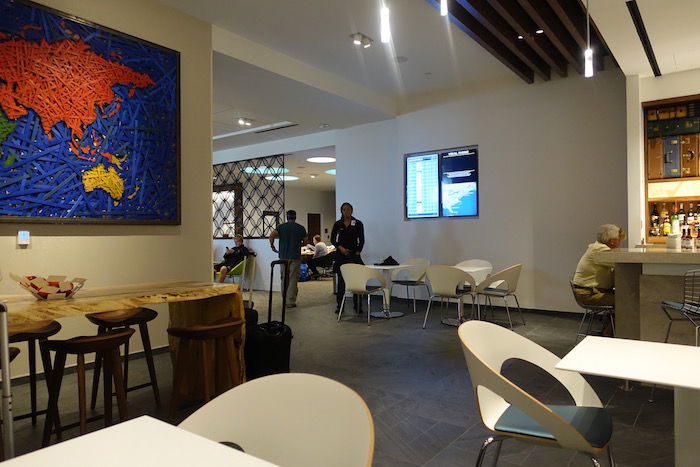 Amex Lounge Houston dining area
In the very back of the lounge is the food spread, which is much better than what you'd find in any other US airline lounge.
I wasn't hungry since I just got off a Singapore Airlines first class flight, but the food looked quite good.
The hot selection consisted of:
Light mushroom broth miso
Steamed corn on the cob with garlic aioli, chilies, and pickled jalapeno
Quinoa with dried fruit and spiced pumpkin seeds
Steamed summer squash with a shallot-lemon vinaigrette
Braised chicken thighs in harissa with dried fruit, nuts, and avocado crema
Chickpea egg stew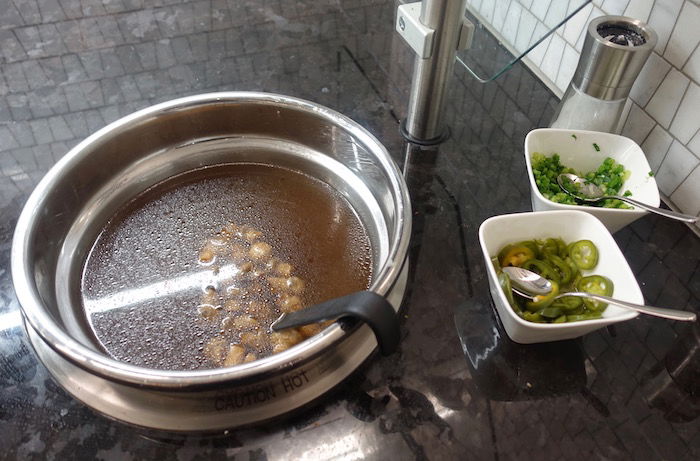 Amex Lounge Houston buffet — light mushroom broth miso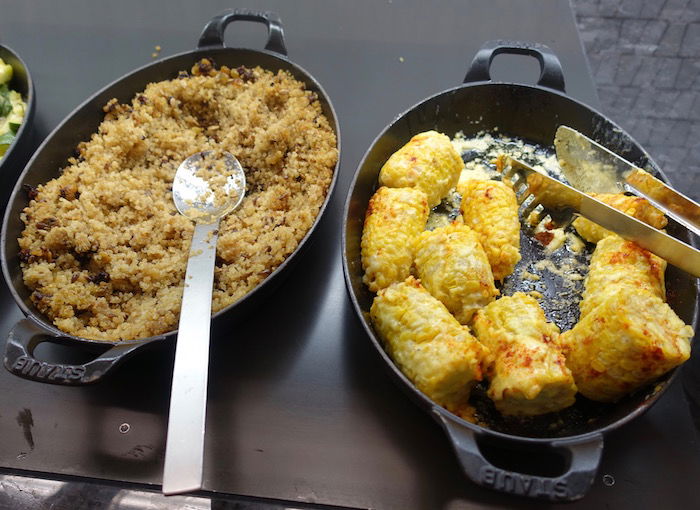 Amex Lounge Houston buffet — corn on the cob and quinoa spiced pumpkin seeds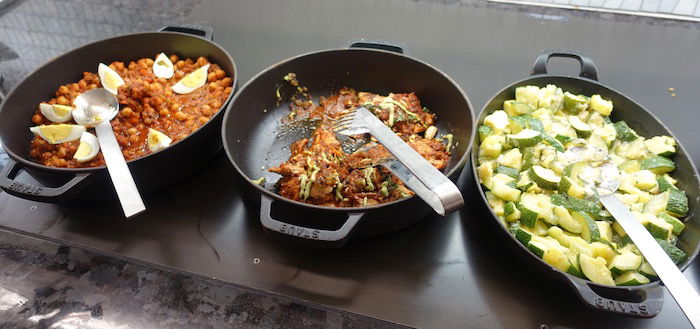 Amex Lounge Houston buffet — chickpea egg stew, chicken, and squash
On top of that there was a salad bar with several types of salad.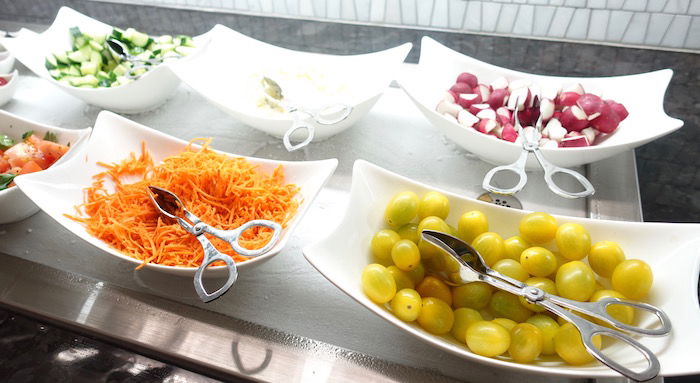 Amex Lounge Houston buffet — salad bar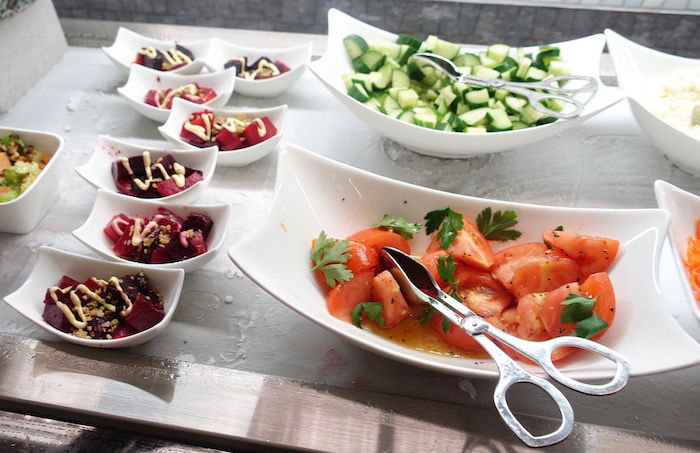 Amex Lounge Houston buffet — salad bar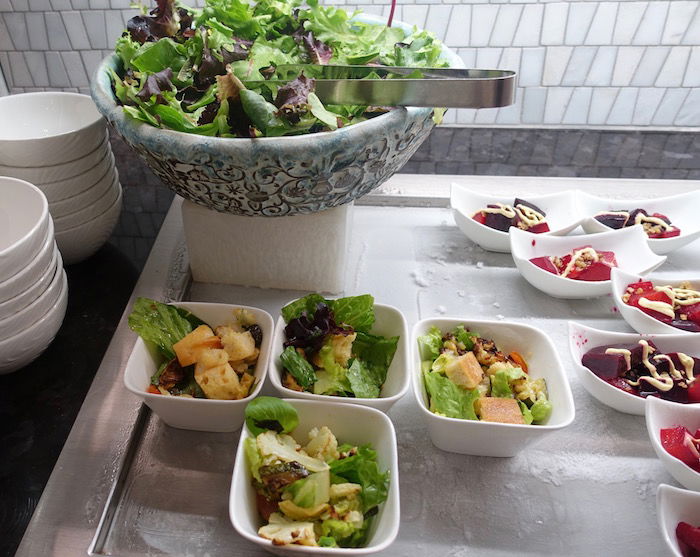 Amex Lounge Houston buffet — salad bar
The lounge had a single dessert, consisting of black pepper panna cotta with vanilla poached stone fruits. There wasn't any other type of dessert, including brownies or cookies. That's probably a blessing, since the Centurion Lounge brownies and cookies are regrettably delicious.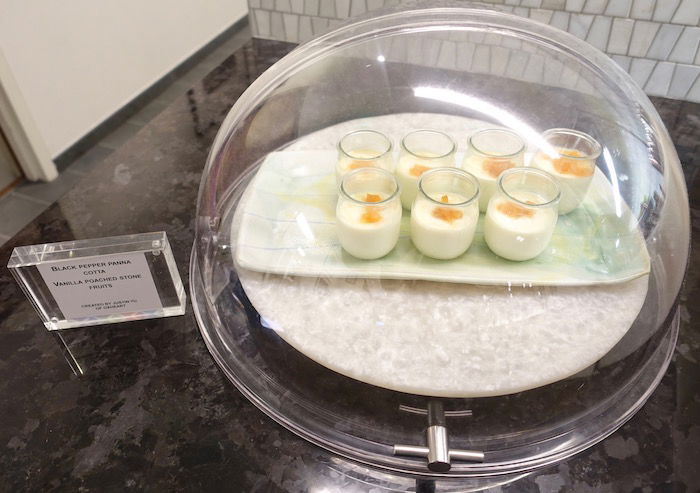 Amex Lounge Houston buffet — black pepper panna cotta
Next to the buffet was a tap with still and sparkling water, as well as coffee.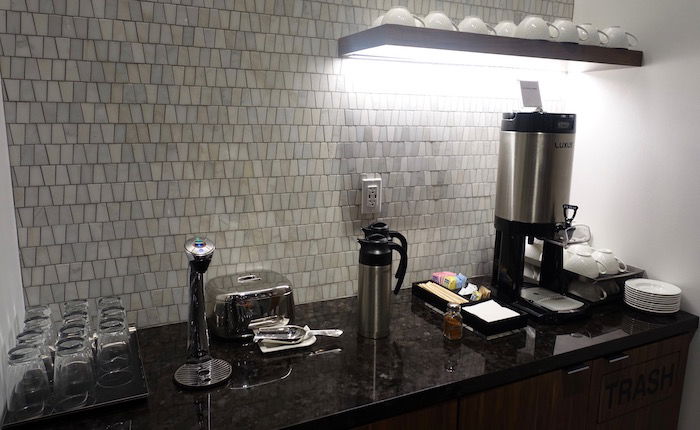 Amex Lounge IAH self serve drinks
Across from that was some iced tea.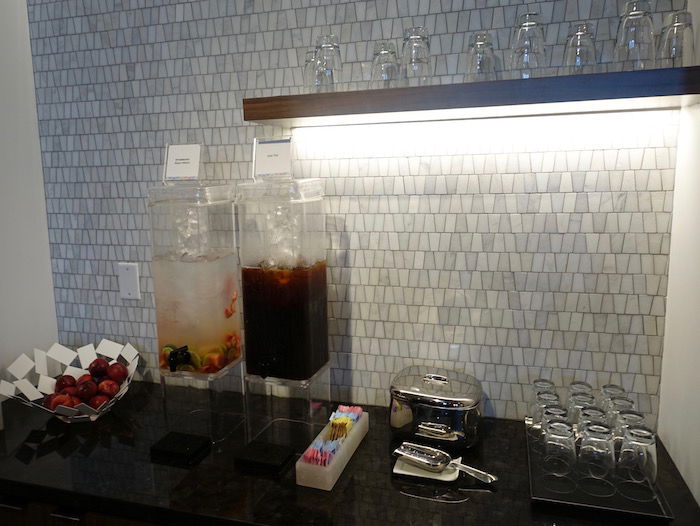 Amex Lounge IAH self serve drinks
There was also an espresso machine, along with a Twinnings tea selection.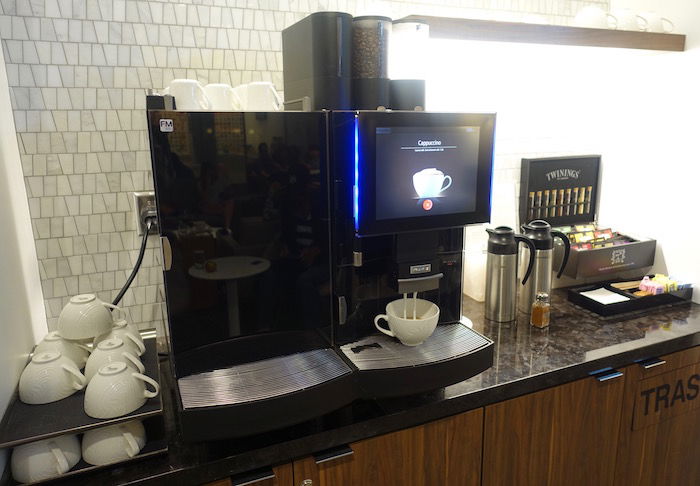 Amex Lounge IAH espresso machine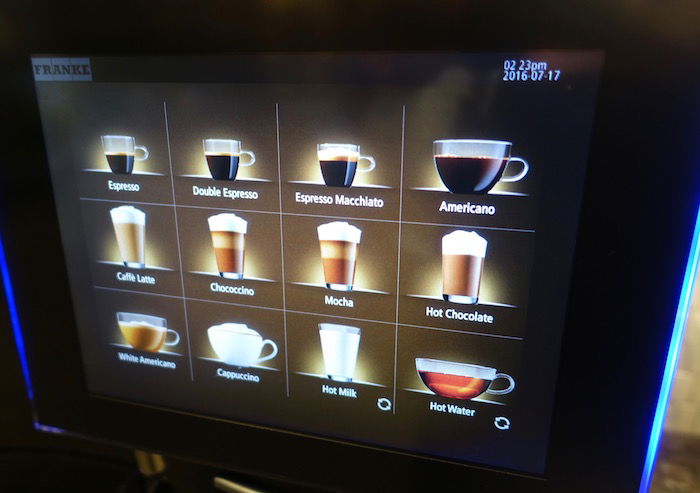 Amex Lounge IAH espresso machine
The lounge also has a single shower room, which is quite large. It featured a toilet, sink, and walk-in shower.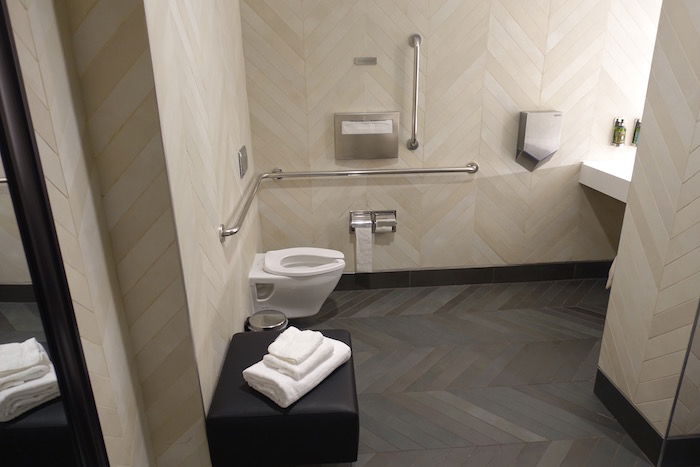 Amex Lounge IAH shower room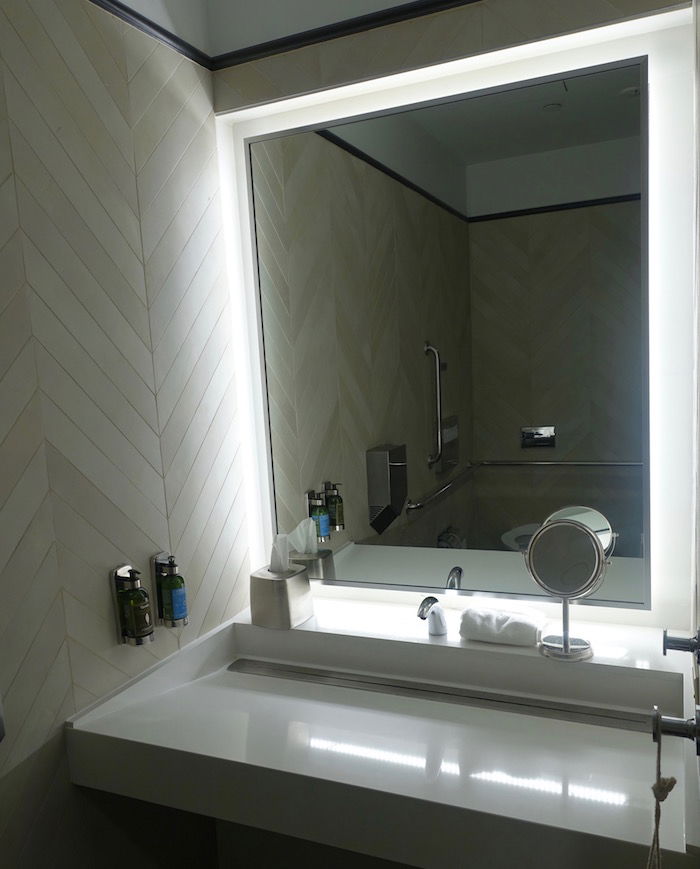 Amex Lounge IAH shower room
While I didn't shower, Ford did, and he said the water pressure was pretty good, but not amazing.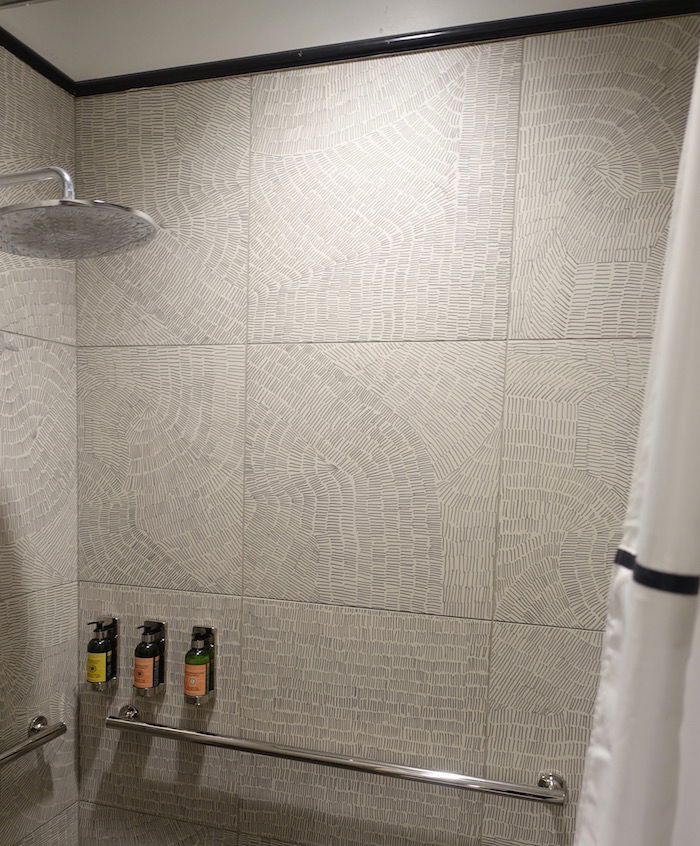 Amex Lounge IAH shower room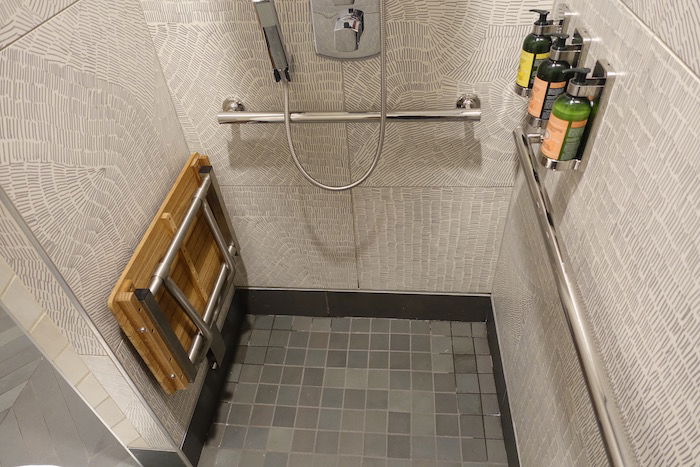 Amex Lounge IAH shower room
The lounge has L'Occitane toiletries, both in the shower as well as the bathrooms.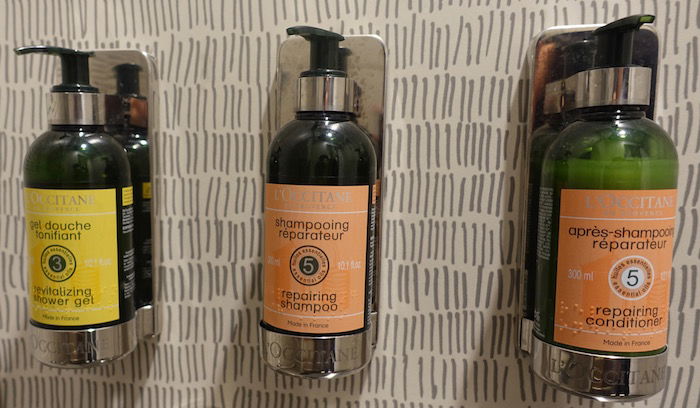 Amex Lounge IAH L'Occitane toiletries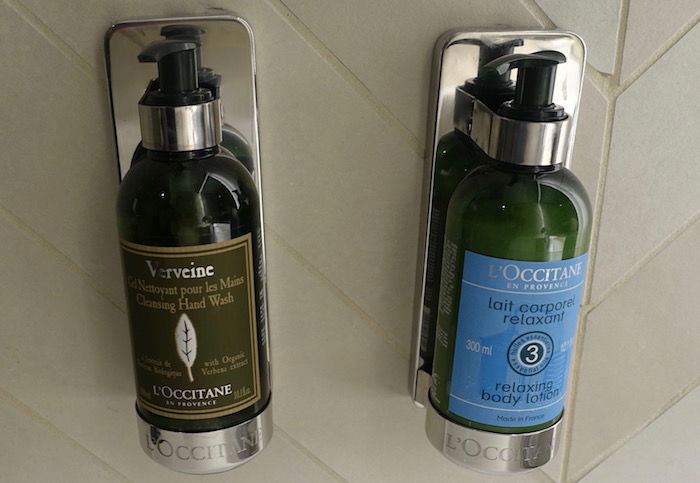 Amex Lounge IAH L'Occitane toiletries
Speaking of the bathroom, the lounge had one urinal and two stalls in the mens bathroom. Historically Amex lounges seem to have a severe bathroom shortage, so we'll see how that works out in this lounge.

Amex Lounge IAH bathroom
Wifi in the lounge was on the slow side, though still usable.
After a stay of a few hours we headed to our departure gate. One major annoyance about the lounge is that there's no way to access it by stairs, but rather there's just a single elevator. Furthermore, some people were going up while others were going down, and plenty of people not even using the Centurion Lounges at all used the elevator as a means of getting between security and the gates. The elevator door opened six times before I could finally get in, since there was a queue for the elevator, it opened twice completely full, and two times it was going down rather than up.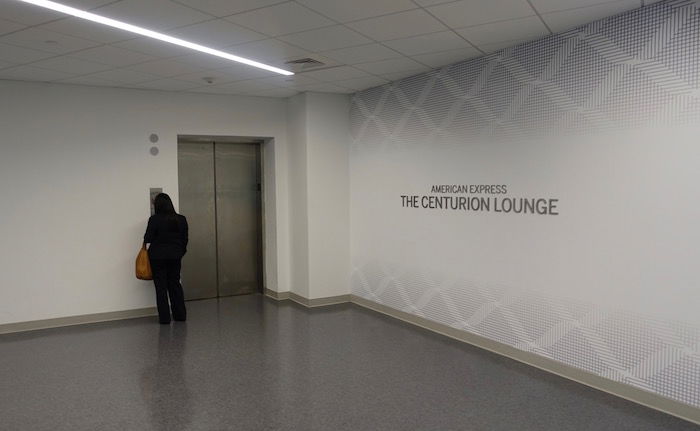 Elevator leaving Amex Lounge IAH
The elevators on the concourse level look the same as they do on the security level.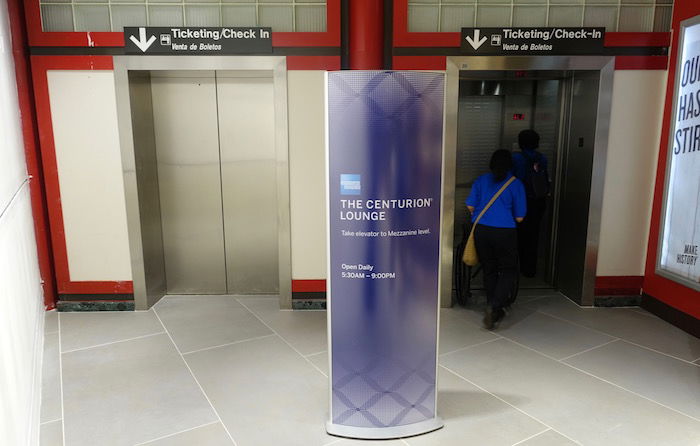 Elevator leaving Amex Lounge IAH
Crowding at the Amex Lounge Houston
As I've written about before, Centurion Lounges often have crowding issues. Perhaps it's a testament to their success, given how much better they are than US airport lounges.
However, I was surprised that this lounge wasn't overcrowded. It was on the full side, though nothing compared to the lounges I've been to in Miami, Dallas, etc., where you have to wait for someone to leave before you can sit down.
I'm trying to figure out why this would be:
Is it because the lounge is still new, and people don't know about it?
Was I traveling at an off peak time? Sunday at 2PM isn't the same as Monday morning or Thursday afternoon, but I still assume it's a pretty busy time.
But the more I thought about it, I think there may be another reason. Houston is obviously a United stronghold, and I suspect many United flyers don't have a Platinum Card. Keep in mind that up until two years ago, the Platinum Card got you into American Admiral's Clubs, so I suspect a disproportionate number of American flyers had that card. As a result, perhaps that explains why the clubs in Dallas and Miami are so crowded.
While the Platinum Card gave you access to Continental President's Clubs back in the day, that goes back a long time.
So who knows, maybe there just aren't as many United flyers who have Platinum Cards, and that will cause the lounge to not be as crowded.
Amex Centurion Lounge Houston bottom line
It goes without saying that the Centurion Lounge Houston is a very nice new addition for Houston flyers. The lounge is a good size, and wasn't overly crowded. The lounge had great drinks and a good food selection, so this is better than any US airline lounge I've been to.
However, unlike the lounges in Dallas and Miami, this lounge doesn't have a spa. Unlike the lounges in Las Vegas, Miami, New York, and Seattle, this lounge doesn't have exterior views.
So overall I'd say I still prefer the Centurion Lounges in Dallas and Miami, when you don't take into account crowding (based on my one visit I don't think I can draw too many conclusions about crowding at this lounge).
If you've visited the Centurion Lounge Houston, what was your experience like?