This past Tuesday I flew United's new 777-300ER Polaris business class between San Francisco and Hong Kong. There's so much to talk about with United Polaris. Up until now I've shared my thoughts on the new Polaris seat, as well as the Polaris bedding.
As I explained, the new Polaris seat is solid, though not revolutionary. I think it's roughly on par with a reverse herringbone product, though has more inconsistencies, since the quality of the seats varies significantly based on what you're assigned. Meanwhile United's new Polaris bedding is the best offered by any airline in business class. It's incredible, as each passenger gets two pillows, two blankets, and can also request a memory foam gel pillow as well as a mattress pad. My only complaint about the bedding is that it's overwhelming, and there's nowhere to put it.
In this post I wanted to talk a bit more about the soft product. The flight time from San Francisco to Hong Kong was 14hr10min, and I was looking forward to experiencing the new Polaris product on such a long flight.
This flight was staffed primarily by Hong Kong based flight attendants, as well as a few US based flight attendants. The Hong Kong based flights attendants were friendly and well intentioned, though not to the level you'd get on Cathay Pacific, for example. The US flight attendants seemed pretty good as well.
In United Polaris you get a pre-departure beverage of choice, which is impressive for a US airline. There are very few airlines that give pre-departure beverages of choice in business class, let alone in the US. Each person also gets a Belgian chocolate, which is a nice touch.
Unfortunately they serve the pre-departure beverage in the most mindlessly designed cup I've ever seen. I'm pretty good with airplane cups, but I spilled my champagne, as did the person across from me, as did the person in front of me. Seriously, I'm not kidding.
Waiting at my seat on boarding was a very nice amenity kit. For business class, this has to be one of the nicest kits I've ever seen, especially given how much stuff it had in it. There were eyeshades, earplugs, a comb, a pen, socks, mints, lip balm, hand cream, etc. Many of the items were provided by Cowshed. This is a very nice kit.
Passengers flying in Polaris on flights over 12 hours also get pajamas on demand. Pajamas, mattress pads, and gel pillows, are all only offered on demand, so you'll want to request them sooner rather than later, as they don't have enough for all passengers. I found United's pajamas to be high quality, and kept them on for the whole flight.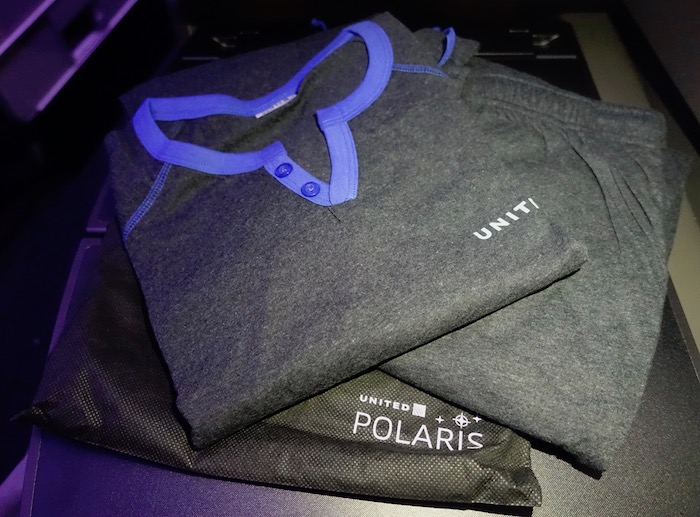 The food & beverage service has also been revamped since United introduced Polaris.
In the afternoons, service begins with a wine flight, if the passenger so chooses. I had a "flight" of the white wines, which was served with mixed nuts. I think the concept of this is nice, but at the same time it's a gimmick. They need to actually label the glasses in one way or another (though I guess I could tell somewhat by the color of the wine), and the wine is too varied for a flight to be useful. For example, I'd love a flight to try three different chardonnays or sauvignon blancs, but I already know whether I prefer a sweet riesling or a chardonnay.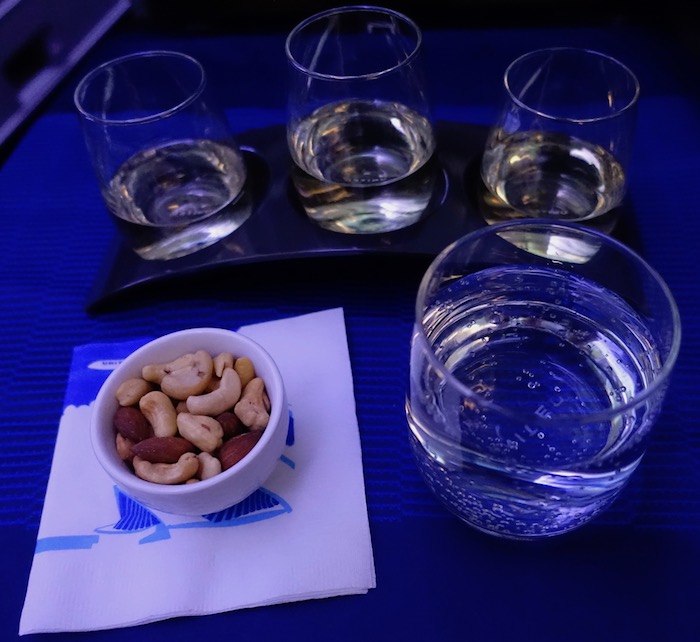 The lunch starter consisted of salmon with edamame, radish, and edamame hummus. Then there was a salad with soba noodles and sesame dressing. I was offered two pieces of cheese bread, though there was no choice. Both dishes were very well executed for what they were, though weren't memorable.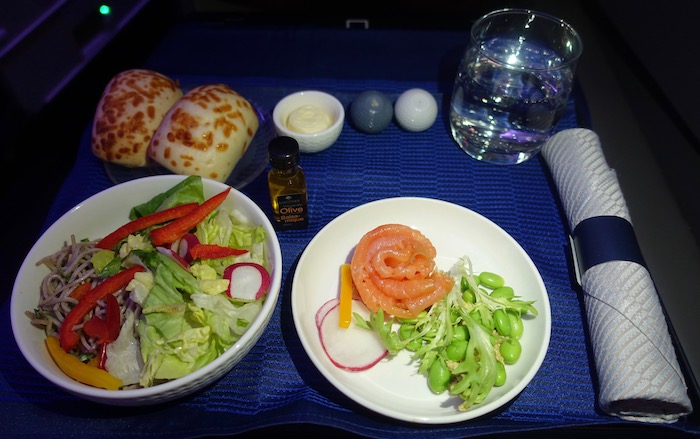 There were four choices for the main course, and I selected the seared short rib. The dish was much better than it looked — I could basically eat the short rib with just a fork.
Next there was a nice little cheese course.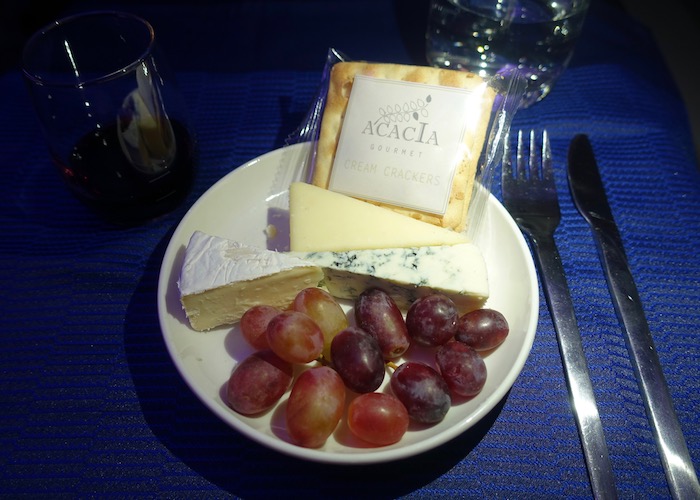 Then lastly there was the choice between an ice cream sundae and some sweets. I had the ice cream sundae with strawberries and cookie crumble (I think that's what it was). United only has illy drip coffee in Polaris, and not cappuccinos, espressos, etc.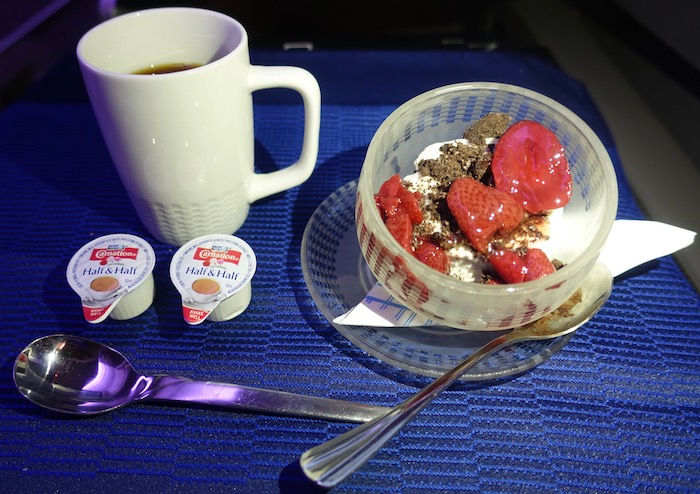 Then there was a selection of midflight snacks, with choices like shrimp fried rice and grilled cheese with tomato soup. Since the grilled cheese with tomato soup is the"signature" midflight snack, I decided to try that. It was actually really good, especially the chunky tomato soup.
Then before landing there was a breakfast service, for which I had a southwestern omelet.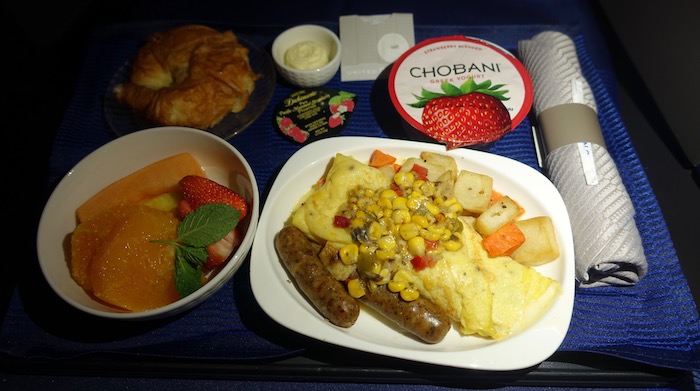 So overall I thought the food in United Polaris was good. Everything was very well executed for what it was. However, is this going to give airlines like Austrian, Etihad, Turkish, Qatar, etc., a run for their money in terms of quality? No way.
In terms of other features, the entertainment selection on the 777-300ER was excellent. There were tons of movies, TV shows, etc. Furthermore, you could listen to ATC communications (it used to be called "Channel 9," now it's just called "From The Flight Deck"), which is the best inflight entertainment of all.
United's 777-300ERs have wifi, and a pass for the entire flight with no data caps costs $30. That's about 50% more than most other airlines with similar plans charge, but is still reasonable for a longhaul flight. However, unfortunately the wifi didn't work for the first half of the flight. It's one thing if this were a one off problem (it amazes me wifi on planes is even a thing), but apparently United is consistently having wifi issues on their 777-300ERs, which is frustrating, and something to be aware of.
Other than that, I think the thing that stood out to me most was that the crew seemed really proud of the new product. Everyone was taking pictures, and I notice that they were "hustling" more than they'd probably have been hustling before. This service is more involved, but they don't seem to mind putting in extra effort to deliver a better product.
At the same time, while the crew was friendly, the service still wasn't personalized more than you'd otherwise expect on a US airline. Ultimately that's not really a surprise, given that they have 60 passengers to take care of.
United Polaris business class bottom line
United's new Polaris product is a combination of a substantial product improvement with some fantastic marketing.
The new Polaris seat is a huge improvement over the old product, but it's still not cutting edge, or better than what much of the competition already offers. Furthermore, it's going to be at least five years till the entire fleet has the new product.
The new Polaris bedding is industry leading. This is an area where United has put every single competitor to shame. The new amenity kit and pajamas are top notch as well.
As far as the soft product goes, it's clear that they're putting more effort into it than before. Based on my experience, I was impressed by the food quality (in the sense that it was good for what it was), though otherwise I didn't notice that much of a difference. Sure, a chocolate with the pre-departure beverage is nice, and the wine flight is cool too, but it's more a gimmick than anything else, in my opinion. It's not going to materially alter your experience.
All that being said, it's refreshing to see a US airline actually put some thought and effort into their product. Not only did United management come up with the service procedure, but it's also clear (at least based on my flight) that employees are taking pride in the product, and don't mind doing some extra work because they're proud to show off the new experience.