Over the years Uber has been testing out all kinds of things in hopes of even further increasing market share. A few years back Uber introduced UberPOOL, which is basically Uber's version of carpooling — they match you with people traveling in the same direction as you, allowing you to share the ride and cost.
While that has been a popular option, it's not perfect. Sometimes you have to go significantly out of your way to pick someone up, and it's always a gamble. Sometimes you'll order an UberPOOL but no one else will be picked up, while other times you have to make a couple of stops, which may be out of the way.
Uber is now introducing a modified version of this, called Uber Express POOL. By walking a little, Uber Express POOL can save you up to 30% compared to the cost of UberPOOL.

This new service addresses one of the downsides to UberPOOL, which is that many of the routings aren't efficient. So rather than having to make a detour to pick you up, Uber Express POOL instead has you walk to a convenient pick-up spot. If done correctly, this should save everyone time. Uber doesn't say the limit of how far you'd have to walk, but it looks like they're trying to limit it to a couple of blocks on each end of the trip.
Here's how Uber describes the process of using Express POOL:

And here's how they describe the benefits: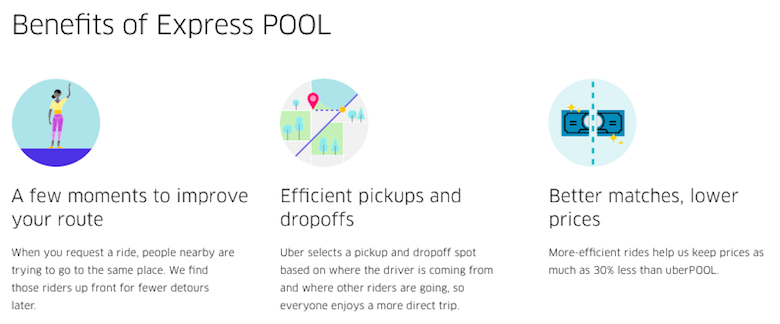 Uber began testing this concept late last year in San Francisco, and is now officially expanding it. As of today, Uber Express POOL will be available in Denver, Los Angeles, Miami, Philadelphia, and Washington DC. Over the coming weeks, many more US cities will be added.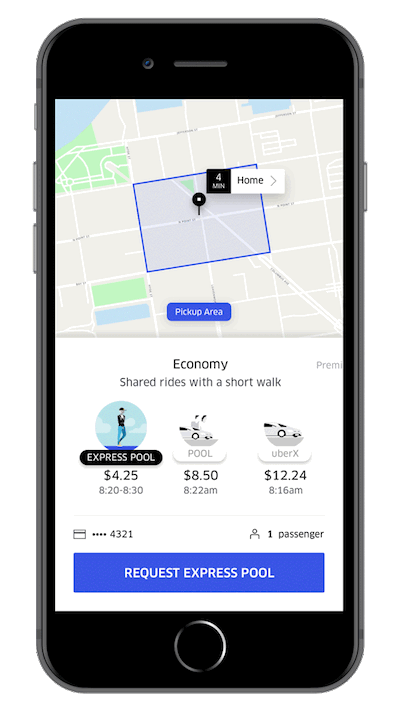 Presently UberPOOL accounts for about 20% of Uber's business in markets where they offer the service, and they're hoping that Uber Express POOL will expand that, given that this is the market where they see the most potential new customers. In some cases they're almost competing with a bus or subway, given how cheap fares can get.
What do you make of Uber Express POOL? Would you consider taking it?