One of the selling points of Uber is that it's cashless. That's not only great for those of us who like to earn points, but just a general convenience for those of us who don't like carrying cash around.
The thing is, Uber keeps lowering their rates in so many markets to try and gain market share, and at times I almost feel guilty taking Uber.
For example, a while back I wrote about how cheap UberX is in the LA area. It costs 90 cents per mile, which is a third the cost of a taxi.

A ride from West Hollywood to LAX, which covers 13 miles over 47 minutes, costs ~$18.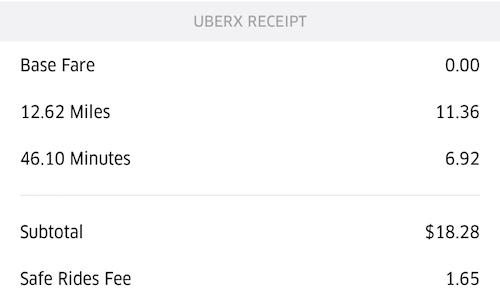 I see both sides of this. Uber wants to gain market share, so they drop prices dramatically. Low prices are ultimately good for consumers. But I also don't think these are "fair" prices, in the sense that I almost feel guilty taking an UberX at that rate. In other words, when the driver's car is in horrible shape and they're driving like a maniac, I sort of just shrug my shoulders and say "what was I expecting for 90 cents per mile?" The obvious counter argument is that people are choosing to work for Uber, so they don't have to participate.
Uber just settled a $100 million class action lawsuit covering 385,000 drivers in California and Massachusetts regarding drivers' classification as independent contractors rather than employees. Per MarketWatch, here are the implications of this lawsuit:
Under the terms of the settlement, Uber agreed to pay up to $100 million to these drivers in two states and revise its practice of deactivating drivers from the popular app without much warning or recourse. The company will also have to explain its decisions to terminate drivers, and in most cases must give warnings before removing drivers from the service. Drivers will also be allowed to post signs in their cars soliciting tips from riders.
To me the most interesting part is the last part, that Uber drivers will be allowed to post signs in their cars soliciting tips.
This has the potential to be a bit of a mess. The selling point of Uber is that the transactions are cashless, and they specifically say riders aren't expected to tip drivers. If they were to introduce tipping, I'd much rather it be through the app rather than in cash.
This should get interesting…
I wonder what impact this will have on drivers' scores… and in turn, on passengers' scores.
How widespread do you think "tips appreciated" signs are going to get in Ubers? If you're an Uber driver or passenger (or both), what do you make of this?
(Tip of the hat to View from the Wing)