Update: There ended up being issues with this flight, but Etihad ended up operating a second flight to Tel Aviv.
Well this is awesome to see.
As reported by The Times of Israel, today Etihad Airways operated a cargo flight from Abu Dhabi to Tel Aviv, which is the first known direct flight operated by an airline between the UAE and Israel.
An Etihad Airways A330 in an all white livery operated the flight (perhaps it's one of the A330s they're in the process of retiring), which landed at Ben Gurion Airport at around 9PM local time this evening.
#BREAKING: For the first time, an @etihad cargo plane lands in Israel after a direct flight from Abu Dhabi with humanitarian aid to the Palestinians pic.twitter.com/WhQ5M7UdlX

— Amichai Stein (@AmichaiStein1) May 19, 2020
The flight took 4hr11min, which is significantly longer than you'd assume based on the direct air distance of 1,311 miles, but the plane had to fly nearly 50% further due to airspace restrictions to & from Israel. The flight ended up covering just shy of 2,000 miles.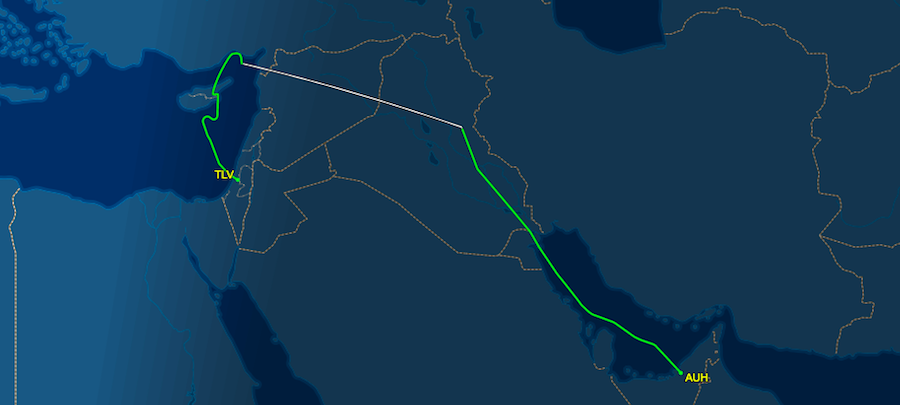 Israel and the United Arab Emirates have no formal diplomatic relations, though the two countries have started to cooperate a bit more, which is a step in the right direction, if you ask me.
The flight was coordinated with the Israeli government, and while it wasn't carrying any passengers, it was carrying 14 tons of cargo, including humanitarian aid provided to the Palestinians through the World Food Program.
The UN's Special Coordinator for the Middle East Peace Process (UNSCO) confirmed that the shipment included 14 tons of medical supplies, including 10 ventilators and protective equipment.
Well done, to the UAE and Israel!
(Tip of the hat to Alon)