This weekend Turkish Airlines finally fully moved their operations to Istanbul's new airport. The move was delayed significantly. It was supposed to happen last October, but that ended up being pushed back, as they only moved a small number of flights to the new airport.
The move was scheduled to happen from 2AM until 2PM on Saturday, April 6, 2019, so I was curious to see how it worked out. This was a massive undertaking, given that they were not only moving planes between airports, but also moving an insane amount of equipment.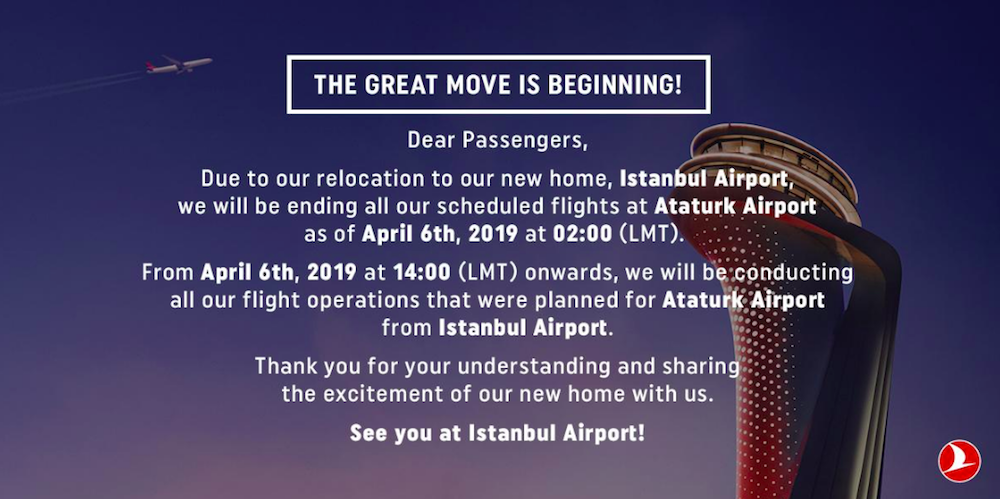 During the move, Turkish Airlines flew roughly 100 airplanes between the two airports in Istanbul, with at one point a plane taking off every several minutes
During the move, they're transporting what they describe as enough material to cover a total of 33 football fields
There was the potential for a lot to go wrong, both logistically and politically, especially as this came just days after an election.
Well, the good news is that Istanbul's new airport is now fully operational, and the move happened faster than expected. They describe this as the largest ever move in global civil aviation.
Here's a tribute video about the move showing some employees flying between the two airports:
✈️
We're growing all together. We are thankful to all who have helped us grow!#TurkishAirlines #IstanbulAirport pic.twitter.com/rNQT5MsXtx

— Turkish Airlines (@TurkishAirlines) April 5, 2019
And here are a couple of shorter videos the airline has released on social media about the new airport:
✈️
Welcome to our new home Istanbul Airport.

🔎https://t.co/a1FA0LyezO#TurkishAirlines #IstanbulAirport @igairport pic.twitter.com/f7cJlg8azP

— Turkish Airlines (@TurkishAirlines) April 7, 2019
✈
The largest move in the history of global civil aviation is complete!

Turkish Airlines is at its new home.#TurkishAirlines #IstanbulAirport #TheGreatMove @igairport @natgeotravel @natgeo @natgeotvturkiye pic.twitter.com/zEiAMZwMnl

— Turkish Airlines (@TurkishAirlines) April 6, 2019
I'm looking forward to checking out the new airport in a couple of days, including the new lounges.
I will say that while I'm looking forward to visiting the new airport and am impressed by the speed with which Turkish Airlines completed the transition, I wouldn't say the project as such deserves many kudos. It's rumored that well over 400 people died in the construction of the airport, though the government hasn't acknowledged a vast majority of those deaths.
The degree to which speed and cost savings were prioritized over safety is tragic and disappointing.