This week we've learned about electronics bans being instituted for flights from select countries to both the US and the UK. Airlines are having to institute these new policies this week, so it's interesting to see the different approaches airlines take to coping with this situation.
Royal Jordanian has been putting effort into throwing shade at the situation, as they've been doing since Trump was elected president.
https://twitter.com/RoyalJordanian/status/844874897620905988
Meanwhile Emirates yesterday announced a new laptop and tablet handling service. Emirates is introducing a service that enables passengers to use their laptops and tablets until just before they board their US-bound flight. At the gate there will be security staff who will carefully package your electronics in boxes before boarding, and then you can collect them on arrival.
It looks like the next airline to outline their electronics handling service is Turkish. Turkish Airlines has put out the following announcement:
Turkish Airlines introduces its new offerings to make their U.S. and U.K. bound passengers' journeys more comfortable during the implementation process of the electronics ban that declared by the concerned authorities.

Our passengers will continue to use the on board internet with their mobile phones.
Laptops, tablets and other electronic devices may be used until the boarding gate where they will be handed over.
Our transfer passengers will have to deliver their respective devices at the boarding gate on their arrival in Istanbul.
If passenger prefers not to place his/her electronical devices to the checked baggage during the check-in, according to the amendments, these devices will be handed over to be tagged at the boarding gate for a safe and secure transportation, and will be handed back to the passengers upon arrival at the destination. At this destination there will be Turkish Airlines' authorized staff who will collect the luggages that contain electronic devices. These staff will take them all to the designated place in baggage reclaim area, and all devices will be delivered to owners by these staff by matching the given luggage tags with the record list they have.

Why do we do that?

As per the directive issued by the relevant authorities in their respective countries, which will be effective as from 25th of March 2017, passengers of U.S. and U.K. bound flights from/through Istanbul Ataturk Airport are not permitted to carry electronic devices, with the exception of medical devices, larger than a cell phone or smart phone on board.

All laptops, tablets, cameras*, e-readers and gaming devices must be placed in checked-in baggage at the start of any U.S.-bound or U.K.-bound journey. Turkish Airlines offers a special service from Istanbul Atatürk Airport that gives its passengers a safe and secure method of carrying their electronics in a special area in the cargo hold of the aircraft.

Transit passengers may hand over their electronic devices at the boarding gate.

The ban does not affect flights leaving from the U.S. or U.K. for Turkey and beyond.

* Bringing aboard cameras is not restricted for U.K. bound flights.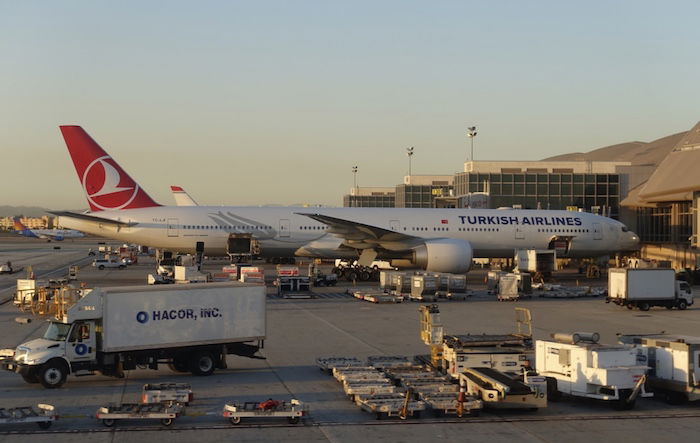 So it looks like Turkish has a similar policy to Emirates. Turkish will let you check your electronics at the gate, and then claim them separately upon arrival. You also have the option of not checking your electronics at the gate and instead placing them in your checked baggage.
If you are traveling with electronics, I'd highly recommend bringing them to the gate and checking them there, rather than just placing them in your bag:
I imagine theft from checked bags is much more likely, given that they're unsupervised for a long time, and baggage handlers will know that a higher percentage of bags on US and UK bound flights will have electronics
I imagine that the special electronics "shipment" will be watched much more carefully, not be unattended for extended periods of time, etc.
So while it's not ideal, I'm happy to at least see that airlines have solutions beyond just telling people to check their electronics in their bag.
Lastly, also be aware of the options for insuring your electronics.
Do these handling services make you feel any better about parting ways with electronics?