Last month I posted about Bluesmart, the world's first (self proclaimed) "smart" luggage. What made it so "smart?" It came with a digitally controlled lock, location tracking, trip data tracking, a battery charger, built-in scale, etc.
They went the route of crowd sourcing to fund the idea, and did remarkably well — their goal was to raise $50,000, though they raised over a million dollars. Yow!
Call me a traditional, if you'd like, but I just don't "get it." Location tracking and trip data tracking? Why would I need that for my carry-on? And while a battery charger and built-in scale sound nice in theory, presumably they also add weight to a carry-on, and for me one of the most important things about a carry-on is that it's lightweight. But clearly a lot of people disagree with me.
Well, it looks like the "smart" luggage industry is quickly expanding, as a new bag called Trunkster is in development. Here's a video about it:
Trunkster is running a Kickstarter, which has already been more than funded.
So what makes this bag different than others? Two things.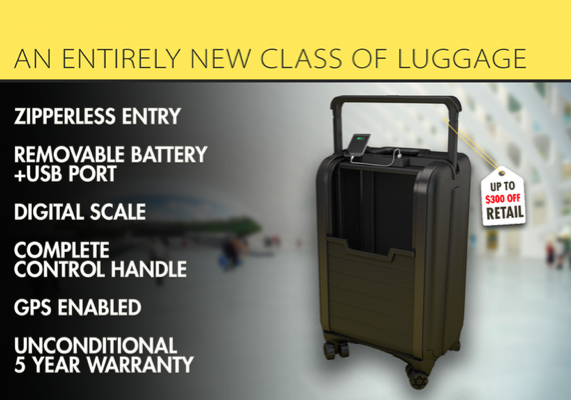 First of all, it has similar "smart features" to the Bluesmart bag, including a built-in scale and battery charger. The charger is a nice built-in feature, though it adds weight and takes up space, and in practice I'm not sure how often I'd use it.
And then the other selling point is that it's "zipperless." In other words, rather than being opened by a zipper, the entire bag is in a hard case and has a sliding door. I don't like spinner luggage and I don't like hard-case bags (since I can't maximize the space by over stuffing it), and frankly I don't see the benefit of a sliding door either. If you want to get just one thing out of the bottom of your bag you'll have to slide the "door" all the way down as far as I can tell.
Anyway, clearly others feel differently, and by supporting their Kickstarter you can pick up a carry-on for $255, or a checked bag for $245.

What do you think about "smart" luggage? And do you actually prefer hard-shell, spinner luggage to two wheeled soft-shell luggage?
(Tip of the hat to John DELTA)