There's no denying that there has been a lack of innovation in the suitcase industry over the past several decades. I'd argue that's largely because there wasn't much of a need for it. 😉
Bluesmart disagrees, as they're creating "the world's first smart, connected carry-on."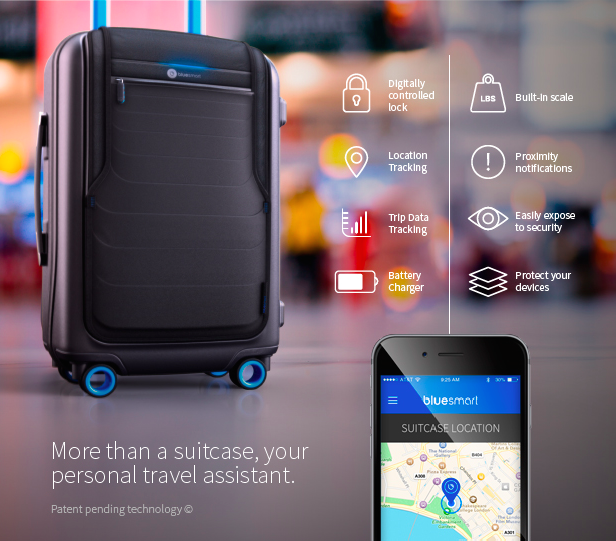 And they're crowd sourcing to get it funded. They started the campaign yesterday with a goal of raising $50,000, though as of the time of this post they have already reached more than triple their goal — $163,750. WOW!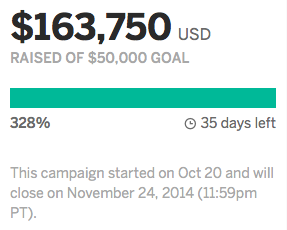 Here's a video which explains the features of the bag:
So let's break down the features one by one.
First, you can lock and unlock your suitcase from your phone:
Your cool gadgets deserve to always stay safe. You can lock the suitcase from your smartphone and it will automatically lock itself when separated from you. Also it will notify you if anyone tries to open it and you can share access with people you trust. The Bluesmart Travel Sentry® Approved Lock will be accepted by the TSA.
Next, the bag has a built in digital scale:
Forget about checking your bag! Bluesmart has a built-in digital scale so you can find out its weight and whether it's approved by the airline. Just pull the handle and the app will tell you if you are ok to go.
Next, the bag has a built in charger, which can charge your smartphone six times:
You need to instagram your trip, so we know how important is to have your phone charged at all times. That's why we've included a super-powerful battery charger that can charge two devices, whether it is your smartphone, tablet or ebook, at the same time. The suitcase battery will enable you to recharge your smartphone six times over.
The bag also has distance alerts and location tracking:
You don't want to lose this baby. Thanks to the proximity sensors, you will receive alerts when you are separated from your Bluesmart. You can also locate your Bluesmart with a proximity heat map and receive a reminder of the last recorded location. Take that James Bond.

If you ever lose your Bluesmart (how dare you!) or if gets "re-routed", the Bluesmart Network will help you track the location of your suitcase. As the network grows we will cover the whole planet.
You'll also have easy access to your electronic devices, thanks to a "sleeve" at the top of the carry-on:
Let's be honest, going through airport security sucks. So we made it extremely easy to access your electronics with a compartment at the front of the suitcase, especially designed to hold and protect your laptop and tablet. You'll breeze through the controls like George Clooney in that movie.
Clearly the demand for the product is out there, though as a frequent flyer I'm not sure which of these features I'd necessarily value.
My initial thoughts are:
How much does the bag weigh? This all sounds nice in theory, but between the built in scale, charger, etc., surely it adds considerable weight to the bag, no? For me, being lightweight is the single most important feature a bag can have.
It's great to have a scale, except I know my carry-on is overweight, and I'm sure I'm not alone when it comes to that. Airlines have ridiculously low weight limits on carry-ons, and I'd guess that 90% of frequent flyers know they're exceeding that maximum weight. It's simply a function of whether you're caught or not.
Locks, distance alerts, and location tracking would be more useful for a checked bag than a carry-on. Maybe I'm in the minority here, but in my millions of flown miles I've never had my carry-on stolen. That's not my concern. That technology would be incredibly useful for checked bags, but for carry-ons?
The built-in charger is awesome!
If you want to support Bluesmart and want your very own suitcase, you can donate at the $235 level, which gets you a Bluesmart carry-on:
You'll receive your very own Bluesmart carry-on. Be the envy of the airport lounge. (Add $20 for shipping within the US, or $40 for international shipping).
The estimated retail price will apparently be $450 or higher, and the estimated delivery is August 2015, so it seems that they hope to have these bags on the market within a year.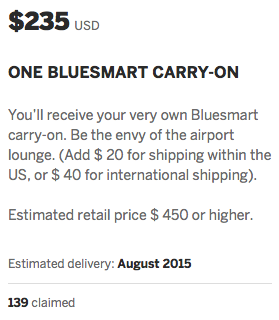 What do you think of the Bluesmart carry-on? Which features do you value most?