Over the past few months we've seen the major US airlines begin selling tickets for flights to Cuba. It's no surprise that so many US carriers requested rights to operate routes to Cuba, given that it's the first time in decades that such flights are possible.
However, I also think we're going from one extreme to the other. While there's certainly interest among Americans in visiting Cuba, the actual demand isn't there, at least not to fill the thousands of seats per day now operating between the US and Cuba.
Major airlines recently had their third quarter earnings calls, and on them we heard several airline executives say that flights to Cuba are an investment in the future, and that they won't be making money anytime soon. Now, I suspect flights between South Florida and Cuba could be profitable pretty quickly, but that's simply because they're ~200 mile flights.
But any of the longer flights will be much more challenging to turn a profit on.
Why I haven't been rushing to travel to Cuba
Since news of the embargo being lifted was initially announced, I think I've been more indifferent than most when it comes to traveling to Cuba. So many people seemed to say "OMG I need to go ASAP before it gets too commercialized."
However, I think the reality is that it's going to be many years before we see major changes to the infrastructure.
So don't get me wrong, Cuba is certainly on my list of places to visit, though I haven't been in any rush to go, and figured I'd travel there in a few years. While I'd like to go to Cuba before there are dozens and dozens of new mega hotels, at the same time I wouldn't mind waiting until credit cards are accepted, things are better organized, etc.
Besides, there's a big rush of people looking to go right now, which has been driving up prices of the very limited hotel capacity in the short term.
Why I'm changing my mind about visiting Cuba
In a way I think I've been looking at visiting Cuba wrong. I was thinking to myself that when I visit Cuba I wanted to make a big trip of it, explore several cities, etc. That was partly because the cost of flights has been ridiculous, at least when they were first announced. When American started selling tickets to Cuba they cost ~$450 from Miami, which is about a dollar per mile.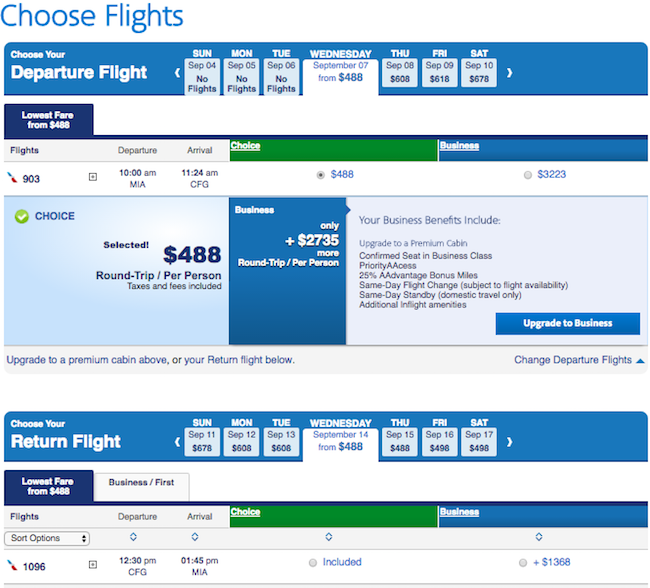 However, as more airlines have added capacity, prices have dropped and dropped and dropped.
Early yesterday I happened to see how cheap JetBlue's flights were between Fort Lauderdale and Havana. Roundtrip tickets are going for just ~$135, which is incredible.
The deal is even more lucrative if redeeming TrueBlue points. You can fly roundtrip from Fort Lauderdale to Havana for 2,600 points plus ~$48 in taxes. That's like getting over three cents per TrueBlue point, which is more than double their usual value.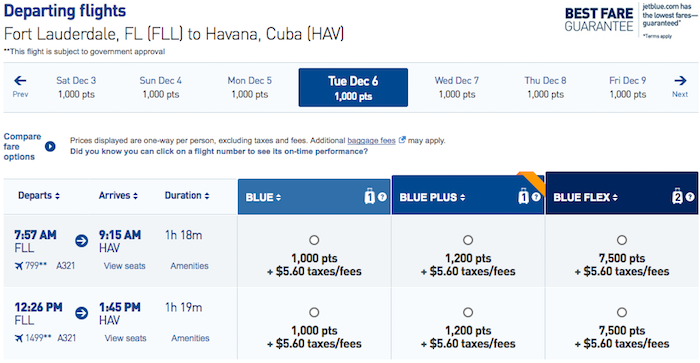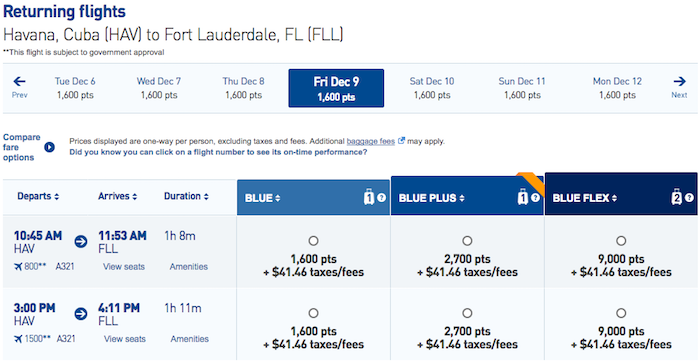 So what's really changing is that I'm viewing a trip to Cuba differently. In the past I thought a trip to Cuba needed to be a big production, and I just didn't have the time in my schedule for it.
In December I'll be in South Florida anyway, so given the above fares I figure I might as well take a quick weekend trip to Havana. There's even a Four Points by Sheraton Havana, where I could either redeem points or book a paid rate and earn points (given the number of points required, paying cash seems like the best option). Major hotels in Cuba are still very expensive, given how little capacity there is.

Bottom line
While I don't think Cuba will change overnight, there's no reason not to visit with how cheap the airfare there is. While I hope to explore Cuba more in-depth in the future, a quick side-trip to Havana is perfectly practical thanks to the super cheap fares we're now seeing.
Anyone else tempted to visit Cuba thanks to all the low fares? Has anyone been yet, and if so, how was your experience?