This post isn't designed to pander to the trolls, but I actually think it's a rather interesting topic to discuss. What is a "travel blogger?"
People often point out that I often don't cover what I do at my destinations. And that's a very accurate statement. Some people say that means I'm not a travel blogger. That I'd disagree with.
I'm not a destination blogger
I do struggle with identifying or describing what kind of a blog I have.
Is it a miles & points blog? Is it a travel blog? Is it a Hello Kitty blog?
The truth is it doesn't really matter to me. I've never cared about job titles or blog titles or anything. At the end of the day it's about the content to me, and not anything else.
But to some people, "travel blogger" is interchangeable with "destination blogger." And to them, someone that writes about the actual journey isn't a travel blogger. I think that's a mistake.
The top three definitions of "travel" on dictionary.com are as follows:
to

go

from

one

place

to

another,

as

by

car,

train,

plane,

or

ship;

take

a

trip;

journey:

to

travel

for

pleasure

to

move

or

go

from

one

place

or

point

to

another

to

proceed

or

advance

in

any

way
I focus more on airlines than anything else on this blog. And to me, covering them is just as much (if not more) "travel" related than covering destinations. "Travel" is movement, and I don't think there are many people that cover that more than I do. 😉
So while I'm not a destination blogger, I do think I'm a travel blogger.
I focus on where I can add the most value
At the end of the day, the area where I feel like I can add the most value is in writing about the journey, and not the destination.
As an example, try to find a good source of info about airport lounges or international premium cabins for an upcoming trip. In many cases, these resources don't even exist.
I know that because I do my research before taking flights, and in many cases I'm going into them "blind," because there aren't any other decent resources on the web about them.
Now, search for things to do at your destination. Chances are you'll find hundreds and hundreds of great resources — whether those are other blogs, reviews, guides, videos, friends, etc.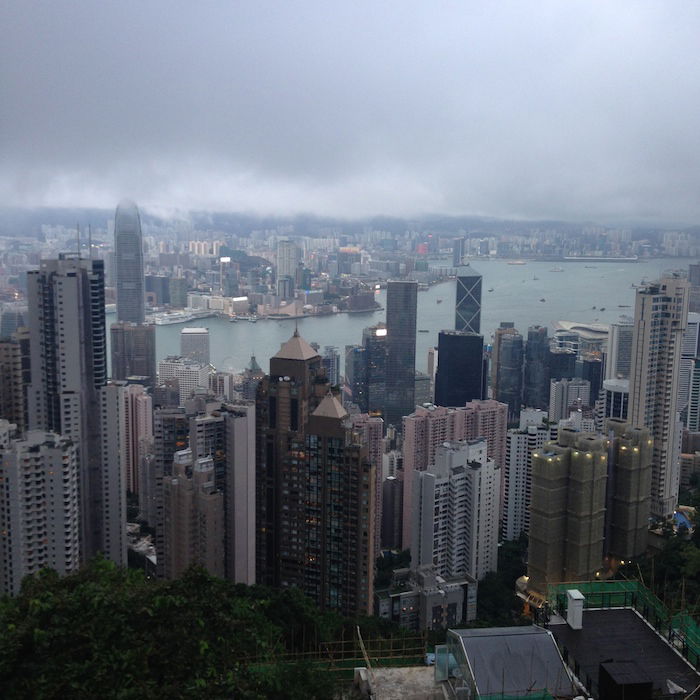 Rumor has it I'm not the first person to have ever taken this picture 😉
I realize the first class products and lounges of random airlines aren't valuable to everyone. But I'm also not trying to be everything to everyone. At the end of the day I'm trying to add value to the interwebz in areas I feel passionately about that I think aren't given enough attention.
So does that mean I never leave chain hotels?
Many (understandably) have the impression that I stay at chain hotels abroad and don't do anything.
The former part is mostly correct. Why? Because I get value out of hotel status, and loyalty programs are one of my passions. Hotel loyalty programs are one of the main things I write about, so it also makes "sense" for me to stay at hotels where I can leverage elite status and benefits.
The latter assumption though, that I never leave the hotel or experience the destination, is incorrect.
When I travel I spend every spare minute I have outside exploring. For me, that's my free time, the time where I can relax.
I do work a lot, because I love what I do, and my passion for this hobby impacts much of my routine. So unlike every other aspect of my life, when I'm outside wandering a city I'm not taking notes, I'm (mostly) not taking pictures, and I don't have an agenda. What's relaxing to me is how mentally freeing it is, that I'm not having to document and review every moment.
Would I like to write more about destinations? Yes, of course.
But as I've also explained, I pour a vast majority of my time into this blog, and I do have to prioritize content. Yes, I realize sometimes I publish immature posts that could be written by a 14 year old, but those also aren't posts which take up a substantial amount of my time. Rather they take a few minutes and make me giggle, and I realize not everyone likes them, and that's okay too.
Bottom line
I have thick skin and everyone can think what they want (and even tell me how they feel), but I figured I'd share my "perspective" on this. Because it's actually a question I asked myself yesterday — am I really a travel blogger, when I do very little to cover the actual destinations? And after putting a bit of thought into it, I think so.
Long term I do want to write more about destinations, though it's not a priority. And that's simply because I think destinations are already well covered by others. I could certainly share my thoughts, but they'd never be as valuable as the other resources out there. I'd like to think the same isn't true for my airline, lounge, and hotel reviews.
As always, thanks for reading — I really do appreciate it!