For the past few years, the gold standard for short-haul economy flights has been British Airways Avios awards, which offered the option to redeem as few as 4,500 miles for American Airlines and Alaska Airlines flights.
Now that BA has eliminated the 4,500 point bracket from their redemption chart, the shortest flights have become more expensive, requiring a minimum of 7,500 points each direction. When these changes were first announced, I suggested the Iberia program might be a good alternative, particularly for those needing multiple short segments.
The Iberia program can actually be quite useful in general, particularly if you have Ultimate Rewards or Membership Rewards points. You can also transfer your British Airways Avios over to Iberia, though there are some quirks to the process. I thought I'd go over the process of setting up and linking accounts, which you'll want to do if you think you might ever want to make an Iberia redemption.
Open accounts with British Airways and Iberia
Even if you don't have immediate plans for a redemption you should open accounts with both programs right away. Both the Iberia and British Airways accounts have to be open for 90 days before you can transfer points between them, so you might as well get that clock ticking now.
There isn't a cost to opening an account with either program, and it only takes a few minutes. Well worth the time, as you never know when being able to transfer between the two programs will come in handy.
Activate your Iberia Plus account
Iberia Plus is a quirky program, and the hoop-jumping starts right away.
Before you can move points to or from British Airways, you have to have some kind of mileage activity in your Iberia Plus account.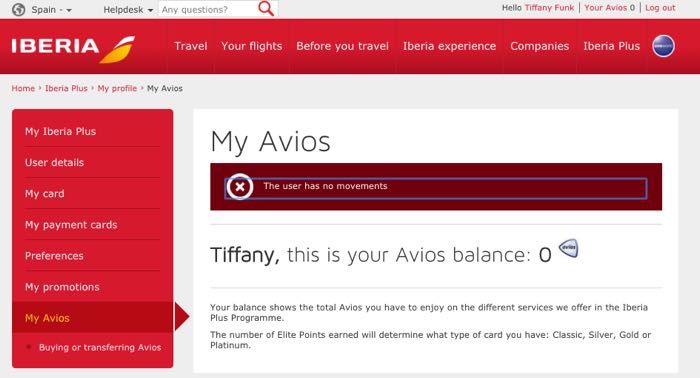 Fortunately, there are several ways to generate activity in the account beyond crediting flown miles:
Iberia often offers promotions of a few hundred Avios for enrolling in email offers, participating in social media, etc.
Many hotel programs can transfer points to Iberia (though the transfer rates aren't great)
American Express Membership Rewards is a transfer partner of Iberia, and you can convert 250 Amex points to 200 Avios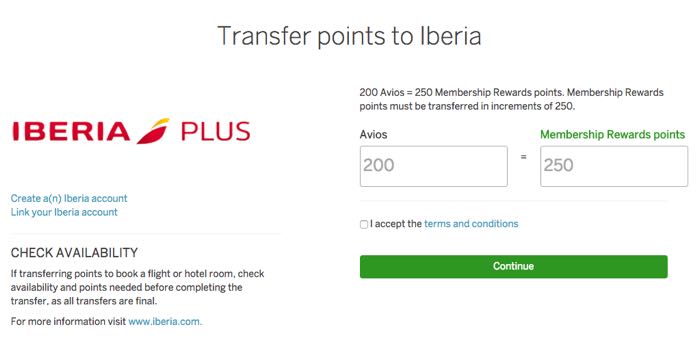 Again, you'll probably want to do this right away. Promos are unpredictable, hotel transfers can take 10+ days, and even Amex transfers take at least 36 hours lately.

So I'd recommend opening both accounts and generating some activity early on, so you're not delayed when it comes time to book the award.
Move points to British Airways first
Provided your accounts are active and you're ready to book, it's often going to make sense to transfer points to British Airways first, and then move the Avios to Iberia.
American Express transfers to British Airways are instant, while they can take up to a week with Iberia. Similarly, Chase Ultimate Rewards is a transfer partner of British Airways, but not of Iberia.
Given the transfer ratios are much better with Chase than Amex (1000:1000 vs 250:200), being able to move points to BA and then to Iberia can be pretty useful.
If you haven't transferred Chase points before, log in to your account, and then click "Go to Ultimate Rewards." From there, select "Use points" and then "Transfer to Travel Partners."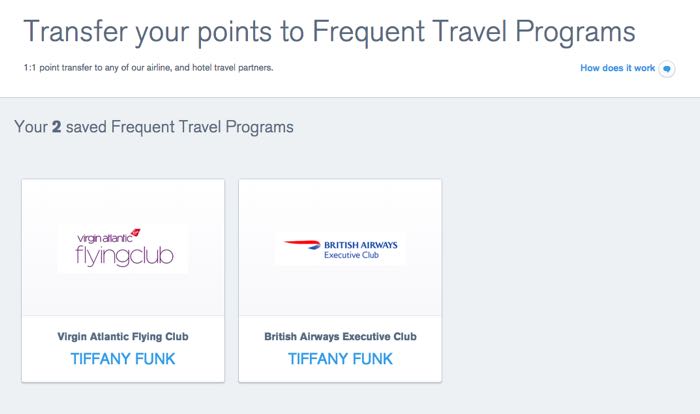 I've already linked my British Airways account, but if you haven't, you'll see the logo and will have the option to enter your account information.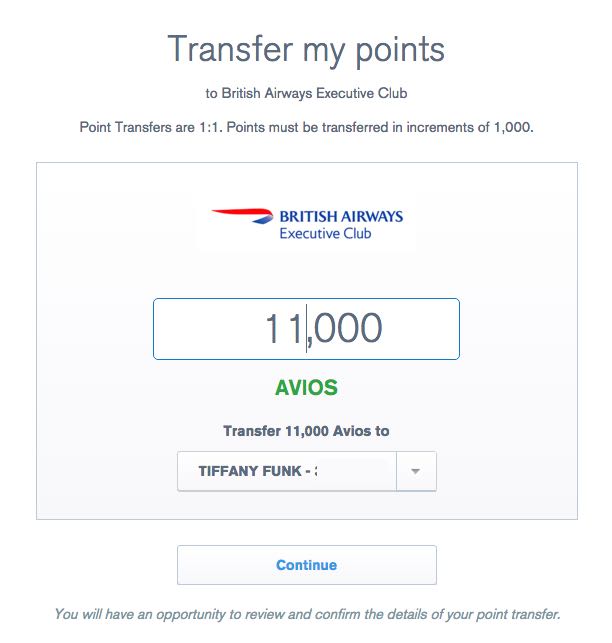 It takes just a few moments to set up the transaction, and the transfer is instant.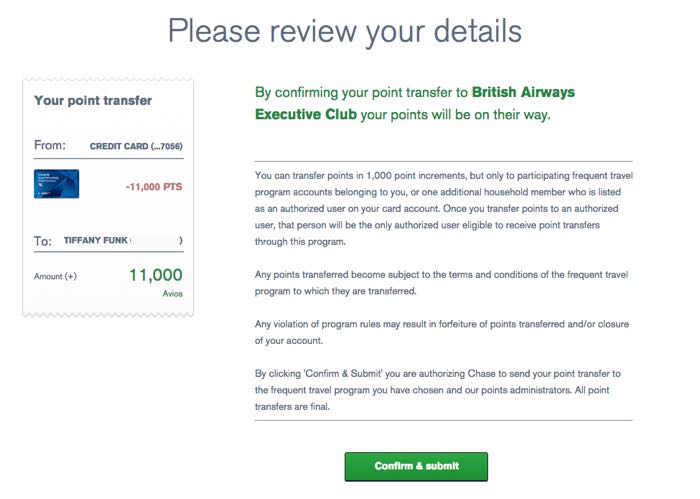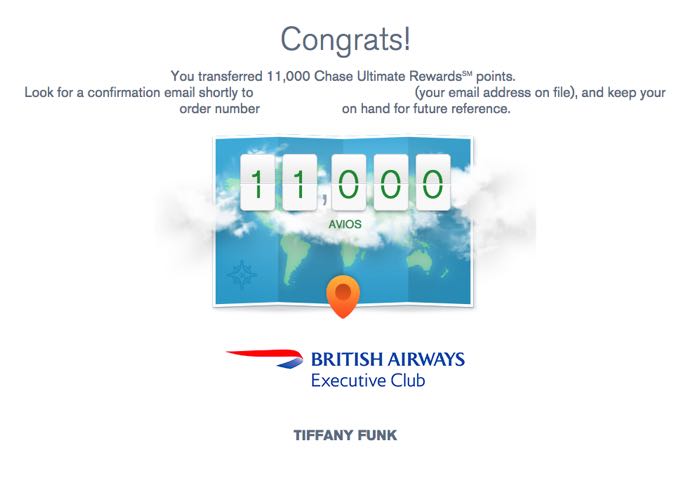 Moving Avios from British Airways to Iberia
You can technically move Avios using either the British Airways or Iberia site, but I've found the latter to be a bit glitchy, so would recommend using ba.com.
On your account dashboard, you should see a paragraph of text on the lower left advising you of the option to combine Avios.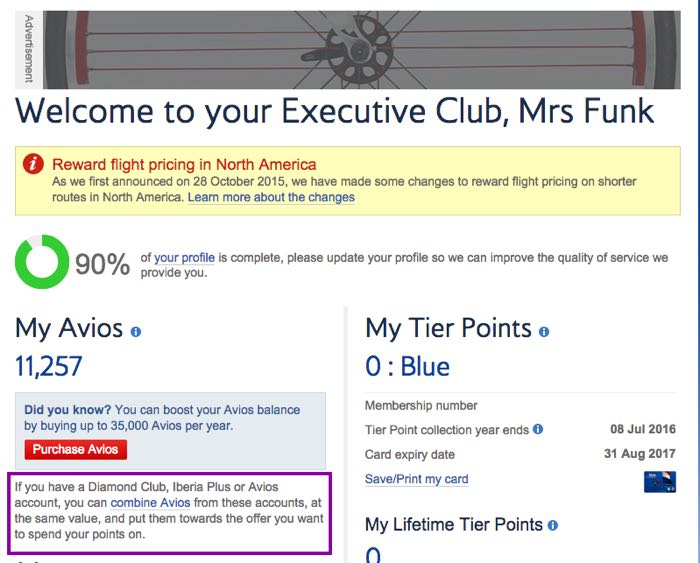 You can also go to "Manage my account" and select "Combine my Avios" as an alternative.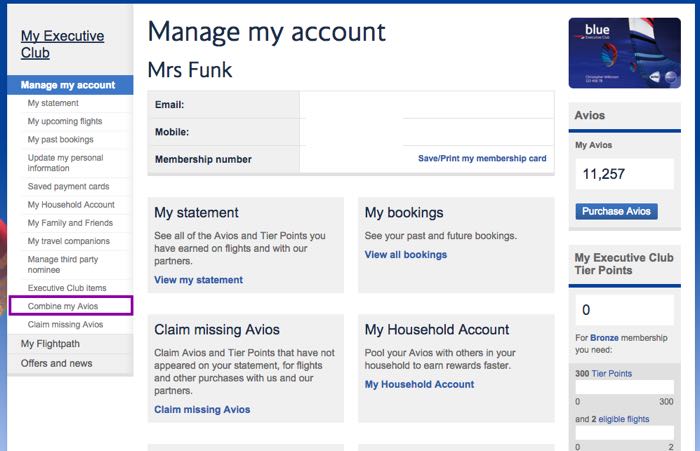 There are a ton of confirmation pages during this process. Try not to get sidetracked!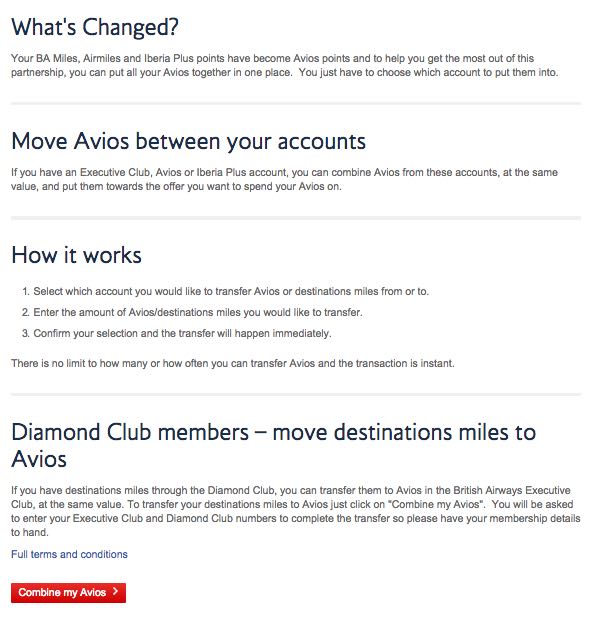 Eventually you'll have the option to enter your Iberia Plus number and PIN, and accept the terms: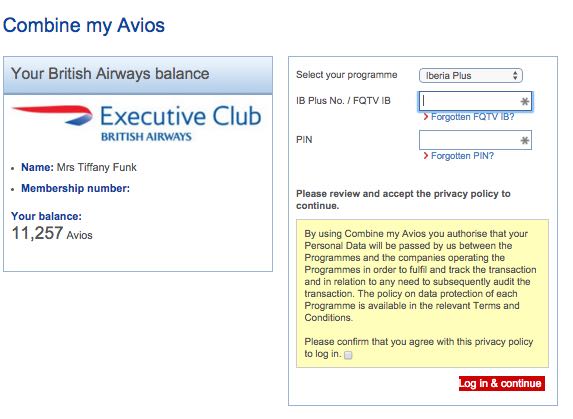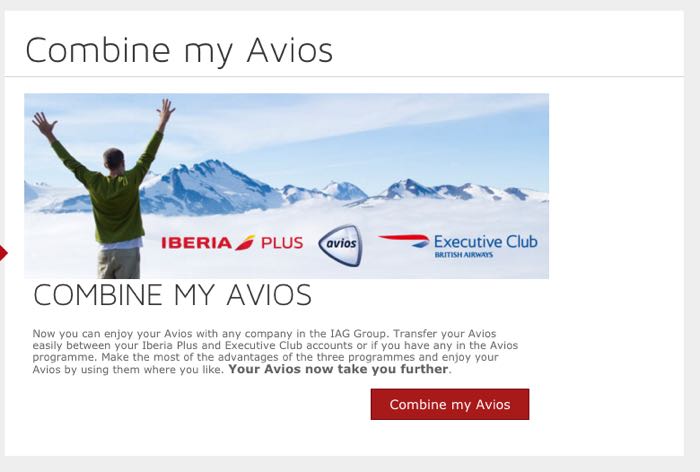 When the accounts are linked, you can then enter the number of Avios you want to transfer, and which direction you want to move the points: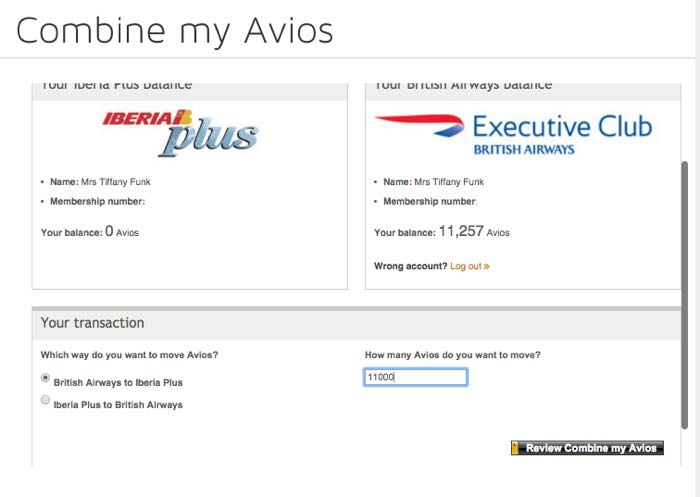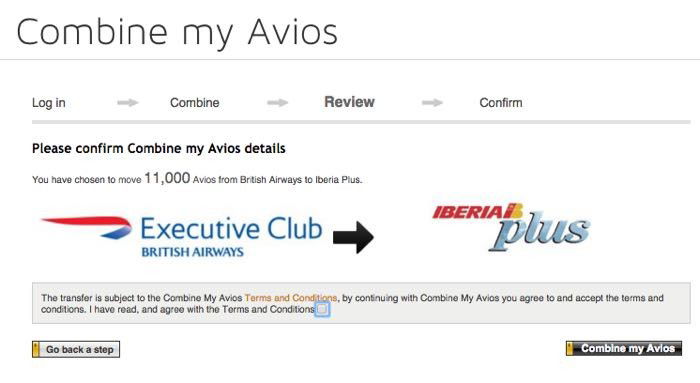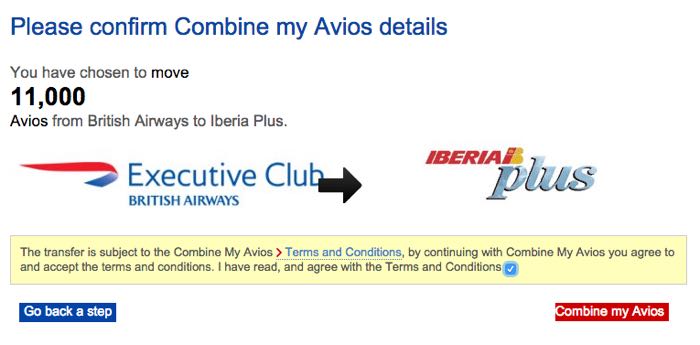 Once you've made it through the confirmation pages (seriously, so many!), you'll receive a notice that your transfer was successful: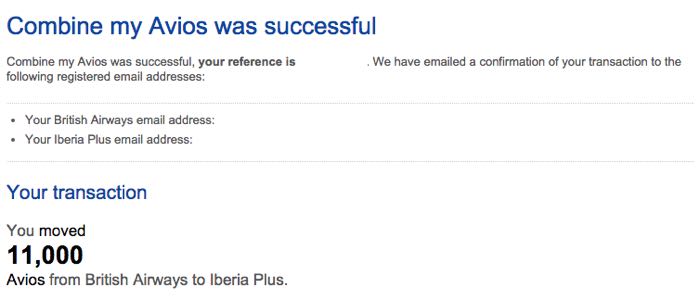 If you didn't activate your Iberia account the transfer will fail at this point. Otherwise, the points move instantly, and you should get email confirmations from both programs as well:

Bottom line
It's always nice to have options for redeeming miles, and the Iberia program tends to be overlooked.
Being able to transfer and combine points from British Airways is particularly nice, though given the extra steps it's best to set up and link the accounts long before you're ready to actually book.
Has anyone combined Avios accounts recently? Any other tips?