When it comes to airline experiences, there are two main regrets I have. One of them is not being able to fly the Concorde. Given that I was 13 when the supersonic plane was retired, I can't really hold that against myself too much.
The other regret is not having flown Transaero's Imperial Class, which is perhaps the most ridiculous looking first class cabin that I've ever seen.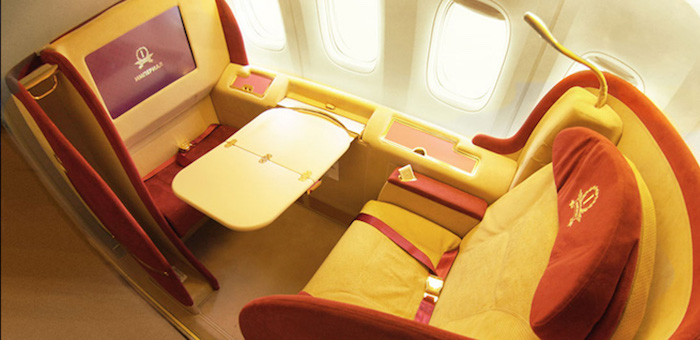 Not that the product is actually that cutting edge, but the finishes are just…
With the Russian Ruble falling faster than Ryan Lochte's sponsorship opportunities, there were some great Transaero fares available at the time, including between New York and Moscow.
I wanted to take advantage of that opportunity, though unfortunately late last year Transaero ceased operations, with just a few days notice, as the airline couldn't pay their bills anymore. Many of Transaero's planes are parked in a few different places, and I even saw some parked on the tarmac at Moscow's Domodedovo Airport before my recent Singapore Airlines flight from Moscow to Houston.
Well, there may still be an opportunity to fly Transaero's first class product… sort of.
Due to the situation in Russia at the moment we've seen the merger of several airlines, which has caused the formation of Rossiya. Per reader Anthony, Rossiya is inheriting part of Transaero's fleet, including their 747 and select 777 aircraft.
For these 777 flights, the planes still has first class, though Rossiya is selling those seats as business class, since long term they won't have a first class. Rather they plan on reconfiguring these planes, but haven't gotten around to it yet.
According to routesonline.com back in April, these 777s are being operated on the following routes:
eff 30APR16 Moscow Vnukovo – Simferopol 6 weekly
eff 10MAY16 Moscow Vnukovo – Adler/Sochi 1 daily, until 30JUL16
eff 01JUN16 Moscow Vnukovo – Khabarovsk 1 daily (4 weekly from 02AUG16)
eff 01JUN16 Moscow Vnukovo – Vladivostok 4 weekly (3 weekly from 01AUG16)
As tempted as I am, I might have to give this one a pass. I just don't have enough faith in them not swapping planes, and also don't have enough faith in them letting me keep the first class seat, even if I'm able to assign it.
Instead I'll be waiting for Russia's big comeback, at which time we'll hope that Transaero does in fact follow through with their A380 order. In that case I'll see you guys onboard the Los Angeles to Moscow flight at the jacuzzi caviar bar. 😉