I receive a ton of emails. Some of them are great questions, some of them are questions that could easily be figured out with two seconds of Googling, and then there are those kinds of questions. This past week a reader sent me the following question:
Here's a pretty real question (and a killer blog post if you have an answer), anyway for us to join the mile high club without losing respect of all crew members? Haha I'm imagining your face palm right now but… If anyone has a thought it'd be you. I know some of the seats allow two people to open their area into one sort of semi suite or if they have showers I thought that could be an option, albeit a little tough but " we'll make it fit" hahaha, couldn't help myself there.
I'm not sure whether to be flattered or offended at the prospect of someone thinking I'd be the person to have thoughts on it. The good news is that I certainly do have thoughts on it. The bad news is that I have thoughts on it because I'm a germaphobe, and the thought of someone screwing in the seats I'm sitting in is enough to make me barf.
Now what's interesting is how the question is phrased. The question isn't "how do you join the mile high club without getting in trouble/arrested," but rather "how do you join the mile high club without losing the respect of all the crew members."
For that matter, I suppose it's also interesting that the question was asked to begin with. Like many things in life, this might be one of those situations where "if you have to ask, you shouldn't."
So I surveyed a few flight attendant friends on this, and have the following thoughts:
The crew does it too
For those flight attendants working longhaul flights with proper crew rests, you'd probably be surprised to hear how many of them join the, ahem, solo mile high club during their breaks. And some of them even join the more "traditional" mile high club.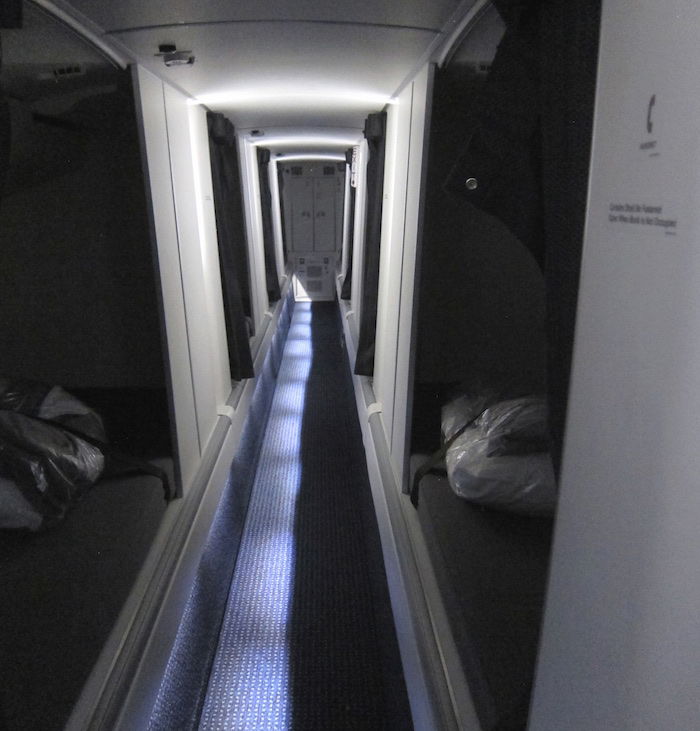 So I wouldn't be too worried about losing the respect of the crew, because I can assure you they do much worse things, both onboard and during layovers (a while back I remember seeing someone on a certain location based social networking application that wanted people to defecate on him — as luck would have it he was the flight attendant serving my aisle, and as you may have guessed, I declined when he offered me warm nuts).
The crew only cares if they have to
I think there's a common misconception that flight attendants love to bust people joining the mile high club. They don't. At a minimum it's awkward for them, and at worst it's extra paperwork for them.
So they'll only care if you give them a reason to care. So don't be stupid. Don't try to join in "public," because then you're potentially getting into public nudity charges. That's when you can really get in trouble.
If you try to privately join the mile high club (in a lavatory, enclosed first class suite, etc.), the worst that's going to happen is that you're told to knock it off. If/when you're told to knock it off, knock it off. Keep in mind that disobeying crew member instructions is one of the biggest violations you can make.
Furthermore, if you're trying to join the mile high club in front of others, that's when you're potentially going to get in trouble.
If you're going to join the mile high club…
Do it in a fully enclosed first class suite.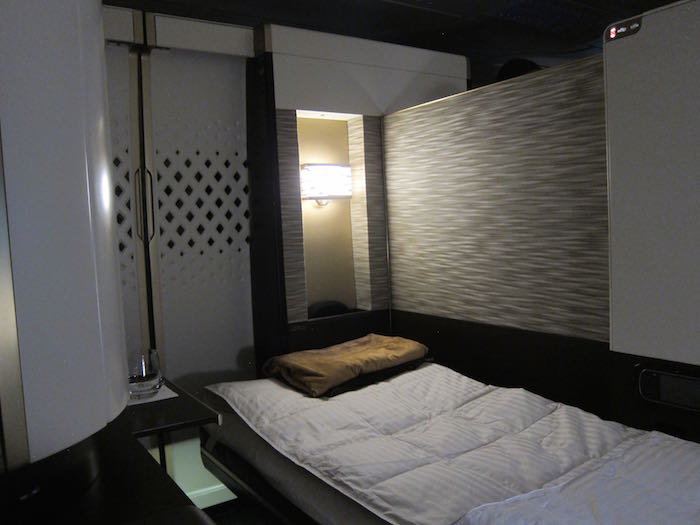 Do it in a shower spa.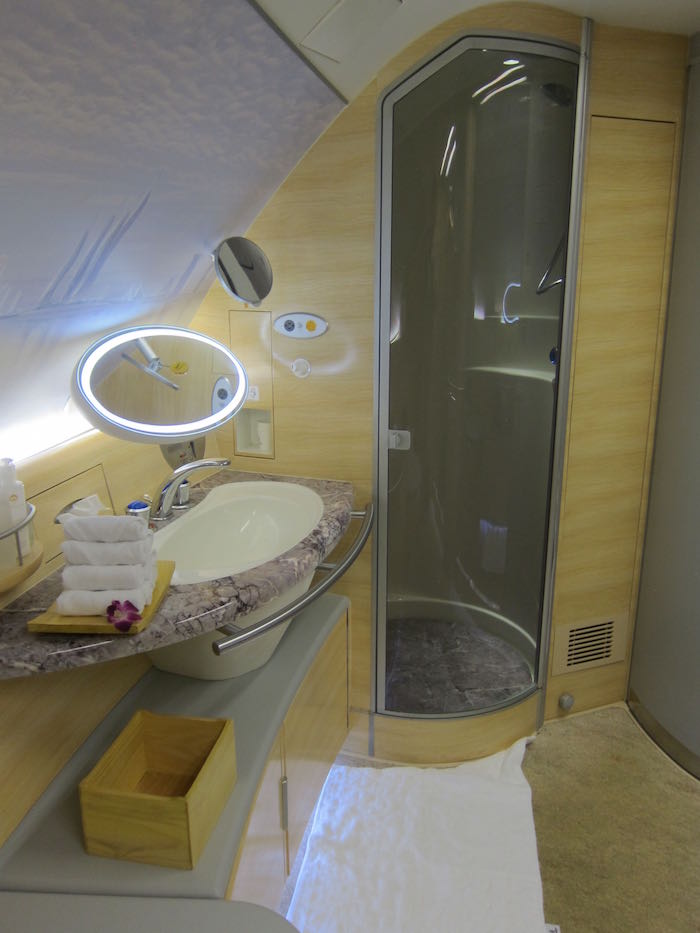 Do it in a lavatory (no, as a germaphobe, please don't do it in the lavatory).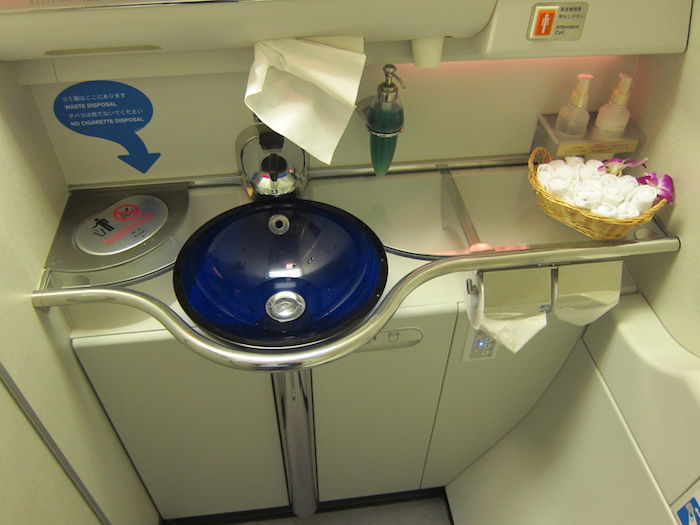 Do it in a way that's not stupid. No one will care. And if you do get caught, don't try to do it again on the same flight.
But seriously, in the Singapore Airlines Suites double bed I'd be willing to bet that more people join the mile high club than not. Singapore uses white duvets/comforters/blankets for a reason.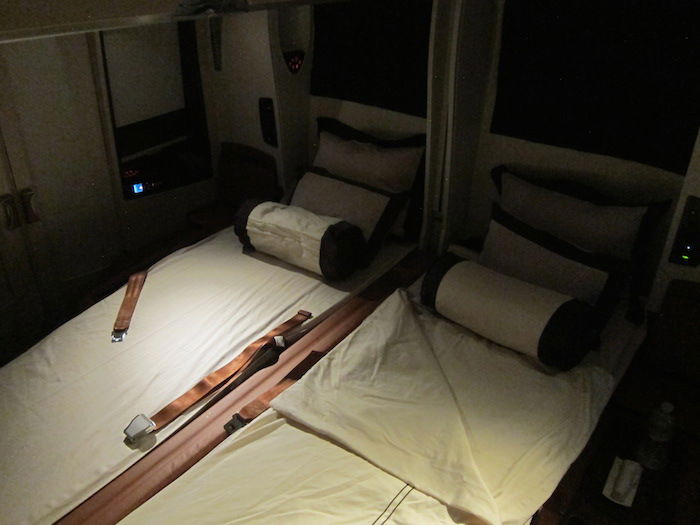 Am I the only one that just wants a good meal and some champagne?
Clearly I'm in the minority, but am I the only one happy enjoying a good meal and a couple of bottles of champagne in first class on my longhaul flights?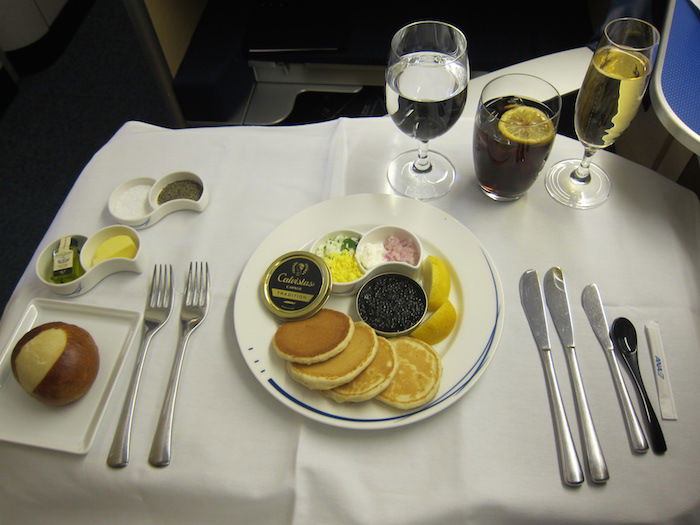 I'm sure I'll regret this, but since a reader asked for advice, feel free to share your mile high club experiences/tips below!