A few months back I wrote about how it looked like a Thompson would be coming to Palm Springs, replacing the planned Andaz Palm Springs. Well, this has now been officially confirmed, and we have a timeline for when the hotel could open.
The abandoned Andaz Palm Springs
Back in 2015 it was announced that an Andaz would be coming to Palm Springs. At the time the plan was for the 150-room hotel to open in 2016. For those of you not familiar with Andaz, this is Hyatt's luxury(ish) lifestyle hotel brand, with properties in popular destinations around the world.
The reality is that this property was already in the pipeline long before it was announced that it would be branded as a Hyatt, as the four acre property has been under development in some form for nearly a decade.
To this day the project still isn't completed. The development seems to be cursed in just about every way — there have been endless allegations of breach of contract, lack of payment to contractors, etc. In mid-2020 it was announced that the hotel had landed in bankruptcy court, with the controlling entity selling its stake in the property.
Up until recently there were no real updates, and based on what I had heard, the project was more or less dead, at least as a Hyatt. Fortunately that has changed, as the project once again has some life.
Thompson Palm Springs now in the pipeline
A new company has now taken over this project, and there are plans to open the Thompson Palm Springs. This was first discovered a few months back, when the Hyatt Development webpage displayed the Thompson Palm Springs. When you clicked the "view website" button, it brought up the website of the Andaz Palm Springs.
That has now also been confirmed — the Andaz Palm Springs project has now been converted into the Thompson Palm Springs project, and the hotel is expected to open in December 2022. I imagine that's a really optimistic timeline, so it's likely going to be 2023 before this hotel opens.
There are still only renderings of the Andaz for now — Andaz and Thompson are largely comparable Hyatt brands in terms of the size of properties, level of luxury, and crowd they're going after. The major difference will be the finishes, though that shouldn't be much of an issue to change, since no work has been done on the interior yet. Furthermore, Thompson usually has more of a focus on dining and bar venues, so hopefully that's reflected in this project.

Andaz Palm Springs lobby rendering (now the Thompson)

Andaz Palm Springs lobby lounge rendering (now the Thompson)
Andaz Palm Springs pool rendering (now the Thompson)

Andaz Palm Springs pool firepit (now the Thompson)

Andaz Palm Springs guest room (now the Thompson)

Andaz Palm Springs guest room (now the Thompson)
Another awesome California addition for Hyatt
A few general notes about this property specifically, and about Hyatt's overall footprint in California.
First of all, I like Palm Springs a lot, though it's not a place I visit often, simply because I live in Florida. There are a few reasons I'm excited about this property:
Personally I probably wouldn't travel cross country to visit Palm Springs as a standalone trip, though what I love so much about California is the geographic diversity, so this would be great as part of a bigger trip to California; this will also be awesome for those in SoCal who are looking for a weekend getaway
Palm Springs is desperately lacking luxury points hotels; I still miss the Parker Palm Springs belonging to Starwood Preferred Guest; the hotel still exists, but it's no longer affiliated with a major hotel points program
While I'm generally excited about this development, I wish this were a more secluded resort with a bit more land, rather than a four acre development right in the heart of the city
Parker Palm Springs room
On top of that, I can't help but point out how beautifully Hyatt's luxury portfolio in California is starting to develop:
There are now three Alila properties in California, including the Alila Ventana Big Sur, Alila Marea Beach Encinitas, and Alila Napa Valley
For Hyatt loyalists, you have luxury hotel options to enjoy the beaches in SoCal, the nature in Big Sur, and wine country in Napa Valley, plus this Palm Springs addition coming soon
Hyatt still has lots of room for improvement when it comes to luxury hotel options in cities in California, though, as Hyatt's footprint is still largely lacking in Los Angeles and San Francisco; it's improving slowly (like the addition of the Thompson Hollywood), but there's still lots of potential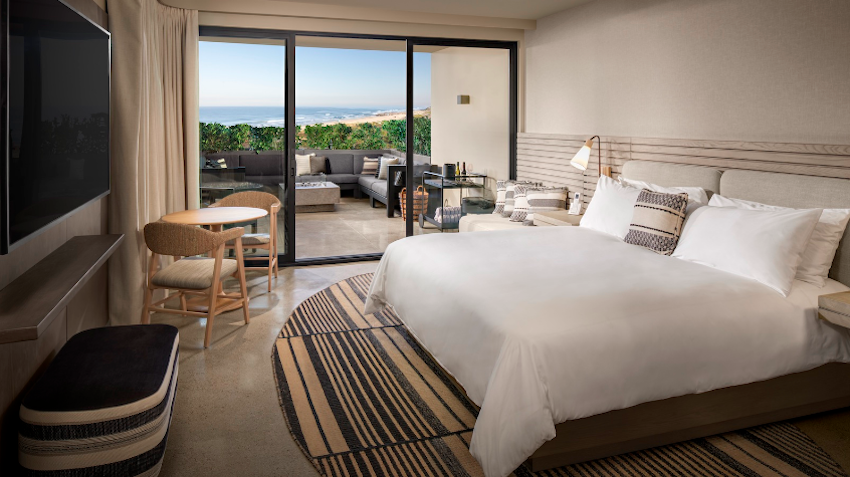 Alila Marea Beach Encinitas
Bottom line
The much delayed Andaz Palm Springs is now officially the Thompson Palm Springs, and the property is expected to open in December 2022. I love the Thompson brand, and am thrilled to see this hotel will be joining the Hyatt portfolio.
Here's to hoping that this project doesn't slip too far from the new planned December 2022 opening date.
Are you excited about the Thompson Palm Springs?
(Tip of the hat to Tom)