Yesterday Travis wrote about how a family was kicked off a Delta flight from Maui to Los Angeles. Long story short, Delta was technically correct, but the family was confused about Delta's policy. Airline rules are pretty complicated, and they made an honest mistake. Delta issued an apology for how they handled the situation, which was the right thing to do.
While it was mentioned briefly, I think there's one thing we really need to draw attention to, because it's beyond screwed up.
Delta called the police on the family because they refused to get off the plane. If we are to believe United's latest customer service commitment, they wouldn't have called the cops in this situation, since it wasn't a matter of safety or security. So it seems like Delta is being less customer friendly than United here.
Delta's use of law enforcement is hardly surprising, and isn't what I'm drawing attention to in this post. What's screwed up is that after the cops arrive, the flight attendant tells the family the following when the father says that the police can remove him off the plane, if I'm understanding it correctly:
"Then it's going to be a federal offense, and you and your wife will be in jail, and your kids will be put in a foster care."
https://www.youtube.com/watch?v=z3RcvNvLLCk
First of all, if you're going to call the police on your customers, let them handle it. Second of all, what kind of a horrible human being makes such a threat? The passengers were genuinely confused and clearly meant no harm. And my gosh, that guy had a very calm response after the threat the flight attendant made.
I know we're talking about a small minority of bad apples here, but when will flight attendants learn that they're not law enforcement officers? They can't send people to jail. And in a situation like this, there's no way in hell people would be sent to jail. Passengers might be removed from the plane, but they won't be going to jail after for simple confusion over the contract of carriage.
Maybe I'm being harsh, but I think this is simply inexcusable. I don't think someone should be in a customer service role if their go to response is to falsely threaten customers by saying that their kids will be going to foster care if they don't get off the plane. Even if it's the flight attendant's first offense, I hope she's fired.
Even more puzzling is that this comes just shortly after the Dr. Dao dragging incident. You'd think flight attendants would be extra careful about what they say, knowing full well that it's probably being videotaped from multiple angles. But that doesn't stop her. This is worse than anything that was said during the Dr. Dao incident.
The sad thing is that this isn't the first time that we've seen video of such a threat. But for some reason it's always on US airlines that these threats are made.
Dear airlines: maybe it's time you remind your employees that they don't have the authority to send people to jail, and that threatening to send someone to jail isn't good customer service?
Just last week Delta published a video smearing the Gulf carriers, talking about how every US aviation job is at risk, and about how our military won't be able to go to war if we don't stop Emirates, Etihad, and Qatar, from flying to the US. They wanted us to campaign for them.
https://www.youtube.com/watch?v=iwJ6I4qpTAI
As of the time of this post, here's how many likes and dislikes that video has: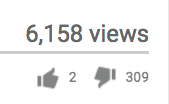 The comments are scathing. People don't like the "big three" US carriers. There's a reason for it. Maybe Delta's "Our Future, Our Fight" campaign should be based around focusing on taking care of their customers/not threatening to send customers to jail and foster care, rather than trying to get us to campaign for them over airlines that actually make us feel appreciated.
/rant over
Am I being too harsh here, or is there any excuse for a flight attendant threatening to send passengers to jail and foster care?