Overbooking of flights has been in the news a lot lately, ever since Dr. Dao was dragged from his United flight for refusing to give up his seat to accommodate deadheading crew. After completely botching the initial response and turning this into a public relations nightmare, United quickly reached a settlement with Dao and his lawyers, as they wanted to get the story out of the spotlight.
And that means it's now Delta's turn to deal with an overbooking fiasco, one involving a family no less. Although the situation seems to have occurred over a week ago, the story has just now surfaced of a family that was supposed to be flying from Maui to Los Angeles but was kicked off their flight for refusing to give up the seat that the youngest child was sitting in. Although Delta was mostly in the right — as is often the case in these things — they handled the situation miserably.
The good news is that the cops didn't drag the family off the plane. They just stood by as Delta threatened to send the parents to jail and take the kids away. Oh my:
"You have to give up the seat or you're going to jail, your wife is going to jail and they'll take your kids from you," Brian Schear recalled the airline staff telling him.
The family eventually left the plane peacefully and then purchased tickets on United — of all airlines — to get home at a cost of $2,000.
Here's the video that was recorded of the incident.
How I think this happened
The family had flown to Maui with the young son Grayson as a lap-child. After that flight, they correctly realized that lap-childing a kid on the red-eye flight wasn't going to be much fun, even if it was free.
So they sent their 18-year-old son, Mason, home on an earlier flight that day, assuming they could then use his seat on the original flight for the younger son and his car seat. That's not an unreasonable strategy. I mean, it would have made more sense to buy Grayson a seat on that flight in the first place, but whatever. The Dad figured he had paid for the seat so he could use it for whomever he wanted.
The problem is that the airlines don't see it that way. The contract of carriage prohibits you from transferring tickets from one passenger to another. They do this for a lot of reasons, but I would say that most of it boils down to wanting to sell a last-minute ticket at a higher price, rather than letting a secondary market emerge for a third-party ticket swap, sort of like we transfer tickets to sporting events. Oh right, I'm sure they also do it for security.
But that's mostly irrelevant. The plan was fine, it was just poorly executed, and that's what caused this to blow up on them.
How Delta found out that Grayson was not Mason
I speculate that the problems started when the family listed Grayson as a lap-infant, just as they would have if Mason was still traveling with them. I presume that they then had Grayson board with his lap-infant boarding pass.
That means that Mason's boarding pass was never scanned. So although the family had still technically purchased that seat, when Mason never boarded the plane, Delta classified him as a no-show and moved to give his seat to another passenger.
This happens all the time. It could have been a standby passenger, a confirmed passenger on an overbooked flight, or even a non-rev, it doesn't really matter.
The problem, of course, was that Grayson was now occupying Mason's old seat so that when this new passenger boarded with a boarding pass for that seat, he had no where to sit.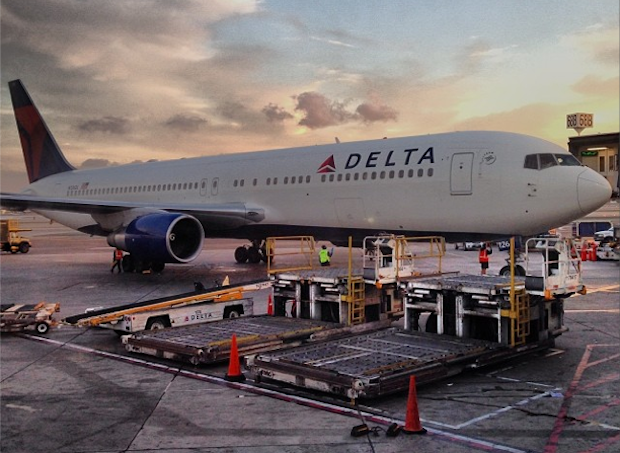 What the family could have done
This is where it gets a little murky.
Kids are not required to show ID when they check-in or board domestic flights. In fact, most kids don't even have ID, unless their parents take them on international adventures.
So all the family really needed to do was have Grayson board using Mason's boarding pass. Had Mason's boarding pass been presented to the gate agent and gone beeeep in the scanner, the computer would have thought Mason had boarded the plane and we wouldn't be discussing this right now.
Trust me, the Delta agents didn't really care whether Grayson or Mason was in that seat. They just want to do their job and get the flight out on time with all seats occupied. But once they found out, protocols had to be followed. Lies had to be told. And threats had to be made. Or at least that's the way these things usually go.
Why couldn't the family continue on the flight with Grayson as a lap-child?
The part that I'm confused about is why the family couldn't just pick Grayson up and continue on the flight with him as a lap-child.
Sure, the Dad had been arguing, but he did a good job of mostly keeping it together. So it's not obvious to me why they needed to be removed from the flight. In fact, I think he offered to lap child the kid and do just that.
But the reality is, once you go down the path of not following crew member instructions, your fate is sort of sealed.
Bottom line
This week it's Delta's turn to deal with an unfortunate situation of passengers not wanting to give up their seat. It actually hardly matters that the flight was overbooked, but that's how it will be perceived.
As is often the case, Delta was technically in the right per the terms of the contract of carriage. But they way overstepped their legal bounds by making up lies and threatening the family with jail if they didn't leave the flight.
I just don't understand what causes airline agents and flight attendants to go on these power trips. That's the stuff that really needs to stop in my opinion. Nonetheless, it's a very interesting situation.
What do you make of the family getting kicked off their Delta flight?