Yesterday I shared the story of the family kicked off a Delta flight from Maui to Los Angeles. The family had flown to the island with their youngest son as a lap child, but decided that maybe that wasn't the best option on the way home. So they sent their older son ahead on an earlier flight, thinking they could use his original seat for the younger son and his car seat.
The plan probably seemed very logical to the family, and possibly, to most people. But airlines tie seats to actual passengers, so when the older son didn't board the flight — he was already at home — the computer rightly considered him a no-show and the airline moved to reassign his seat to another passenger. As I explained, there were ways for the family to have pulled this off, but they require a more in-depth understanding of the subtleties of airline reservations systems.
So even though the airline was technically in the right, the agents predictably handled it horribly. They threatened to throw the parents in jail and put the kids in foster care if they didn't get off the plane. Of course, we have a video of much of the interaction.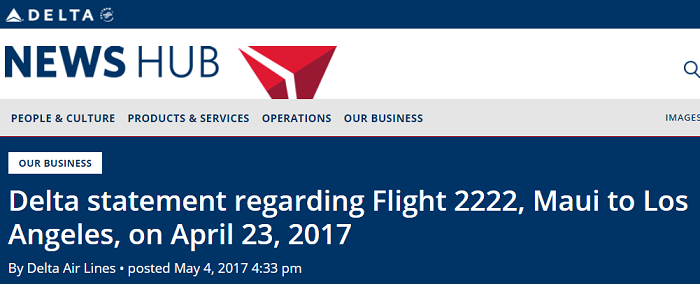 Delta apologies for kicking family off plane
Well, Delta has now issued a formal apology which is posted to the news section of their website:
We are sorry for the unfortunate experience our customers had with Delta, and we've reached out to them to refund their travel and provide additional compensation. Delta's goal is to always work with customers in an attempt to find solutions to their travel issues. That did not happen in this case and we apologize.
To me, the apology is appropriate in that they acknowledge that they failed to help the family find a solution. They are apologizing for the way they handled the situation, rather than causing the situation itself. And that's basically the issue here.
The interesting thing to me, however, is that even though the video only surfaced yesterday, this incident occurred over a week ago. It makes me wonder if Delta was aware of the issue prior to the video being made public, and whether they had proactively tried to offer compensation and an apology to the family. I'm guessing not.
It seems to me that airlines should have an internal team that reviews all situations like this when the police are called. Sort of like a centralized replay center that the NBA and NFL have adopted. Of course, that would require innovative thinking, and really the only things the airlines want to innovate these days are ways to cram more seats on a plane.
At any rate, Delta is now saying they are going to refund the cost of their tickets and issue compensation, though terms were not disclosed. In a twist of luck, United actually got to transport them home.
Bottom Line
When I was growing up, my mom taught me that it's possible to be technically right but still end up wrong. And that's what happened in this case. Delta had all the facts on their side and a legal document, the contract of carriage, to prove it. They just needed to handle the situation in a calm and respectful manner, and none of this would have happened. But that's basically true of all of these viral airline incidents of late.
I'm glad I'm not an airline CEO. Because if I was, I don't think I could sleep at night knowing that I have thousands and thousands of employees around the world, any of which might decide to play lawyer or police on any given day.
Do you think Delta's apology was appropriate?