Over the years there have been some timeless trip reports published on forums and blogs. One which comes to mind is "8 bottles of Dom from LAX-BKK on SQ in F." It might just be the funniest trip report every published on the internet.
Well, last week someone joined FlyerTalk with the handle 37rentals, and published an absolutely epic trip report as his first post. The trip report is titled "37 rental cars – 2 days – 185,000 miles," and it's well worth a read.
The premise of the post is that SAS EuroBonus had a promotion whereby you received 5,000 bonus miles per Avis rental. There were no restrictions on how long the rental had to be.
So 37rentals literally flew to Madeira in order to rent cars. 37 of them in two days, to be exact. Why? Because that's where rentals were cheapest, and with the volume of rentals he was making, the cost of flights and accommodations became negligible.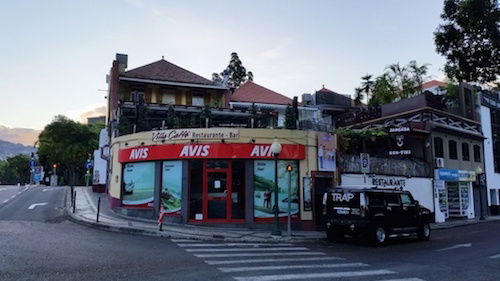 Photo from 37rentals on FlyerTalk
Here's a teaser of this great report:
How many cars could I rent? The two Avis offices in Funchal were open from 8.30 am – 12.30 pm and 3 pm – 7 pm. Searching online, it seems that having two or more simultaneous bookings could present a problem. Furthermore, having back-to-back rentals from one and the same office could result in the agency combining them into one. So I settled for renting one car every half hour, each one for a half hour period, and alternating the rentals between the two offices. (They were located only 1.2 km by foot from each other.) I figured two days would be enough, or the reps might become fed up with me. (I also didn't want to invest too much if things didn't work out as I hoped.) I extended the final rental to 24 hours, giving me a third day of sightseeing at the end. This added up to 37 rentals, all picked up in two days.

Two weeks before my trip, Avis Funchal called me. A man explained that there had been an error in the system, and that 18 bookings had been created in my name. I told him that there must indeed be an error, because it's supposed to be 37. After typing a bit at his computer, he told me that this was nonsense, and that he would combine all the rentals into one. I explained about the promotion and that I would really appreciate 37 individual rentals. He seemed to understand, but ended the conversation by saying "you will pay for this", so it was unclear if he was onboard with it or not.
Now here's to hoping all the miles post properly for 37rentals!
I've done some crazy trips in my life, from flying back and forth to Brazil four times in a row for miles, to flying around the world in 80 hours, to flying to Beijing three times in a month for the miles, but I think 37rentals' adventure takes the cake.