There are a few basic principles I try to live by:
At the end of your life I believe you'll regret more what you didn't do than what you did do
If mom's happy everyone's happy
Don't fly Royal Jordanian
Anytime I can knock out two of the above three, I consider it to be a win. 😉
So why do I mention this? Because this past week it was my mom's 60th birthday, and I wanted to do something special. Something really special. My parents bought a business in Florida close to 10 years ago which requires them to be there every day (or so they think), so my mom hasn't taken a vacation in almost 10 years, and has been working 12 hours a day (at least) six days a week.
I moved to the Pacific Northwest last year and I haven't seen my parents during that time as much as I'd like, so I wanted to take my mom on a really, really, really special trip for her birthday. In a post several years ago Gary said that "people as a whole underinvest in peak experiences," and that stuck with me. And that's exactly what motivated my thinking with this trip.
Two of my four favorite places in the world are Hong Kong and Bali, so I figured since my mom has never been to Asia before, visiting those two destinations would be awesome. But I also remember how absolutely transforming my trip to India was, where I had the chance to stay at the three Aman properties (Aman New Delhi, Aman-i-Khas, and Amanbagh).
There are luxury hotels, and then there are Amans. Anyone that frequents them (sadly not me) will agree they're in a league of their own, and are actually transforming. It's not the level of luxury that impresses me about Amans (though it's impressive as well), but how brilliantly they blend into the local culture and how sincere and understated the hospitality is.
Only one slight problem – you can't redeem points for them and they're outrageously expensive. I shouldn't have spent the money and am certainly not in the demographic of their average guest, but after much thought I pulled the trigger. How did I justify it? I asked myself if there's any way I'd regret the decision to spend more money than I should to give my mom one of the most memorable trips of her life for her 60th birthday. After deciding the answer was "no," I pulled the trigger.
While I'll have a full trip report in due time (I have to finish a couple of other reports first), I wanted to just quickly summarize the Aman experience best I could. Because frankly despite the high price tag, I think it was worth every penny and then some.
On this trip we spent three nights at Amandari (in Ubud) and three nights at Amankila (located on the east coast of Bali, one of the few parts of Bali I haven't visited before).
Each Aman has only about 30 rooms, as is the norm at Amans, and the rooms were stunning. Simply stunning. They're not really rooms, but standalone villas.
At Amandari we had a beautiful villa overlooking the rice fields. Half of the experience were the sounds. It was almost like an audio track. I feel like I could have had half of the Amandari experience with my eyes closed all the time, as hearing the wildlife 24/7 was just incredible.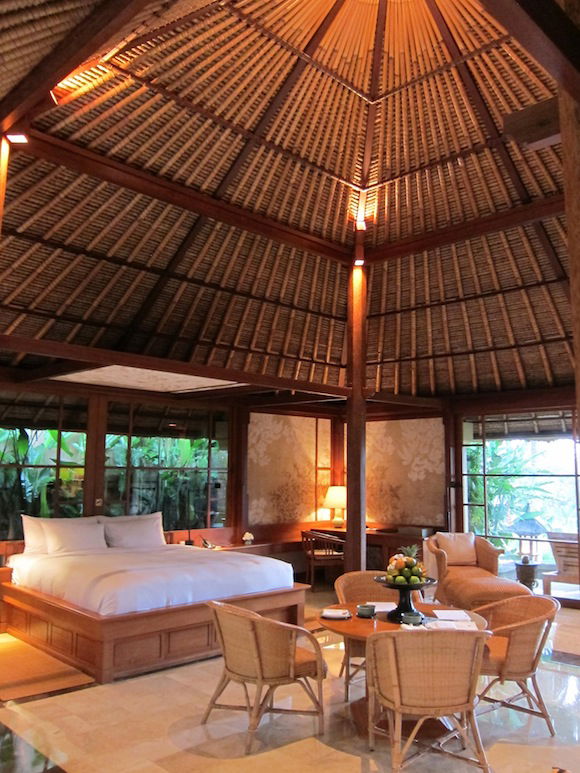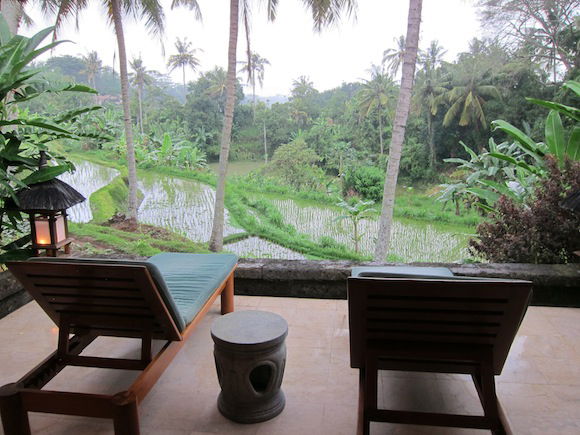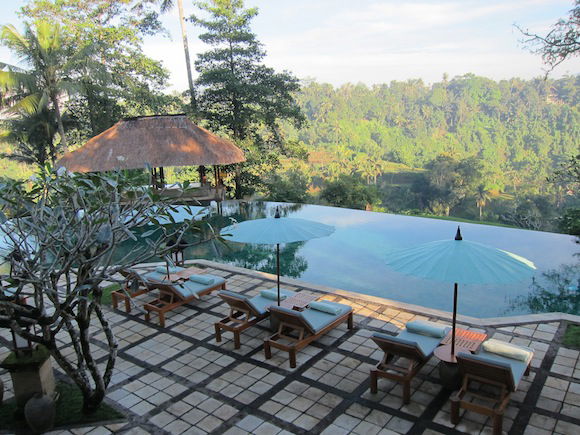 At Amankila we had an incredible suite overlooking the ocean. In both cases the rooms were just spectacularly appointed and in immaculate condition.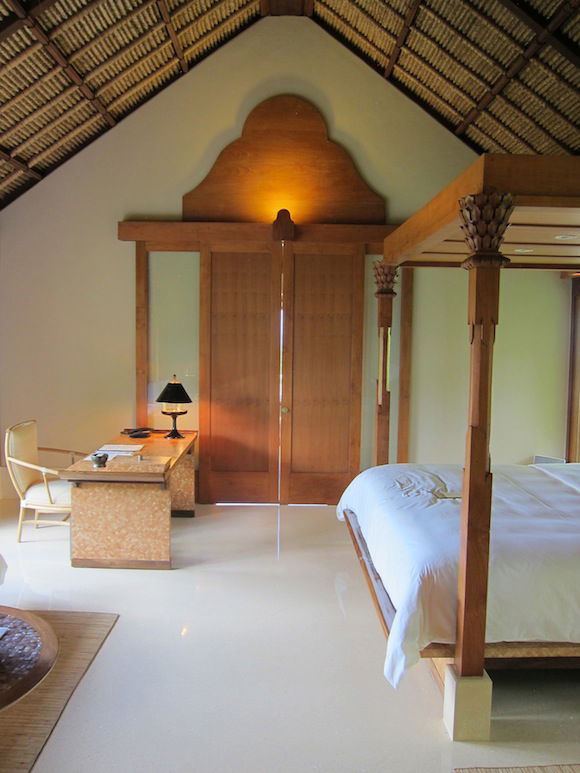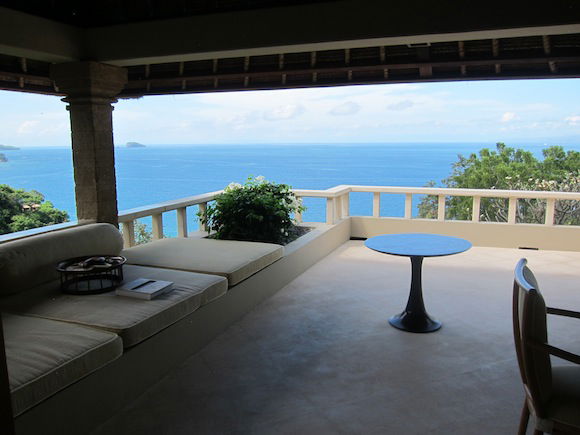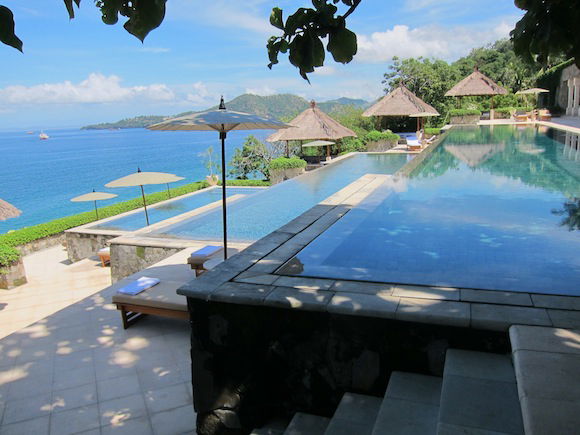 But that's not what makes Amans special. It's not the facilities – which are spectacular in and of themselves – but the people.
To start, for 30 rooms they have about 160-180 employees. Figure at any given time the property is about half full, maybe a bit more. You do the math.
Service is so spectacularly hospitable, refined, and over the top yet understated. I know that sounds like an oxymoron, but at Amans it isn't.
When on property you're not addressed by your name, but as "ibu" (for women) or "bapak" (for men). As every Aman employee describes it, you're treated as part of their family. Just about all the employees live in the villages around the property and have been with Aman for 20+ years, so the degree of local knowledge you get is second to none.
The thing that blew my mom's mind is how everyone knows everything. When you go to a restaurant or order a drink at the bar there's no check. You're never asked for your room number. They know who you are. And they don't just know who you are, but they know everything you've done. If you had a massage in the afternoon you'll be asked in the restaurant by the waiter how it was. If you go white water rafting and return to the hotel to relax by the pool, the guy working at the pool will ask you how it was. If you get a tour of a village, your Aman host will often show you their home.
The first 24 hours we were at Amandari our room was refreshed five times. FIVE times.
And the little touches are never ending. For example, when our bags were transported from the car to our room, the luggage claim tags were removed and were instead replaced with personalized permanent Amandari luggage tags.
At Amankila my mom mentioned to someone how much she loved the smell of the roses in the garden. 30 minutes later a basket of them was in our room with a note from the GM.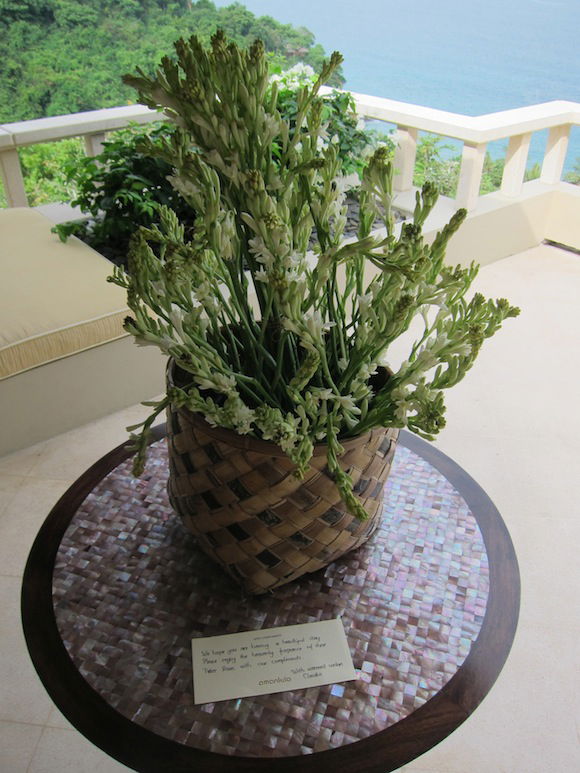 Perhaps the most spectacular "little touch" was when we switched between Amandari and Amankila. The properties are maybe 90 minutes apart. Two hours after arriving at Amankila there was a package sitting on my desk in the room with a pair of shoes I didn't even realize I left at Amandari. And they didn't even make a fuss of it!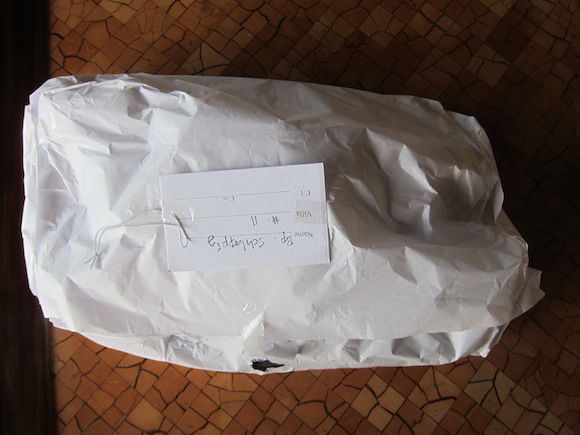 I think that really sums up the Aman experience – it's amazing while seeming utterly effortless. Because everyone that works there wants to be there, loves what they do, and genuinely wants to let you into their world.
Truly the only horrible part about staying at Amans is leaving. We checked out of Amankila today and were "blessed" and given a gift upon leaving, and then close to a dozen of the employees lined up to wave goodbye to us. I almost wanted to cry.
Anyway, if you can swing an Aman, it's on a different level of any other place I've stayed. There's lots of hyperbole used to describe the "hospitality" industry, and I think Aman is the only one that scores a ten out of ten every time.
In the car today I couldn't help but ask the driver "so how does Aman do it? How do you guys know everything about everyone?" He smiled and said "well that's the Aman secret."
Did my bank account take a big hit from the stay? Yep. Is the smile on my mom's face worth every penny? Yes, and then some. And I'm not alone, because just about every guest I interacted with at the properties were "Amanjunkies," and plan their vacations around them.
More details with the trip report! In the meantime if you can't wait, here are some well produced videos I found on YouTube of Amankila and Amandari:
If you've stayed at an Aman before, I'm curious if your impression is as favorable as mine!