There's nothing I love quite like a mysterious charter flight, and this one checks all the boxes…
Thai Airways' flight to Alexandria, Louisiana
This past weekend a Thai Airways Boeing 777-300ER operated a roundtrip flight between Bangkok and Alexandria, Louisiana. The flight, which had the flight numbers TG8096 (eastbound) and TG8097 (westbound), was operated by a seven year old aircraft with the registration code HS-TKQ.
It operated the following routing, flying eastbound on October 2, and westbound on October 3:
It flew from Bangkok to Honolulu in a flight time of 11hr56min
It flew from Honolulu to Alexandria in a flight time of 7hr21min
It flew from Alexandria to Honolulu in a flight time of 7hr54min
It flew from Honolulu to Bangkok in a flight time of 12h11min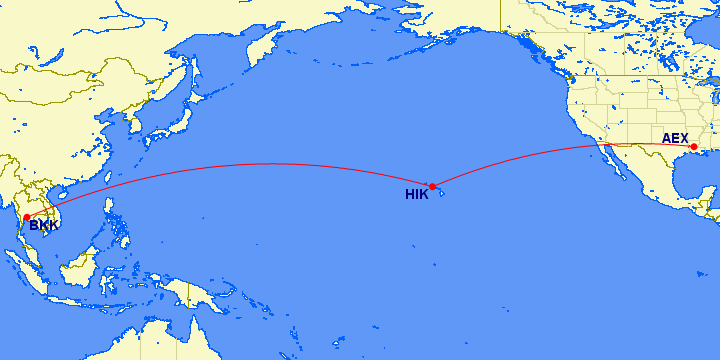 The roundtrip journey covered a distance of 21,298 miles. The plane spent just a couple of hours on the ground in Alexandria, so I'm guessing Thai Airways staffed the flight for the roundtrip journey.
Thai Airways hasn't offered scheduled flights to the US in years (the airline discontinued money-losing flights to the US in 2012), so what exactly was going on here?
A likely explanation for this Thai Airways flight
When I first heard about this flight I assumed that it was some sort of a US military charter:
However, this raised some follow-up questions, which made me think that maybe there was a bit more to it. In particular, I believe that US military charters are typically operated by US airlines, so it seemed strange to me that the US would be chartering a Thai Airways plane for a US military charter.
Fortunately a reader pointed out the much more likely explanation — it would appear that Thai soldiers often get trained abroad, and a story in the Bangkok Post from July suggests that in September and October Thai soldiers would be going to a Joint Readiness Training Center at Fort Polk in Louisiana.
I think that more or less answers our question — it seems like this was a Thai military charter for training in the US, rather than a US military charter.
Interestingly Thailand had sent some soldiers to Hawaii several months back for training, but that training was suspended after several soldiers tested positive for coronavirus. I wonder if with this trip anyone was dropped off in Hawaii, or if that stop was purely for refueling.
Bottom line
Thai Airways has operated a flight between Bangkok and Alexandria, Louisiana, this past weekend. That sure is one of the cooler non-scheduled flights we've seen in a while.
All signs point towards this being a charter flight for Thai soldiers who were going to Louisiana for training.
(Featured image courtesy of Masakatsu Ukon)