It's not unusual for a flight to enter a holding pattern due to congestion or weather, but I've never seen anything quite like this before.
An Air Arabia Maroc Airbus A320 operated a pretty incredible flight about a week ago. The 10-year-old Airbus A320 with the registration code CN-NMG was scheduled for a domestic flight within Morocco, from Tangier to Nador. This is a flight that covers a distance of 171 miles, so you'd ordinarily expect the flight time would be about 30 minutes in the air.
Well, unfortunately this flight dealt with some unfavorable conditions in a way I've never quite heard of before. The flight was initially supposed to depart at 9:35PM on November 2, but ended up being delayed until around 6AM the next day, allegedly due to weather conditions.
Sure enough, the next morning the plane took off shortly after 6AM. You're probably thinking "great, so the plane landed in Nador at 6:30AM?" Not quite…
As you can see below, the plane entered a holding pattern on approach to Nador.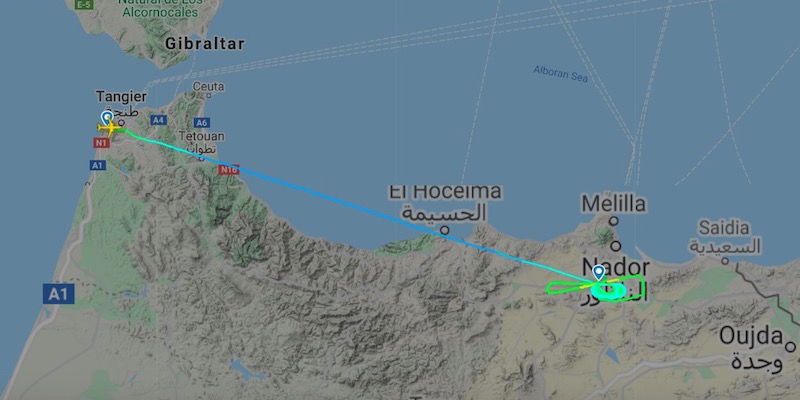 Not just any holding pattern, but a roughly four hour holding pattern, as it was only after 4hr35min in the air that the plane (finally) landed in Nador. Seriously, look at that flight path!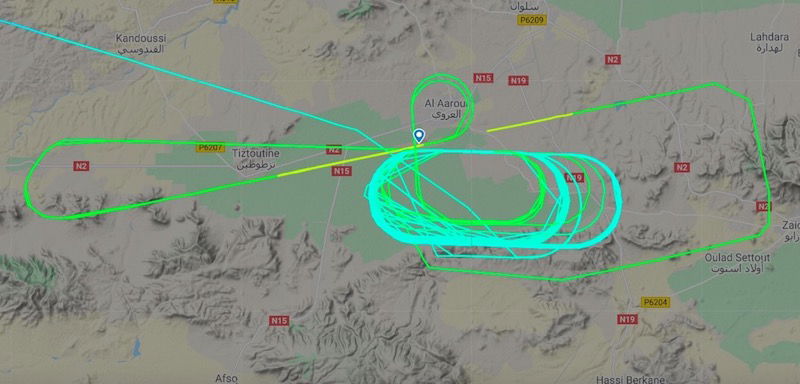 The plane ended up flying a total of 1,202 miles, over seven times the direct distance between the two airports.
You have to wonder if by the end of this flight passengers were disoriented from constantly turning in the same direction.
In the end passengers got to Nador around 13 hours after their scheduled departure time, including an eight hour overnight delay, and a 4.5+ hour flight. Driving would have only taken about half as much time.
Obviously we don't fully know the circumstances here, and the plane ultimately landed safely, though I'm sure I'm not alone in being curious:
Isn't it a bit surprising the plane had enough fuel to circle for that long? I guess maybe it was fueled up for a few sectors that day, and they just burned through most of that on the flight…
Was the weather looking better when the plane took off from Tangier, or what made them decide to actually take off?
I'd be fascinated to know what discussions were taking place in the cockpit as the plane approached the destination, about diverting vs. continuing to circle
Bottom line
We've probably all found ourselves in a holding pattern on a flight at some point, though I've never heard of anything quite like the Air Arabia Maroc flight that circled for around four hours, covering a distance of around 1,000 miles.
Presumably bad weather was at play here, but this is still so fascinating…
What do you make of this unusual Air Arabia Maroc flight?
(Tip of the hat to Simple Flying)