I was in Tampa this past weekend for Frequent Traveler University, and hosted a session on Sunday afternoon with Gary entitled "Theory to Practice: How to Find Award Space and Construct Your Booking." Ultimately finding award space is only one part of the booking process, though.
We figured we'd do something we had never done before, and actually try to book some award tickets over the phone with a couple of hundred people listening.
Gary agreed to let me choose the routings, and I didn't reveal them to him till a couple of minutes before he had to phone up Delta, so he was going into it totally blind. I'm not completely cruel however, so we poured Gary a double shot of bourbon before the call, courtesy of a bottle Hack My Trip had on hand.
Gary tries to redeem Delta SkyMiles
Our first routing was using Delta SkyMiles, for travel from New York to Delhi. I should mention the goal here wasn't necessarily to find the best airlines available, but rather the airlines that are most difficult to book. So I came up with an outbound routing on Saudia from New York to Riyadh to Delhi, and a return on Aeroflot from Delhi to Moscow to New York.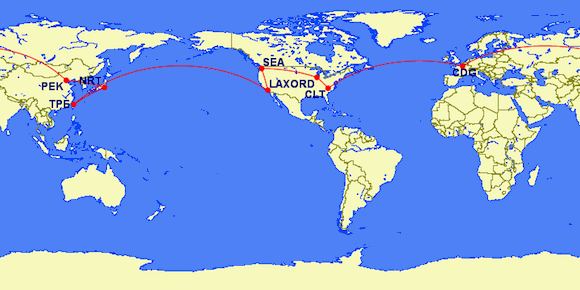 You'd think that would be a really easy routing — after all, it's only one stop in each direction and these aren't just partner airlines, but actual SkyTeam airlines. With any other alliance or airline it would take literally a minute to book such an award.
So Gary phoned up Delta SkyMiles and actually got a reasonably friendly agent. He gave her the flights segment by segment, starting with New York to Riyadh on Saudia. She put him on hold for several minutes and then came back to say "Sir, that airline is not part of SkyTeam." He asked her to check again, and eventually she came back to confirm that they were in fact in SkyTeam and there was availability. Then he gave her the segment from Riyadh to Delhi, and after being put on hold for a few minutes she came back to confirm availability on that segment as well.
Then Gary tried to book the return from Delhi to New York via Moscow. As soon as Gary gave the agent the segment from Delhi to Moscow she stopped him and said "Sir, that wouldn't be allowed because you can't cross two oceans on one award ticket. If you'd like to book that I can transfer you to the round the world award desk."
We all had a hard time not laughing, though Gary explained that he was only crossing the Atlantic Ocean, and asked her to check again. She placed him on hold for several minutes and came back to confirm that would be fine. She even found the availability on the flight from Delhi to Moscow.
Lastly, Gary asked about availability from Moscow to New York. She placed him on hold for several more minutes, then came back to ask what route he was asking about again. He said Moscow to New York, and she said it wasn't available. Gary asked specifically about the flight on Aeroflot, and she immediately responded it wasn't available. Gary then gave her the flight number and asked her to check again, and sure enough she eventually found it.
But again, routings don't — or shouldn't — get simpler to book than one stop on an alliance airline. But in this case there were three serious cases of misinformation, including being told Saudia wasn't in SkyTeam, being told the routing wasn't allowed because he was crossing two oceans, and the agent outright claiming availability wasn't there on a flight from Moscow to New York when there were in fact three award seats.
So the moral of the story — which really isn't surprising — is to do your own research before calling, be confident yet friendly when calling (after all the agent needs to be on your team), and also realize at which point an agent just isn't worth dealing with. In this case the agent wasn't actually rude, she just didn't know any better, and was quite happy having Gary politely yet confidently asking her to double check on things.
Redeeming US Airways Dividend Miles
For the US Airways itinerary, the goal was to book an award from the US to North Asia with a stopover in South Asia. As the final destination was Hong Kong and the "stopover" was Bangkok, we were hoping the agent would price it at 90,000 miles (the US to North Asia business class price) instead of 120,000 miles (the US to South Asia business class price).
I constructed an itinerary from San Francisco to Taipei to Bangkok on EVA, with a stopover in Bangkok, then continuing to Hong Kong on Thai. For the return I went with Hong Kong to Tokyo to Los Angeles to San Francisco on ANA and United. Why did I choose that return? Because I just couldn't help myself with the ANA flight from Tokyo Haneda to Los Angeles that leaves shortly after midnight and arrives the previous day. It's just so much fun to try and book. I find I blow US Airways' agents minds when a flight arrives a few hours before it leaves, let alone when it arrives the previous day.
The agent started by asking where I wanted to travel to. I explained I wanted to travel to Hong Kong, and she asked whether I wanted to fly US Airways or not. That should have probably been my indication to hang up, given that US Airways doesn't have any flights to Asia. When I explained I'd like to fly partner airlines she said "oh, awards on partner airlines are really complicated to book, so you're going to have to be patient with me."
Typically when booking a US Airways award my goal is to literally spoon feed the agent the itinerary segment by segment almost exactly as they'd enter it into their computer. Something like "the first segment will be for travel on October 2 on airline code Bravo Romeo, flight 27, from Sugar Foxtrot Oscar to Tango Papa Echo."
At first she was hesitant to let me do that, but after being stumped after the first couple of segments she was more willing to. There were some entertaining hiccups along the way as she didn't know what half of the airlines were or where half of the cities were, but I definitely had her on my side half way through the booking process.
The entertainment/issue came when we got to the Tokyo to Los Angeles flight. She took my word for it when I told her that the flight from Tokyo to Los Angeles departed on the 28th and arrived on the 27th, and that the connection should be on the 27th. But she claimed the computer didn't like that.
She then put me on hold to talk to the rates desk. After having no luck there she put me on hold to talk to her supervisor. And then put me on hold to talk to another support desk. She then came back to ask if I was positive the flight arrived the previous day. I confirmed I was, and she put me on hold again. At this point our session was over at FTU so we ended the session on a cliff-hanger, while I stayed on the phone.
After being on hold for another 10 minutes she came back and said she spoke to another supervisor and wanted to make certain once again that I was really sure the flight arrived the previous evening. She said she had spoken to six different people now and they all didn't believe that was the case. I confirmed that I was certain. She put me on hold yet again, this time for about 15 minutes. Eventually she came back and informed me "we have finally figured out the problem, sir. The flight actually leaves Tokyo at 12:05AM on the 29th and lands at 6PM on the 30th. So instead of going back a day you actually go forward a day, I know it's probably easy for you to get confused with this, it even confuses us sometimes."
I just didn't know what to say. So I agreed with her, and we held the flight from Los Angeles to San Francisco for the 30th, creating what she thought was a stopover of two hours, when in reality it was a stopover of two days. On the plus side, she priced it at 90,000 miles in business class.
The moral of this story? I'm not quite sure…
Overall though, I think both calls were great examples of the challenges that go into booking awards, and the importance of "leading" the call with the phone agent. Both agents we spoke to were friendly, so it wasn't really a case of "hang up and call again" until we found a good agent. If either had been rude or unwilling to search more creatively we would have likely bailed on the call, but as it was we were able to secure the flights we wanted by being polite and helpful, which is the best strategy, in my experience.
Thanks again to everyone who attended, and I hope to see others of you next time!