This situation just got even cooler, and I have to share an update. Yesterday I wrote about my temptation to fly Azores Airlines to Praia, Cape Verde, via Ponta Delgada, in the Azores.

$800 in business class for a routing like this? How could I not? It's so pretty!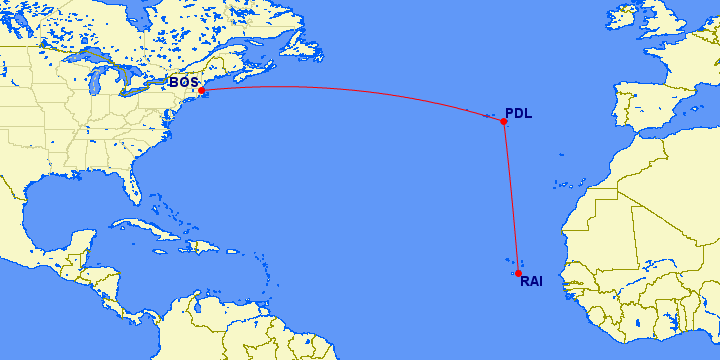 As I explained in the post, I was initially looking at flying Azores Airlines as a way to position to Frankfurt to fly to Whitehorse on Condor (as one does), but then realized that getting to Frankfurt via Praia isn't terribly practical.
So then I thought of making this part of a separate trip, and noted that TACV operates a once weekly flight between Praia and Boston. I had written about this flight in 2016, when they operated a once weekly flight between Praia and Providence (which they've since changed to Boston).
TACV at the time didn't have any sort of a premium cabin, and since the focus of this blog is premium cabin travel, I wasn't terribly excited by it.
On yesterday's post, johosofat commented the following:
The flight from RAI-PVD switched back to BOS after TACV retired their own 757. The flights are now operated by a wetleased Icelandair 757.
Hmmm, a leased Icelandair 757? Now I was intrigued. At least Icelandair has some sort of a premium cabin on their planes, so I wondered if TACV started selling a premium cabin on their flights.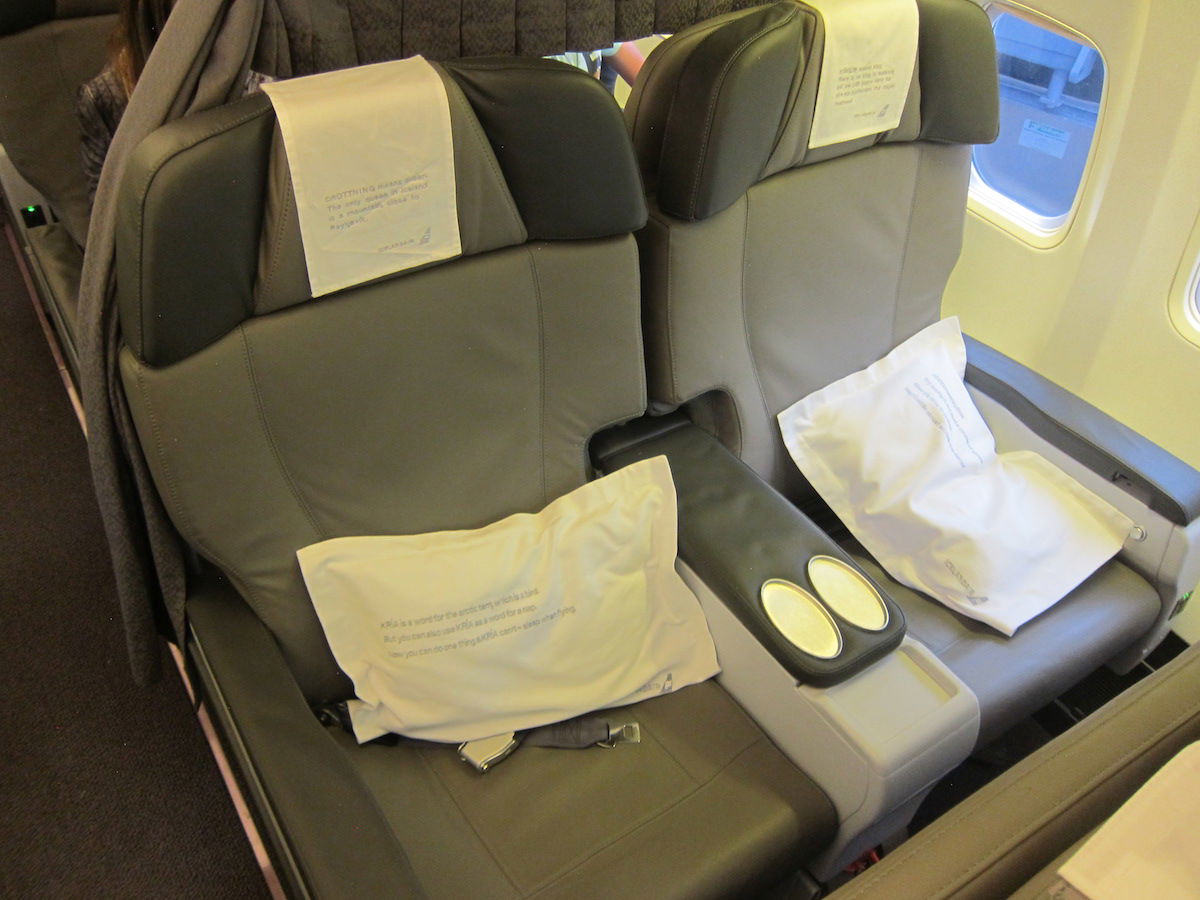 Icelandair 757 premium cabin
But what I found was actually much more intriguing.
It would appear that this route is currently being operated once weekly by a Boeing 767-300. After doing some research it looks like the plane operating the route is a EuroAtlantic 767 with the registration code CS-TKS. EuroAtlantic is a charter company, and they have several different 767 configurations.
However, this particular 767 isn't listed on that page, and it appears that this is a 17 year old 767 that used to fly for Kenya Airways. I was expecting the airline would have some ancient recliner seats in business class, but based on the seatmap it looks like seats are actually in a 1-2-1 configuration in business class.

Meanwhile in economy they're in a very tight 2-4-2 configuration.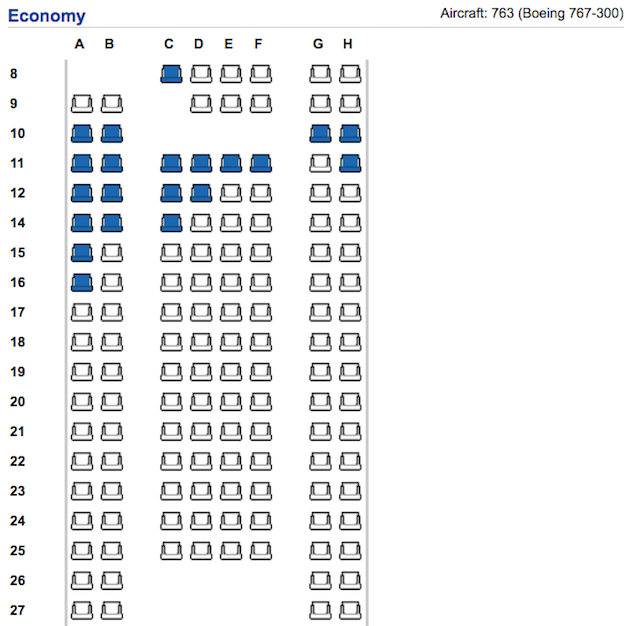 That's odd, because the EuroAtlantic brochure for the plane suggests this plane is in an all economy configuration. However, that brochure is from 2015, and it looks like in 2016 they introduced a refreshed interior on one of their 767s, featuring flat beds in business class. Check out this (dramatic) video they made:
Here's the relevant screenshot: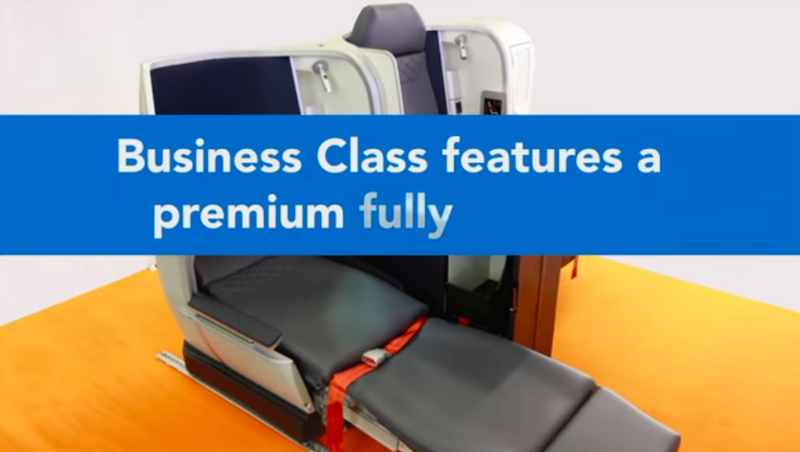 It would appear that this EuroAtlantic 767 may have flat beds in business class (unless I'm somehow drawing a completely wrong conclusion — someone correct me if I'm wrong).
So, how much is a ticket? It looks like they charge about $940 one-way in "Comfort."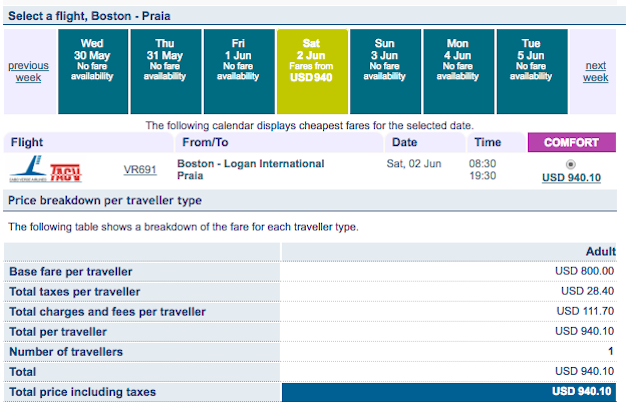 They operate this flight on Mondays and Saturdays, while Azores operates their flights to Praia on Fridays and Mondays, so perhaps the best plan is to fly to Praia on Azores Airlines on Saturday on, and then return on Monday on TACV.
You can fly a leased EuroAtlantic 767 with flat beds in business class on a TACV operated route via Praia, while flying in the other direction on Azores Airlines via Ponta Delgada. How cool is that?!?
(Featured image courtesy of Maarten Visser)