I've become obsessed with random airlines. Earlier in the week I learned about Air Astana in detail for the first time, and within days I booked my ticket to Kazakhstan. The reason Air Astana might seem "random" to me is because they don't fly to the US, and for that matter, I don't ever recall seeing any of their planes anywhere. So they're not an airline I've had any direct exposure to.
At the same time, prior to yesterday I would have assumed I knew of every commercial airline operating to the US. Not that I know about Cayman Airways or Arik Air in great detail, but at least I've heard of them, have a general sense of the routes they operate, etc.
Well, as it turns out I don't know every airline operating to the US, and learned about a new one yesterday.
Have you ever heard of TACV? And did you realize their only scheduled route to the US is between Providence, Rhode Island, and Praia, Cape Verde? Here's the ~3,400 mile journey on a map: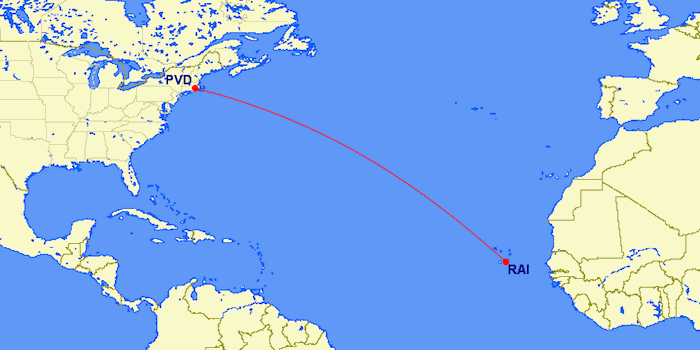 The airline seems to operate 1-2x weekly flights, depending on the season. The schedule for the flight is as follows:
VR671 Praia to Providence departing 11:00AM arriving 4:00PM
VR672 Providence to Praia departing 6:00PM arriving 4:00AM (+1 day)
In case anyone doesn't believe me, here's a video of a TACV 757 landing in Providence.
Per Providence Airport's press release, the route apparently started in June 2015. For those of you not familiar with Cape Verde:
Located about 300 miles off the coast of Senegal, Cabo Verde is renowned for its natural beauty, picturesque beaches, and "morabeza" (Creole for hospitality) of its people. The islands that make up the arrow-shaped archipelago today were discovered and colonized by the Portuguese in the 15th century. Cabo Verde gained independence in 1975 and remains one of Africa's most stable democratic governments. Both Portuguese and Creole are spoken by many of the 450,000 Cabo Verdeans who call the island nation home.
Ford grew up and went to school in the Providence area, so I asked him what he knew about Cape Verde. He said "well, I know there's a big Cape Verdean population in Providence." So I guess that might explain why the airline is operating the route to a seemingly random destination in New England.
For anyone interested in taking the flight, US passport holders can obtain a visa on arrival for 25EUR, and it seems like Cape Verde is a beautiful country that's quite safe.
That being said, I'm not in any rush to review TACV. Their 757 (they only have one of them) is in a one class configuration, with a total of 210 seats. On top of that, their fares aren't especially low — the cheapest I'm able to price out at the moment over the coming months is ~$800 roundtrip, and that's with quite a bit of flexibility. I guess that's not too surprising, since they don't have much competition in the market.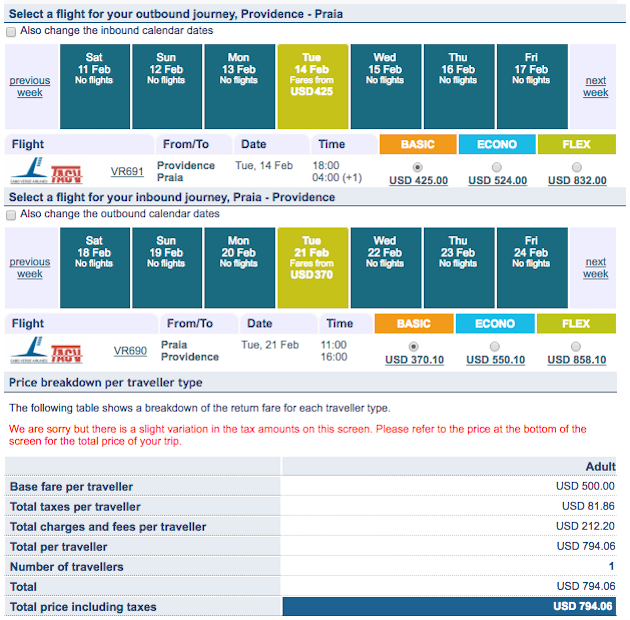 Has anyone been to Cape Verde or flown TACV? Did you realize they flew from Providence to Praia?
(Tip of the hat to Ari & Avishai)