Earlier in the year, T-Mobile announced a bit of a game changer with their Simple Choice International Plan. Through this, you'd receive unlimited texting and data in 122 countries worldwide, which is really amazing for the frequent international traveler.
It looks like they're adding yet another feature which travelers should love. As of September 17, 2014. T-Mobile will be offering free in-flight texting thanks to a new partnership with Gogo:
Starting September 17, T-Mobile will be taking service to new heights with free in-flight texting, picture messaging, and access to T-Mobile Visual Voicemail. It's a brand new, exclusive partnership with Gogo®, only for T-Mobile customers.

Stay in touch like you're on the ground, on Gogo equipped US airlines, at no extra cost. The sky is now unlimited.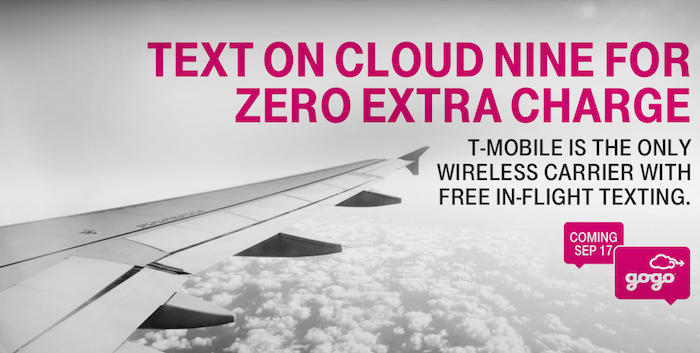 Here's how it works:
Before you board
Have a Gogo-ready device

Update device software over Wi-Fi, if needed

Make at least one Wi-Fi call

Have a valid E911 address on file with

T-Mobile

On iPhones, both the sender and the receiver must turn on "Send As SMS"

Don't forget your carry-on
In the air

Turn on Wi-Fi

Open your browser

Click the

T-Mobile

banner on the Gogo start screen for free access

Ask for extra pretzels
You're ready to go

Text away

Send picture messages

Access

T-Mobile

Visual Voicemail (respond with a text mid-flight!)

Enjoy the future, you've arrived

Personally I have a monthly Gogo inflight membership, so the only way in which it would benefit me is that I could use my phone for texting and laptop at the same time (when you have a membership you can only use one device at a time). Then again I have iMessage on my phone, so even that isn't especially useful. Of course those without a Gogo membership would probably find this much more useful.
I'm actually planning to switch to T-Mobile soon for the free unlimited international data anyway, so this is yet another nice perk.
Is anyone else tempted to switch to T-Mobile due to their new travel-friendly features?
(Tip of the hat to Steve)