In November 2020 it was announced that Lufthansa Group airlines will begin offering a buy on board food & drink concept in economy on short and medium haul flights. We had already learned the details of Lufthansa's new buy on board concept, and now we've learned the details of SWISS' new buy on board concept.
Basics of SWISS' new buy on board service
SWISS will be introducing its "SWISS Saveurs" food & beverage concept for short and medium haul economy class flights with a duration of at least 50 minutes (business class service will remain unchanged). The concept will be available out of Zurich as of March 30, 2021, and out of Geneva as of April 28, 2021.
The airline had already trialed a buy on board concept for flights out of Geneva, which the airline claims has proven "such a success." SWISS will be working exclusively with Confiserie Sprüngli for the development of the recipes for the fresh items on the menu. This is a Swiss company that has been around since 1836, and that's now in the hands of the sixth generation of its founding family.
SWISS claims it's putting an emphasis on the following:
Offering a wider selection of items
Freshness and quality
Regional accents
Sustainable packaging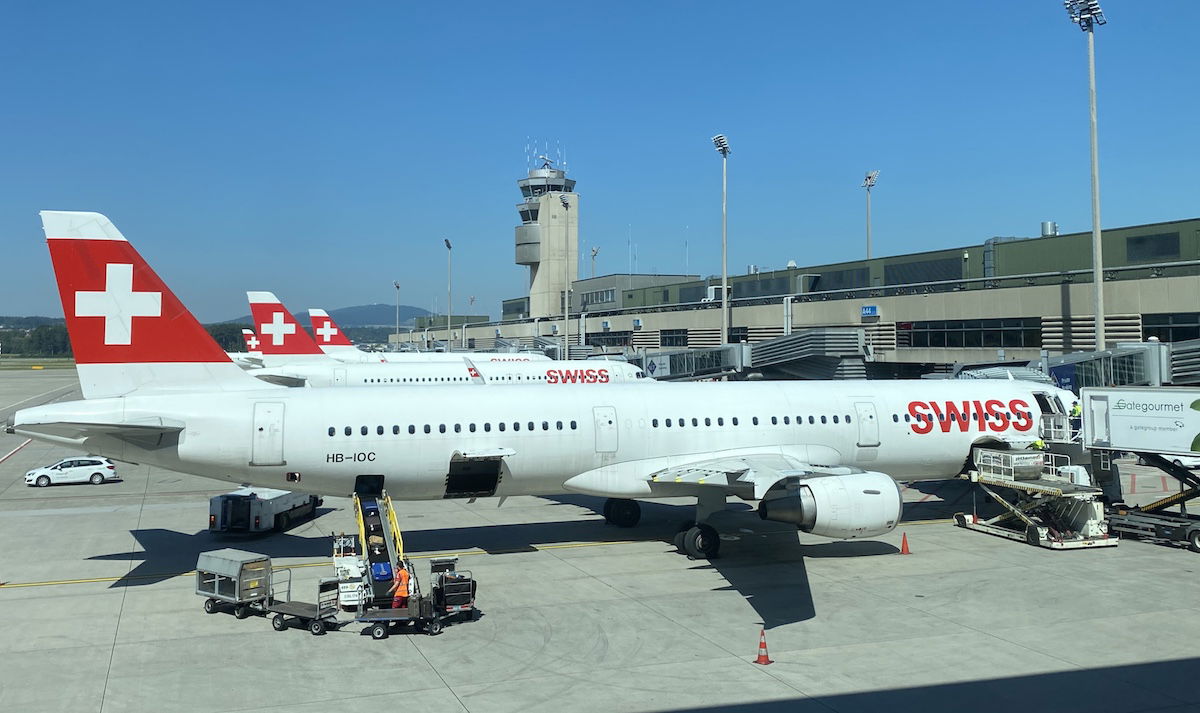 SWISS is rolling out buy on board service from Zurich
What's going to be on SWISS' menu?
Menu items for SWISS' buy on board service will include bircher muesli, a pretzel with air-dried beef, a vegetable brioche, and Luxemburgerli mini-macaroons. Prices for fresh options will range from CHF 7.50 for a bircher muesli or a sandwich to CHF 18.50 for a freshly prepared hot meal (though the hot meal is only available on longer flights). The product range will be updated every three to six months.
SWISS will be supplementing its fresh Sprüngli products with further Swiss classics, like Ragusa, Kägi Fret, Zweifel chips, and Caotina hot chocolate. Beyond that, coffee will come from Zurich-based miró manufactura de café roastery, and there will be gin from Turicum of Zurich, and WhiteFrontier craft beer from Martigny in Canton Valais. Prices for prepackaged snacks and drinks will range from CHF 3 to CHF 12.
SWISS' fresh items will be from Confiserie Sprüngli
Water & chocolate will continue to be free
SWISS has long had a tradition of offering each passenger a complimentary piece of chocolate, and that policy will remain in place.
Each passenger will also receive a complimentary bottle of water, and the airline is even trying to hype this up. SWISS is calling this the exclusive "SWISS Altitude 1150" mineral water, made in collaboration with water supplier RAMSEIER Suisse AG.
This water is produced exclusively for the airline in Switzerland's Glarus Alps, and the name is inspired by the source spring's elevation above sea level (in meters).
This water will first be introduced on short and medium haul flights, and will also then gradually be introduced on long haul flights.
SWISS will continue offering complimentary chocolate
Bottom line
SWISS will start rolling out its new buy on board menu in the coming months for all short and medium haul flights.
On the plus side, passengers will continue to get a free bottle of water and chocolate, and the menu looks pretty decent. That being said, no matter how you slice it, this is bad news, as you'll be paying for food and drinks that were previously free.
What do you make of SWISS' new buy on board menu?