Last week I shared a link to a cool Just The Flight infographic about 40 tourist scams to avoid this summer. As I mentioned at the time, I've fallen for a majority of those scams over the years, mostly intentionally. It's often fun to "play along" and see how they operate, assuming it's a harmless scam where at most you'll be out a few bucks and/or a few minutes of your time.
When it comes to travel, the one area where I probably have my guard up most is in taxis. You're literally getting in a stranger's car, they're taking possession of all of your belongings and placing them in the trunk, and often you're in a new city so don't know where you're going, and they can take advantage of that. And that doesn't even begin to address the safety concerns over the car, driver, etc. I once had a cab driver in China that — I $hit you not — fell asleep at every traffic light and I had to wake him up.
It's actually one of the many things I love about Uber — perhaps it's a false sense of security, but I feel "safe" given how transparent it all is and how much it's tracked. At least I feel safe with Uber Black — UberX is a different story at times.
When I land in a new city I always have my guard up with taxis, and even so that doesn't always end well. For example, in Warsaw we had two taxi problems in one day. Not only am I looking out the obvious things stated above, but if the driver is too polite, I'm also wondering what their spin is as well.
That brings me to this morning. I landed from Miami quite early in the morning and was rather exhausted after not sleeping on the flight. I got in a taxi to the Sheraton, and the driver was extremely friendly. Suspiciously so.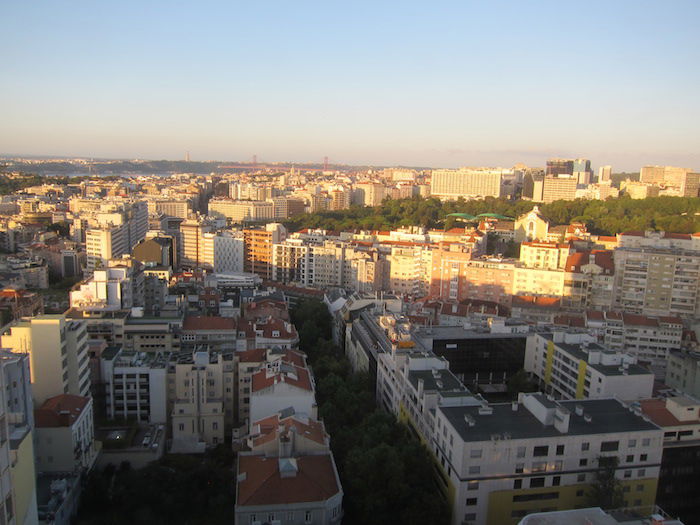 Lisbon, Portugal
To set the scene, he was in his 60s, wore fancy glasses and a beret (I'm guessing he put his pipe down when he decided to go to work), spoke English quite well, and talked nonstop. He asked if it was my first time in Lisbon, and when I said yes, he took out a city map and spent the 15 minute drive showing me everything. Like, it was almost a safety issue because he had the massive map on his steering wheel showing me all the different areas of town, how I should get around (and he wasn't recommending taxis in most cases), the times of day I should avoid trying to get around, warned me of scams, etc.
He then asked me "what nationality are you?" I said "American and German." He said "well in Lisbon you tell everyone you're American, we love Americans." I followed that up with "because we're good tippers, or…?" He insisted that wasn't the reason. Anyway, it's rare to be told that you must tell people you're American because you'll be loved so much. 😉
I was thinking to myself that he was too nice, and was wondering what the catch was:
Was he going to try and sell me a tour?
Was he going to have me me use him for all my other taxi rides in the city?
Was the meter running double?
Was he going to give me fake currency as change?
Was he trying to rip me off in some other way?
Soon enough we got to the Sheraton, and he apologized that he couldn't tell me more and that the ride was so short. I rounded up the fare and then added 5EUR since he was so awesome, though he gave me the 5EUR note back and said "no, you keep."
As much as I talk about all the taxi scams, there are apparently just some really nice taxi drivers out there as well, I guess? It was a first for me…
Has anyone else had a taxi driver that just seemed to genuinely want to be nice and helpful?