In mid-August it was first revealed that Sun Country would transform into an ultra low cost carrier. The Minneapolis based airline has been surprisingly full service until now, offering an attractively priced first class cabin, allowing free carry-ons, and more. Unfortunately they haven't been able to command a revenue premium for those services, especially as the "big three" US carriers have introduced basic economy fares.
So as the saying goes, "if you can't beat 'em, join 'em," and that's exactly what Sun Country plans to do. The airline has even hired a former Allegiant executive as their CEO, to help them with this transformation. As I noted at the time, Sun Country's plan seems to be to:
Adjust their route network so that they're no longer just operating flights to & from Minneapolis, but rather are operating more point-to-point flights
Retire their 737-700s, and instead focus on only having 737-800s in their fleet
Maintain first class, but make the cabin smaller, and reduce the services offered, to make it similar to Spirit's Big Front Seat
Reconfigure 737-800s with 180 seats, rather than the current 162 seats
Charge for carry-ons, etc.
Well, it looks like Sun Country's unbundling process is now starting. Sun Country is introducing new Bundle & Go fares for tickets booked as of October 25, 2017, and for travel as of January 19, 2018.

Under this new system, Sun Country will have three kinds of fares — Grab & Go, Check & Go, and Store & Go.

Here's a chart explaining the differences, which isn't terribly clear: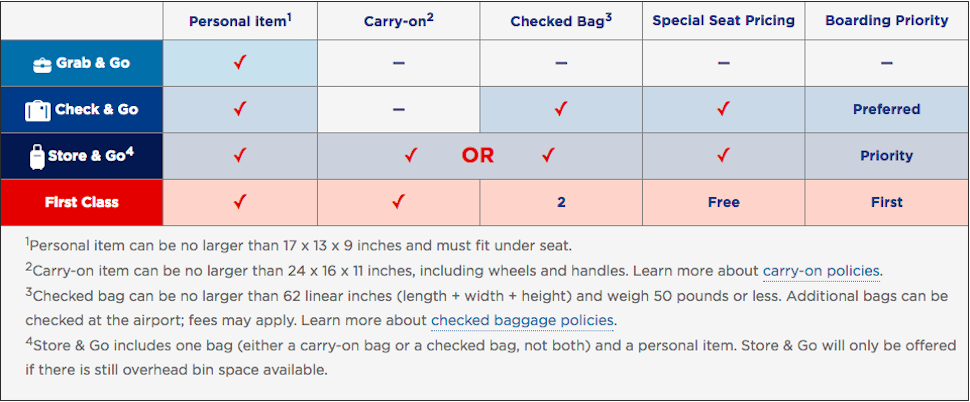 To summarize:
Grab & Go fares will only allow you to carry-on a personal item (no larger than 17x13x9 inches)
Check & Go fares will come with preferred boarding, and allow you to carry-on a personal item, plus a checked bag (no larger than 62 linear inches)
Store & Go fares will come with priority boarding, and will allow you to carry-on a personal item, plus either a checked bag OR a carry-on bag (no larger than 24x16x11 inches)
For those who don't purchase one of the above packages, here's how much Sun Country will charge at the airport for checked and carry-on bags: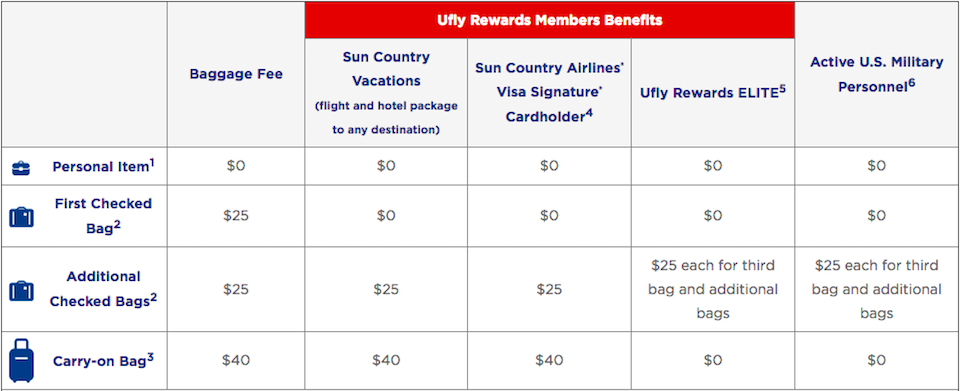 As you can see, Sun Country will charge more for carry-ons than for checked bags, as is the norm with ultra low cost carriers.
Bottom line
We'll have to wait and see just how Sun Country's pricing changes in a couple of days, once their new pricing model goes live. Much like we've seen with the legacy airlines, I suspect that we won't see a huge reduction in airfare for those booking basic tickets, but rather that the cost of the most basic bundle will probably be similar to what they're charging for a "full service" ticket right now.
On one hand it's sad to see Sun Country go in this direction. At the same time, people just weren't willing to pay extra for their relatively full service experience, so they don't have much of an option.
But you can now add Sun Country to the list of airlines that charge for carry-ons.