I tend to think that most US airlines fall into one of four categories:
Global and/or network carriers
Low cost carriers
Ultra low cost carriers
Regional carriers
There's no denying that the line isn't as clear as it used to be. While ultra low cost carriers (Allegiant, Frontier, Spirit, etc.) are easy enough to categorize, and regional carriers are easy enough to categorize, the concept of a "low cost carrier" seems a bit outdated.
For example, historically JetBlue and Southwest are considered low cost carriers, even though they're unarguably more full service than American, Delta, and United, in terms of their passenger experience.
Sun Country's confusing position in the industry
One airline that's tough to place is Sun Country. They're somewhere in the middle. For those of you not familiar, Sun Country's major hub is in Minneapolis, and almost all their flights operate out of there.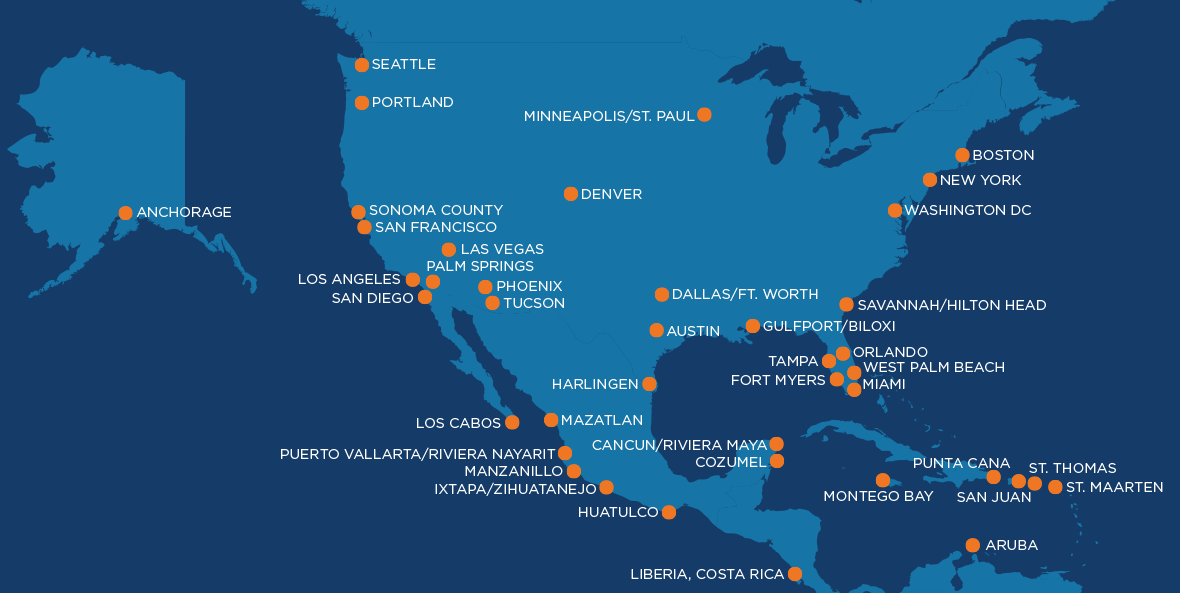 Sun Country:
Offers a very respectable 31-33″ of pitch in economy
Charges for checked bags, but doesn't charge for carry-ons
Allows (select) seats to be assigned for free in advance
Offers free non-alcoholic drinks in economy
They're more full service than Frontier and Spirit, and are generally known for their good service. At the same time, can they command a revenue premium on ticket prices for all the things they're choosing not to charge for? It would appear not, in general. Spirit is consistently cheaper than them, though makes up for it on fees. Meanwhile Delta and Sun Country seem to have similar fares, except those fares from Delta are typically "Basic Economy," meaning they have more opportunities to upsell.

Sun Country filed for Chapter 11 in 2008 and has been doing better since, though they're still lagging behind their competitors. As a result, it looks like the airline is planning on taking a new direction.
Big changes are coming to Sun Country
Last month Sun Country appointed Jude Bricker as their new CEO, who is a former Allegiant Airlines executive. StarTribune has the details of a memo he sent out to employees outlining his vision. While there's not yet a timeline for these changes, he's determined to cut costs and increase revenue, while still "protecting Sun Country's reputation of quality customer service."
What kind of changes should we expect to see at Sun Country?
Charging fees for carry-ons
Putting more seats on planes, which probably means removing legroom from seats, and possibly also eliminating first class (that isn't stated explicitly, but given how low their first class fares are, I have to imagine this will happen)
Offering buyouts to senior employees, especially flight attendants and non-union employees with more than 10 years of experience; this was framed as an opportunity to give "long-tenured employees an opportunity to leave Sun Country if those individuals were not on board with the new vision"
Being less focused on their Minneapolis hub given the competition they have there, and instead trying to offer more point-to-point flights
Bottom line
As of now the details are limited, but it's clear that Sun Country will radically be changing their direction. It's sad, because as of now they're an airline that people quite like. However, they're underperforming compared to their peers, and I think that comes as no surprise, as they presumably aren't able to get a revenue premium for their product.
As the legacy carriers and ultra low cost carriers move closer together (thanks in particular to the introduction of basic economy), it leaves Sun Country in a tough position.
What do you make of Sun Country's change in direction?