A few weeks ago I wrote about how some of the newer Hyatt Places have real one-bedroom suites. These hotels are purpose-built, meaning they didn't come with the AmeriSuites acquisition in 2005, but were a Hyatt Place from the moment they opened. I've now stayed in one of these suites at the Hyatt Place Charlotte Downtown, Park City, and Champaign, and have been very impressed.
One question that has been on my mind, however, is can you use a Globalist suite upgrade to confirm one of these Hyatt Place suites?
So I did some research to find out.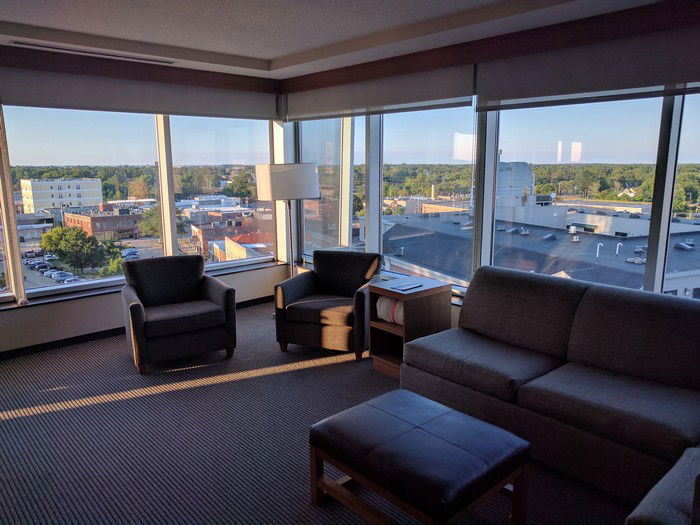 Hyatt Place Champaign one-bedroom suite
Trying to use a Globalist suite award at the Hyatt Place Champaign
I made a reservation for a standard room at the Hyatt Place Champaign. I chose this hotel because I knew they had suites — having recently stayed there. I also made sure to select a date for which the website was showing availability for one of their one-bedroom suites.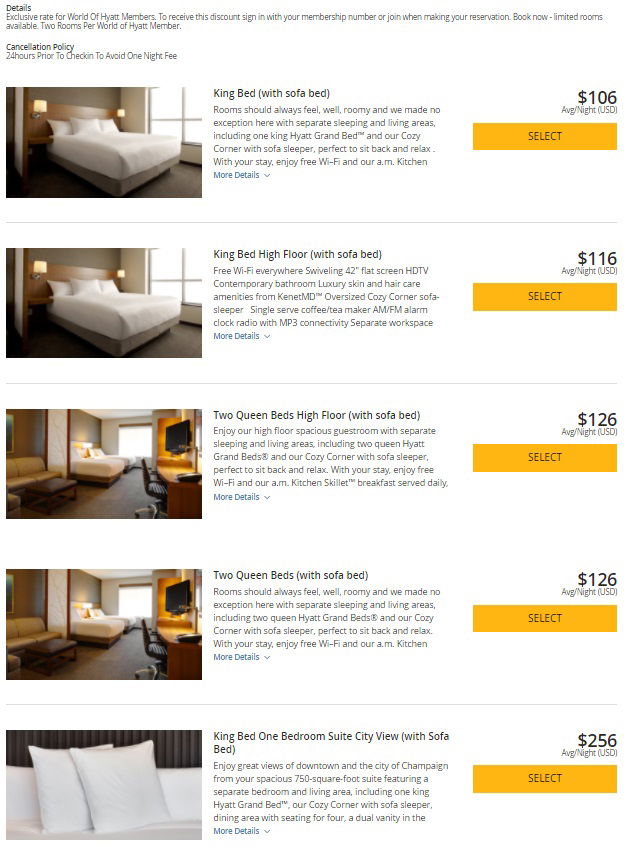 Then I called the Globalist line and asked to apply one of my Globalist suite upgrade awards to the reservation.
Before we go any further, I want to emphasize that the agent I spoke with was awesome and incredibly helpful. He was inquisitive and willing to dig through the terms with me to understand the World of Hyatt program. In short, it felt like some of the conversations Ben and I have had about the finer points of frequent flyer programs over the years.
Anyway, he first told me this property does not have suites, which apparently was just what came up on his screen.
I pointed out that the Hyatt website clearly shows that they have a suite for sale on that night. (I'm pretty sure most of the Hyatt agents I've spoken with lately would have just hung up on me right about here.) But he checked the website, agreed, and we had a good laugh.
He then researched a bit and said that the problem was that he had nowhere to put the code that is generated when you redeem a Globalist suite upgrade award. So without a field to enter the code into, he can't process the upgrade automatically. But he offered to call the property to see if they could offer a workaround.
A few minutes later he came back to say that the person he spoke with said they are not a participating property in the Globalist suite upgrade award program and therefore could not accept a Globalist suite upgrade. He was obviously curious because he offered to dig into the World of Hyatt terms to verify this. I joined him with my laptop.
The terms state:
Complimentary Suite Upgrade Awards are not valid at any of the Suite Award Ineligible Properties or Hyatt Residence Club hotels or resorts
And then elsewhere the list of Suite Upgrade Ineligible Properties is defined as
Suite Free Night Awards are not valid at Park Hyatt Beaver Creek Resort and Spa, Park Hyatt Maldives Hadahaa, Park Hyatt Sydney, Andaz Tokyo Toranomon Hills, Hyatt Regency Kyoto, Hyatt Regency Tulsa, Hyatt Regency Wichita, Hyatt Paris Madeleine, Hyatt Herald Square New York, Hyatt Key West Resort and Spa, Hyatt City of Dreams Manila, Hyatt Centric Santa Barbara, Hyatt Centric South Beach Miami, Hyatt Place hotels or M life Resorts. (These hotels and resorts are referred to collectively in these Terms as the "Suite Award Ineligible Properties.")
The World of Hyatt terms and conditions would therefore seem to clearly state that you can't use a Globalist suite upgrade award at a Hyatt Place.
Why can't you use a Globalist suite upgrade at a Hyatt Place?
Like I said, I had a really nice conversation with the Hyatt representative. One of the things he shared was that there is a place for him to put a code on the reservation that lets the property bill corporate when you apply a Globalist suite upgrade. Essentially we are paying for the standard room, and then corporate is paying the hotel some amount to compensate for the confirmed upgrade being used. That was interesting to me as I had often wondered if the properties were compensated at all when we used our suite upgrade awards. Apparently they are.
But in the case of Hyatt Places, there is nowhere for him to put the code — the backend infrastructure doesn't even exist. Given Hyatt's IT woes of the past, I wonder whether the technical limitation exists because of the policy, or whether the policy exists because of the technical limitation.
As I think about it, if the properties are getting compensated when a Globalist uses a suite upgrade, then why wouldn't Hyatt Place properties want that extra revenue too? And if corporate is actually paying when we use our Globalist suite upgrades, why wouldn't they want us to use them at Hyatt Places where the incremental difference between a standard room and a suite is surely much less than at an aspirational property?
Frankly, it seems like letting us use suite upgrades at Hyatt Places would be a win-win-win for Hyatt corporate, the local properties, and Globalists.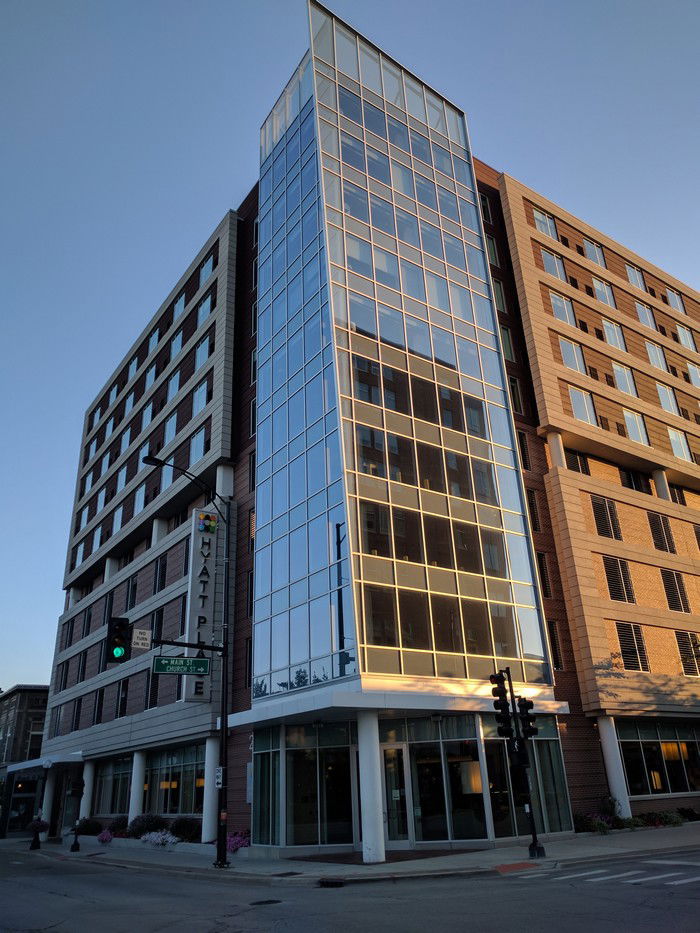 Hyatt Place Champaign
What about using a Globalist suite upgrade at a Hyatt House?
Prior to the emergence of the new Hyatt Places with suites, I occasionally wished I could use a Diamond Suite Upgrade at a Hyatt House. I know that sounds ridiculous, but hear me out.
Many Hyatt Houses actually have studio suites as their base level room. At these properties, it would be useful to be able to confirm an upgrade to a one-bedroom suite. Or even at other Hyatt Houses, you might want to book a one-bedroom and confirm into a two-bedroom.
So of course, I had to ask the guy. And he was stumped.
He pointed out that Hyatt Houses aren't specifically included on the Suite Upgrade Ineligible Property list, which he took to mean that upgrades should be valid with them. But every Hyatt House he tried — and it was apparently a slow night because he tried a bunch — lacked the requisite field needed to enter the magical suite upgrade code.
He concluded that since the terms don't specifically preclude the use of a suite upgrade award at a Hyatt House, there must be one somewhere that accepts them. He just couldn't find one.
Personally, I doubt that conclusion. I don't think you can use them at any Hyatt House in the system. Whether that's by design or just an oversight, I don't know.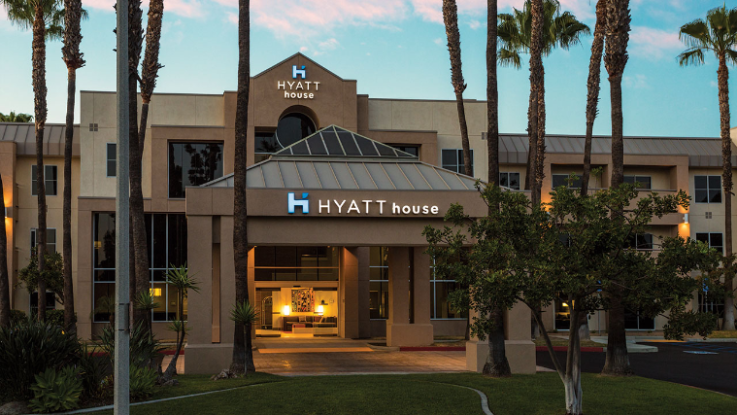 Bottom line
I really like the one-bedroom suites at many of the new Hyatt Places. They aren't anything special but they are huge which is exactly what you need when traveling with a family.
I just wish it was possible to use a Globalist suite upgrade to confirm into them. But apparently the World of Hyatt terms and conditions preclude this.
Would you like to see Hyatt make Globalist suite upgrades valid for use at Hyatt Places and Hyatt Houses?