Hyatt Places don't seem to get a lot of love around here at OMAAT. Ben, Tiffany, and myself have all been Diamonds — er, I mean Globalists — for a long time and love to talk about their flagship properties around the world.
But the truth is, maintaining Globalist status involves a lot of stays, which for many of us will be at lowly Hyatt Places, the chain's limited service option. That's because there are simply a lot more of these than any other brand.
In my opinion, the best thing that can be said about most Hyatt Places is that you'll know what to expect. A majority of the hotels in the Hyatt Place portfolio are converted AmeriSuites properties and have a consistent look and feel to them.
They all have a very distinctive — some would say tired — look from the outside and consist of roughly six floors with very similar layouts. You walk into a modest lobby and are greeted by the associate. There's a breakfast area to your right, and the elevators are in the corridor directly behind the lobby.
The rooms are more or less all the same, varying mostly with regards to whether they have a king bed, or two doubles, or are handicap accessible. So really the only option for an upgraded room is to be on a higher floor or be further from the elevator.
Notably, these properties have nothing even remotely resembling a suite, despite having once been called AmeriSuites.
This FlyerTalk thread has a list of the former AmeriSuites Hyatt Places.
Some new Hyatt Places have suites
Over the last few years, however, Hyatt has been opening more and more purpose-built Hyatt Place properties. That is, these hotels were built with the express purpose of being a Hyatt Place and look nothing like the converted AmeriSuites hotels.
The best part is that I'm discovering that many of these new Hyatt Places have suites. Like real, honest-to-goodness nothing-junior-about-this suites. They have a separate bedroom (including door), living area, and dining area.
I've new encountered these suites at the Hyatt Place Charlotte Downtown, the Hyatt Place Park City (Utah), and, most recently, the Hyatt Place Champaign (Illinois).
Here are a few pictures of the one-bedroom suite at the Hyatt Place Champaign.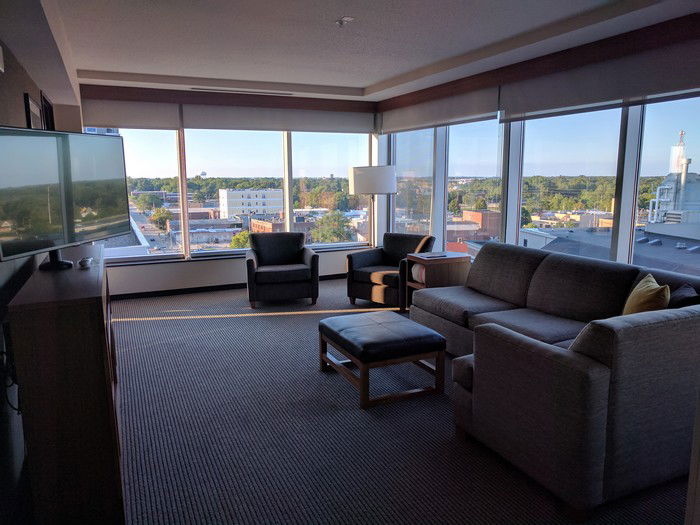 Hyatt Place one-bedroom suite living space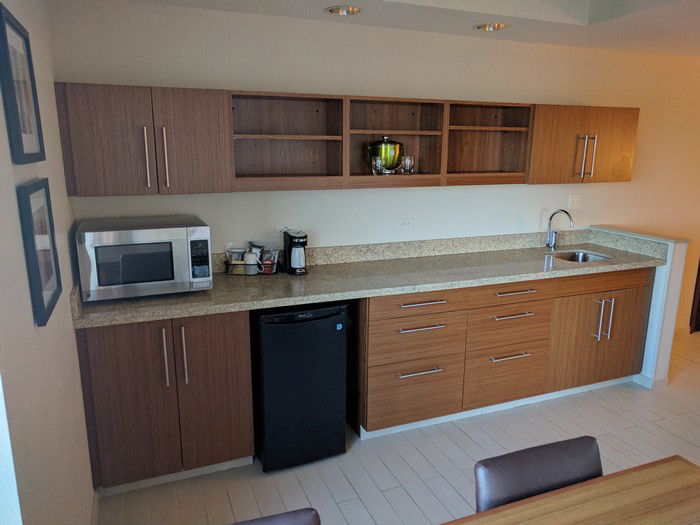 Hyatt Place one-bedroom suite kitchen area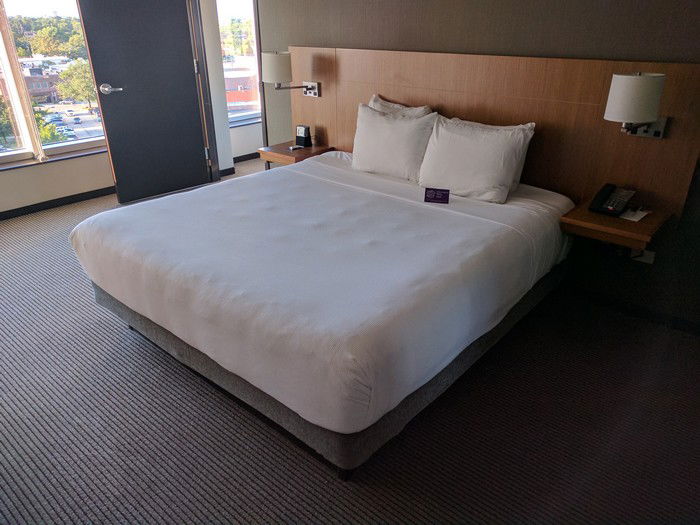 Hyatt Place one-bedroom suite bedroom
Bottom line
I've stayed at more than my share of Hyatt Places over the years and have a love/hate relationship with them. I love that they exist because otherwise I would never be able to maintain my status, but hate that they are mostly all the same. I also like suites and, ironically for a hotel that was once called AmeriSuites, the older Hyatt Places actually don't have anything remotely resembling a suite.
So I was pleasantly surprised the first time that I discovered a Hyatt Place with a true suite. I think it's a fantastic concept as I place a huge value on space when traveling with my family, which for me is most of the time.
Have you stayed in any of the new Hyatt Place suites?