Earlier I wrote about my stay at the new W Dubai, which is part of the new Al Habtoor City development in Dubai. Attached to the W is a St. Regis and also a Westin. After one night at the W I figured I'd switch to the St. Regis so I could check it out — after all, it's just a short walk between the two hotels.
I wrote about the St. Regis back when it first opened and the rates were crazy. Fortunately the rates have dropped significantly since then, as I expected (I didn't doubt the hotel was nice, but Dubai as a market just can't sustain $800+ per night rates).
Well, the good news is that the new St. Regis Dubai is gorgeous. It's absolutely stunning, and easily one of my favorite city St. Regis properties in the world, as it manages to feel incredibly private and secluded. While the nearby hotels are 30+ stories, the St. Regis has just six floors, and feels more like a palace than anything else.
Before I say anything else, let me just say that the new hotels in Al Habtoor City seem to be empty. I don't know, maybe they just do an amazing job of spreading people out, but at both the W and St. Regis I don't think I saw more than a dozen other guests. I'm writing this post from breakfast, where there are four other people in the restaurant. Last night I had a bloody mary at the hotel's bar (I make a point of trying the signature bloody mary at every St. Regis — go figure in Dubai it's the "gold mary," and has real gold in it), and I was the only one there for two hours.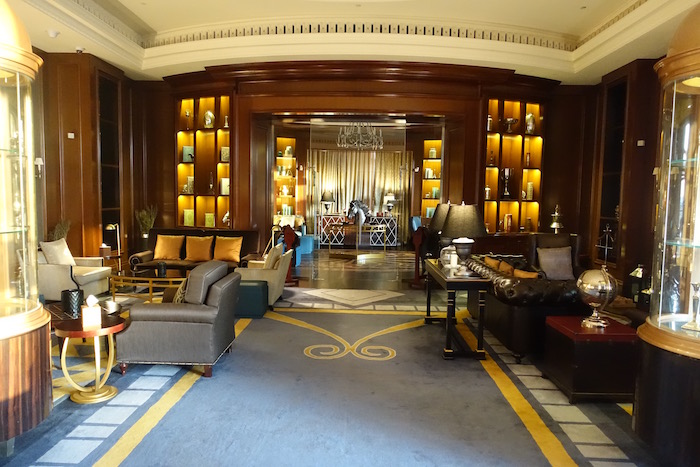 The hotel has a stunning lobby that reminds me a lot of the St. Regis Abu Dhabi, which I also like.
I got upgraded to an Empire Suite, which was beautiful. I'll let the pictures of it speak for themselves.
The hotel also has lovely public facilities — there's a patio on the second floor, which is a great place to work from, weather permitting (the weather in Dubai is perfect at the moment).
There's also a rooftop pool, called The Roof Gardens. There were three lifeguards on duty, but no guests. #Dubai
I'll have a much more detailed review soon, though suffice to say I'm very impressed by this property. It's a beautiful hotel physically, but service has been excellent as well. I think this may be my new favorite hotel in Dubai.
I just wish that Al Habtoor City were easier to access and had more to do in the immediate area.