Most people flying Spirit Airlines are choosing to fly the airline for their low fares, rather than their comfortable seats or amazing service. Spirit Airlines management isn't delusional either — they've long said that customers care about getting the lowest fare, and that's about it, so there's no real ROI to introducing a better product.
So that's why Spirit's latest initiative is quite interesting — Spirit Airlines has announced their "Invest in the Guest" initiative, which sees them trying to introduce more comfortable seats, all while trying to redefine how comfort is measured.
Spirit Airlines Is Introducing New Seats
Spirit Airlines has unveiled new, more comfortable seats that provide additional usable legroom. Spirit Airlines will begin installing these seats in November 2019, and that will continue through 2020 on all new Spirit Airlines deliveries (so don't expect all planes to have these seats overnight).
Spirit Airlines' New Economy Seats
Spirit Airlines' new seats are designed by UK-based Acro Aircraft Seating. The airline claims that these new seats include thicker padding, ergonomically-designed lumbar support, and additional pre-recline (Spirit Airlines seats don't otherwise recline).
What's noteworthy about these seats?
Middle seats will gain about an inch of width; aisle and window seats will have 17″ of width, while middle seats will have 18″ of width
All seats will gain about an inch of "pre-recline" compared to Spirit's current configurations
The new seats have ultra-light weight foam padding made of a composite skeleton, so this increases comfort without increasing weight
The new seats have a full size tray table and an elevated literature pocket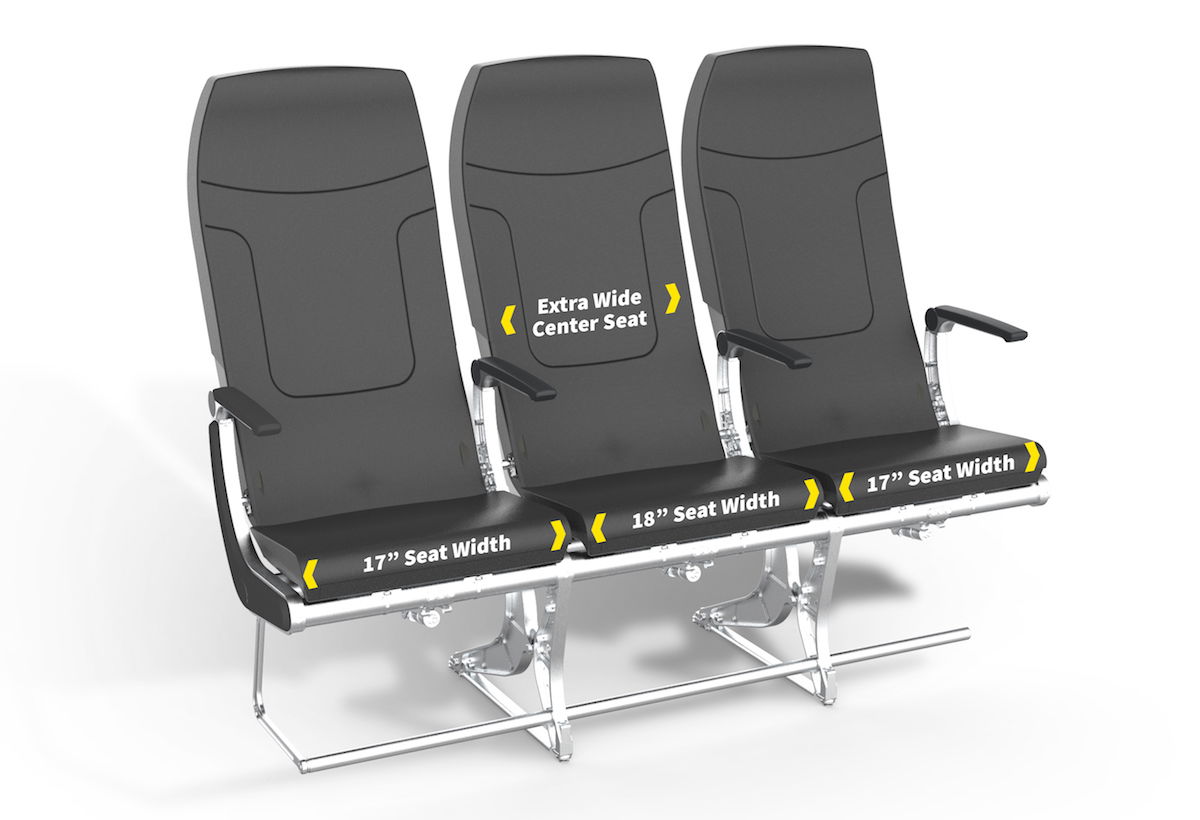 Spirit Airlines' New Big Front Seats
Spirit Airlines is also introducing new Big Front Seats, which is one of the best values in travel. Big Front Seats get you the same service you'd get in the main cabin, but you get a significantly more comfortable seat.
These new seats will feature ergonomically-improved headrests with plush memory foam, additional memory foam in the seat cushion, and more.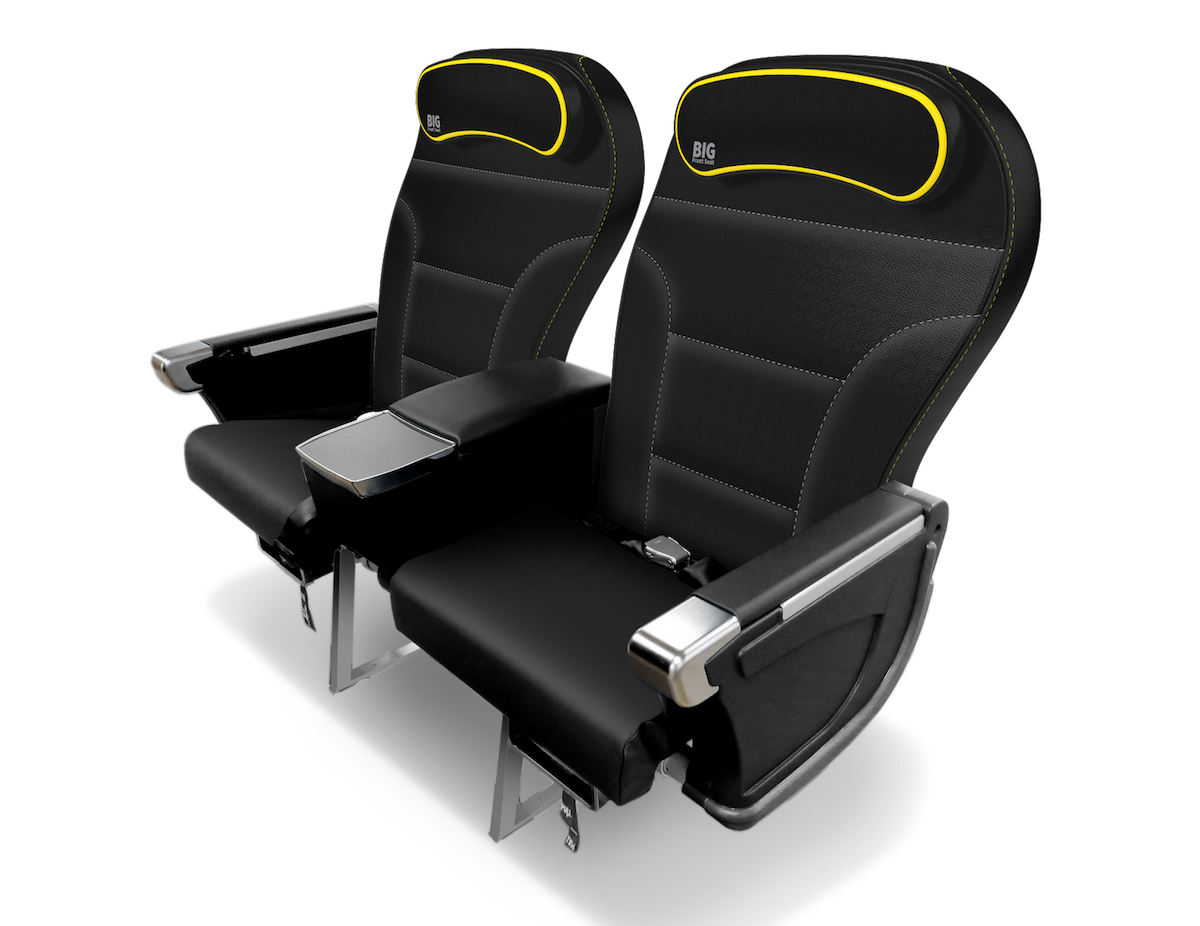 What Spirit Airlines' CEO Says
Ted Christie, Spirit Airlines' CEO, had the following to say about these new seats:
"Last year I signed a pledge to look at every facet of our Guest experience and determine where we could improve. This investment in our seats and onboard experience is a direct result of that commitment, and it also allows us to enhance our product value while maintaining our industry-leading cost structure. We have listened to our Guests, and we are responding with these new, more comfortable seats.

We also believe it is time for our industry to rethink the concept of seat pitch, a metric many industry experts and aviation media have called antiquated and misleading, given the broad differences in seating measurements that more directly affect passenger comfort. Our research shows that many Guests not only misunderstand the concept of pitch, but strongly believe that comfort derives from usable legroom. Our new seats now offer more usable legroom with their innovative design."
Spirit Airlines Is Trying To Move Away From Seat Pitch
Historically seat pitch has been used as one of the primary metrics for determining seat comfort. As part of their introduction of these new seats, Spirit Airlines is trying to challenge this as a metric.
They're correct in stating that a vast majority of people don't know what seat pitch is. Most people believe that seat pitch is equivalent to the amount of legroom you have. That's not true — rather seat pitch is how much space each seat takes up, and it does nothing to account for how efficiently airlines use that space.
In other words, a seat can have less seat pitch but more usable legroom, depending on the padding, depending on the location of magazine pockets, depending on any protrusions, etc.
Historically Spirit Airlines has offered 28″ of pitch, which is among the tightest in the industry (that's actually the least pitch you'll find on any commercial plane). Spirit Airlines is arguing that their new seats offer an extra two inches of usable legroom compared to industry-standard flatback seats with the same pitch.
Bottom Line
It's interesting to see Spirit Airlines allegedly investing in the customer experience, since historically their focus has solely been on offering the lowest fares possible. However, don't get it twisted, Spirit Airlines isn't suddenly turning into a premium airline here.
They're simply coming up with a slightly more efficient layout, and they'll continue to offer 28″ of pitch. In other words, they're keeping at least as many seats on their planes. So I commend them for trying to innovate, though these aren't likely to be the most comfortable seats in the industry, or anything.