Airlines are doing everything they can to monetize their premium cabins, so we've increasingly seen airlines offer the ability to bid on an upgrade after booking. In these instances, passengers are invited to place a bid within a preset range, and then within a few days of departure they'll be informed as to whether or not they're eligible. I shared my experience doing a paid upgrade on SriLankan last year.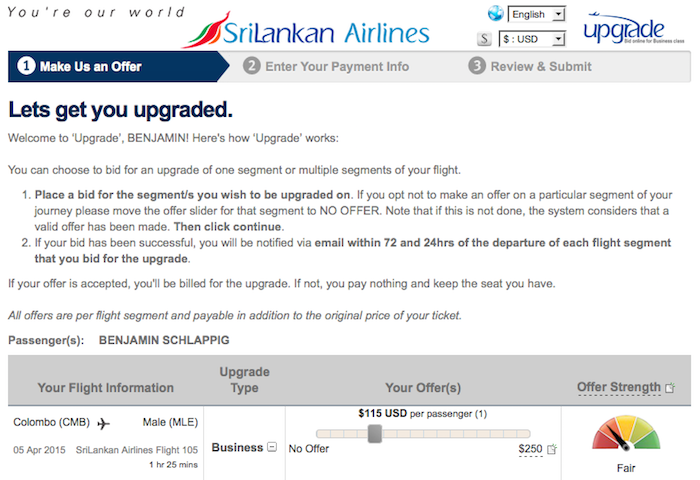 Singapore Airlines has long "protected the integrity" of their premium cabins, as they might describe it. They don't make most premium cabin award space available to partner airlines, and historically they've never offered any sort of bidding system for upgrades. It seems they did that more out of pride than anything, given that the airline has been losing money on virtually all of their longhaul flights for years.
Well, Singapore Airlines is now introducing mySQupgrade, which is a program that lets you bid on an upgrade.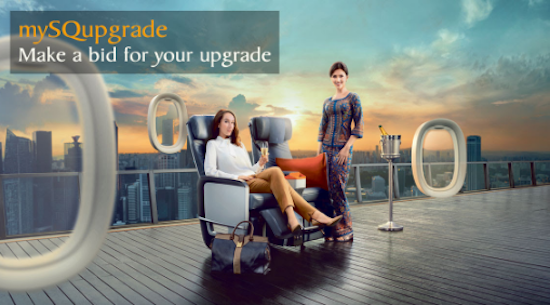 Under this program:
If you're eligible, you may receive an email invitation to bid 7 days before departure. Bids must be in $, and lie within a preset range.
You can make, change, or cancel your bid for an upgrade any time before 50 hours to departure.
If your bid is successful, expect an email notification 48 hours before departure. Only successful bids will be charged.
Per the email that KrisFlyer is sending out to eligible passengers:
We would like to introduce mySQupgrade, a new invitation-only bidding system to allow customers to make an online bid for a one-cabin upgrade.

mySQupgrade will initially allow invited customers booked to travel in Economy Class, the opportunity to make a bid for a seat in Premium Economy Class. This functionality will be gradually introduced across the network, and provide customers another option to upgrade their class of travel, and enjoy greater levels of comfort when they fly.

For our KrisFlyer members, we would like to assure you that your membership continues to be important to us. Redemption booking confirmations will receive priority over upgrade bids through mySQupgrade.
It's interesting to note that this is initially only available for upgrades from economy to premium economy, though may be rolled out to other types of upgrades as well. I suspect this means that Singapore Airlines doesn't have great load factors in premium economy at the moment, given that they only recently introduced it.
In many cases the premium for premium economy is minimal. For example, take a look at a New York to Frankfurt flight, where economy is ~$900:

Meanwhile premium economy is ~$1,270:

The fare difference is only ~$350 to begin with, and keep in mind that if you bid for an upgrade, you'll only be awarded miles based on your original class of service, and not based on your upgraded class of service.
Bottom line
It's great to see Singapore Airlines introduce a paid upgrade program, and I'm actually sort of surprised it took them so long. It's initially only available for economy to premium economy upgrades, which suggests they're probably not achieving their projected load factors for the cabin. Here's to hoping they expand this for upgrades to business and first class soon as well.
Have you ever bid for an upgrade on an airline?
(Tip of the hat to Hans Mast)