Based on feedback from you guys, I just flew Singapore Airlines business class from Frankfurt to New York JFK, and had an absolutely amazing flight. It was my first longhaul flight in Singapore Airlines business class in over five years, and I felt like I was in first class. I'll cover that in more detail in a separate post, though.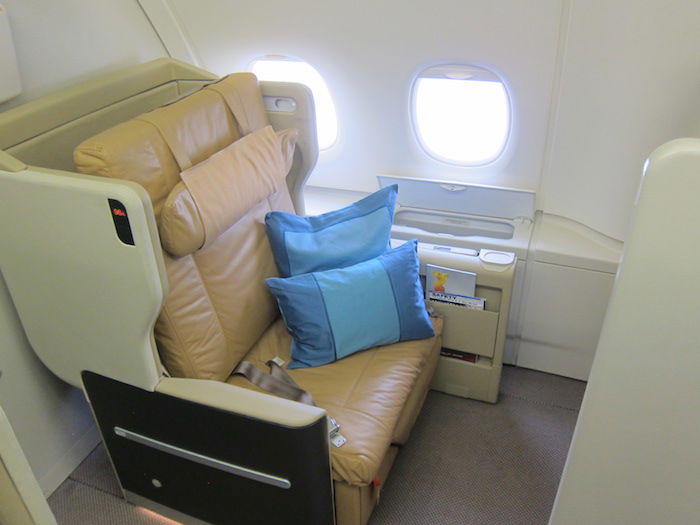 This flight was also unique for me since it was my first Singapore Airlines flight with inflight Wi-Fi. Their inflight wifi provider is OnAir, and Singapore is apparently progressively installing Wi-Fi throughout their Airbus A380 and Boeing 777-300ER fleet.
There are quite a few airlines nowadays with inflight Wi-Fi, and they're all slightly different.
I'm a fan of Lufthansa's FlyNet, for example, whereby you can buy a 24 hour pass with unlimited data for a reasonable cost (usually around 20EUR). While the Wi-Fi isn't high speed, it's good enough for emails, social media, etc.
Other airlines charge based on usage. For example, Emirates also uses OnAir, though on my Emirates flights the Wi-Fi was fairly fast and usable. For a six hour flight, constant Wi-Fi usage cost me about $40. That's quite a bit more than on Lufthansa, but still worth the cost.
Singapore Airlines is unfortunately the first airline where I just haven't found Wi-Fi to be worth it. At all.
I value inflight connectivity so am usually willing to pay whatever the cost is since it allows me to productive, though in the case of Singapore the OnAir Wi-Fi is prohibitively expensive.
They have two Wi-Fi options. You can purchase:
5MB of internet access for $5.99
10MB of internet access for $9.99
Each additional 100KB of data over plan limit costs $0.15USD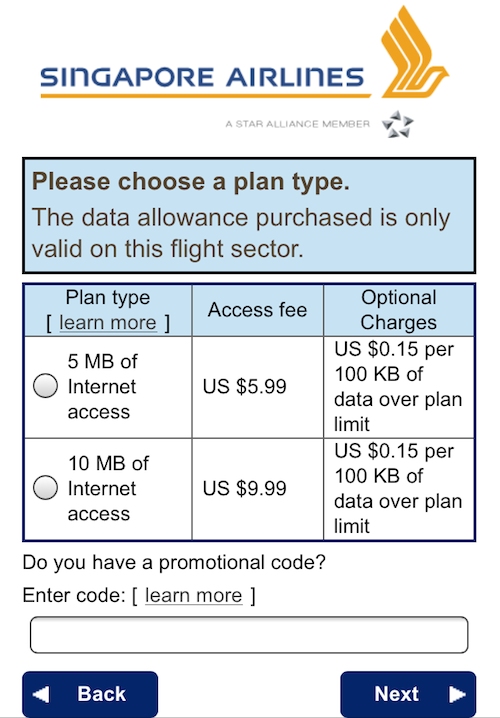 You have the option of automatically being logged out once you've reached your data limit, or the option of staying logged in even when exceeding your data limit.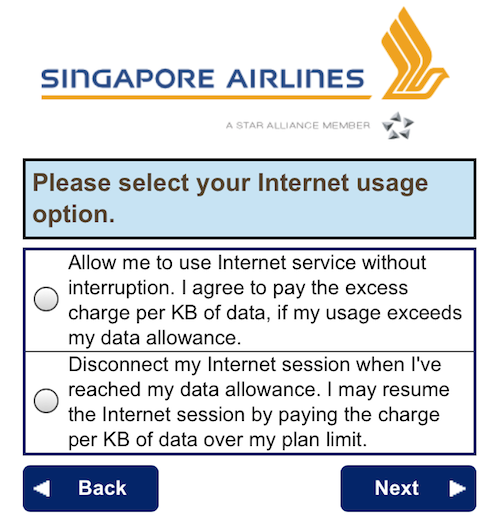 Those fees are outrageously expensive. For example, on my last Emirates flight they charged $20 for 100MB of data. That means Wi-Fi on Singapore is more than five times as expensive as on Emirates!
Though the worst part is that the internet is so slow that it hardly works.
For example, on my phone I couldn't even upload an Instagram picture, and on my laptop I couldn't even load a simple website. Downloading email on my phone took several minutes. I noticed it cost me $2 just to open an email based on data usage.
I spent $41USD on data for this flight, and with that I managed to send out a couple of Tweets, read a couple of emails, and not even post a picture to Instagram.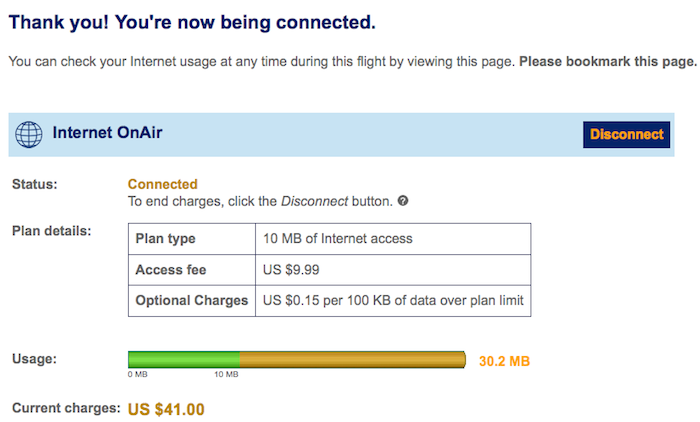 So while I love inflight Wi-Fi and never thought I wouldn't value it, Singapore Airlines is way off with their program. They have the worst Wi-Fi speeds and highest costs of any airline I've witnessed.
If you've used Singapore's OnAir Wi-Fi, what was your experience?